Learning Even More About BB-8 at Dragon Con
Back in 2016 Dragon Con's Star Wars and Puppetry tracks combined forces to put on a panel called The Puppetry of BB-8: Most Adorable Droid in the Galaxy. There puppeteers Brian Herring and Dave Chapman regaled us with tales of how they got into puppetry as well as the development of BB-8 for The Force Awakens. The panel lived up to its name and you can read my recap of it right here.
Now for 2019 the tracks brought them back and Herring and Chapman are just as charming as I remember. Their banter might be even better. This year's panel was called The Puppetry of BB-8: This is How We Roll. And while there was overlap with stories and information shared in the panel three years ago, I can't imagine ever saying "Oh no. Please don't show me that incredibly cute very first video of exploring the concept of a ball droid puppet with the tiny test BB-8." Nor do I think I'll ever have enough of the highly entertaining recorded obstacle course tests with a full-size BB.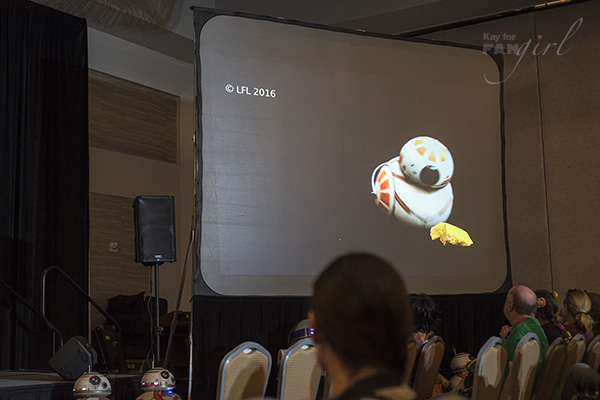 Seriously, if you ever get a chance to see those videos, take it. Meanwhile here are the new BB-8-related things I learned this year:
While most shots of BB-8 in the sequel trilogy are puppetry, some are done digitally. That famous rolling BB-8 side shot from the trailer for The Force Awakens was Herring actually running, pushing BB-8 while Chapman puppeted the head.
Last time Herring mentioned that he realized that BB-8 is about the size of a small dog and that in part informed the personality. This time he referred to BB-8 as Poe Dameron's very smart dog.
One action in particular was inspired by his own dog, who'd present a leg he had issues with to get rubbed. During their first meeting on Jakku, Herring decided he wanted BB-8 to do something similar. So on one takes he made BB-8 bow slightly and offer his head to Rey so she could fix his antenna. They filmed three different scenes in The Force Awakens where BB-8 offers his head like that to Rey. While most of them didn't make the final cut of the movie, it was important to the puppeteer that when BB-8 and Rey met again at the end of The Last Jedi, that BB does that small action. It's their thing.
Part of defining BB-8 also came out of deciding what he physically could and couldn't do. J.J. Abrams had told them in development that he'd never have BB-8 go down stairs. Then one day they arrive on the Maz Kanata castle set and voila stairs. The short version is it took a bunch of tries to get it right and Herring does a very good J.J. Abrams impression. Stairs struck back in the next movie when during a take on the Canto Bight set, Finn, Rose, and BB-8 run and stop at the top of a set of stairs. On one take Herring and BB did not stop.
Previously the duo talked about the challenges of moving BB-8 around in the sand. This time one of the solutions they talked about was burying mats out in the desert under where BB-8 has to go for a shot so that there's a little bit of traction and less sinking.
An audience member asked if there was anything they changed ergonomically for puppeting BB-8 after completing the first movie. They did change a transmitter and made a slight adjustment to a rig. But Chapman replied that while there were more things they could have changed – for example getting him a different type of controller (micro movements on his translated much bigger on the puppet) – they were afraid of not being able to recreate the magic they'd already achieved if they made any big changes. Sometimes the imperfections make it perfect.
Two of the red carpet versions of BB-8 that another team made after filming the first movie roll around in the background at some point in The Last Jedi.
Apparently you should never give your BB-8 puppet to a stunt team. One time to get BB-8 going faster than Herring could run, the stunt team attached the droid to a vehicle and took off resulting in pieces of BB-8 flying off all over a Jakku village.
Early on they were advised not to make BB-8 too human or too dog-like but the duo wanted him to be recognizable. They spoke of Star Wars being full of the most human robots you'll come across and their amazement at how Anthony Daniels relays so many emotions and is so good at double takes with C-3P0, a droid with an immovable face.
Fun facts they happily shared: Kelvin Ridge is named after J.J.'s grandfather. The Harris wrench Rey asks for is in reference to a man who drafted plans for the Falcon. And Finn's FN number is the same as Leia's cell number.
Their advice for anyone who'd like to do the work they do: Play around. Go where puppeteers are. Chip away. Meet people. And share your love of anything.
Looking for more of Dave Chapman and Brian Herring? Check out this video from this year's Dragon Con TV.
As usual, please do not repost this article or these images without permission. Linking is good though. :)
Enjoy this article? Say thanks and encourage more convention coverage by leaving a tip of a coffee on Ko-Fi.