Star Wars Celebration Chicago 2019: The Phantom Menace 20th Anniversary Panel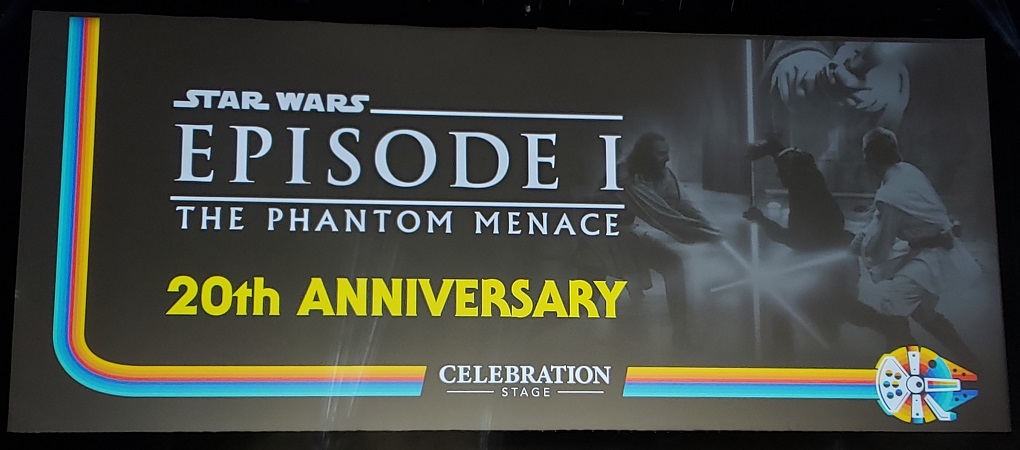 The very first Star Wars Celebration was held in Denver, Colorado, on April 30 – May 2, 1999, a few weeks before opening day of Star Wars: Episode I: The Phantom Menace, the first movie in George Lucas' much-anticipated Prequel Trilogy. This year's Celebration Chicago took place a few weeks ahead of the twentieth anniversary of that much smaller convention, though comparatively a bit longer before the release of Episode IX, the closing installment in the Skywalker saga's third trilogy. On Monday, April 15, Celebration Chicago feted The Phantom Menace with a panel dedicated to the marking the anniversary.
Host Warwick Davis kicked off the panel with four key crew members from the film: visual effects lead John Knoll, Viewpaint supervisor Jean Bolte, design lead Doug Chiang, and sound editor Matthew Wood. Two decades later, they reminded everyone how groundbreaking The Phantom Menace was for its time across multiple aspects of movie-making. Davis then brought out four cast members: returning Original Trilogy actors Ian McDiarmid (Palpatine) and Anthony Daniels (C-3PO) and Episode I additions Ahmed Best (Jar Jar Binks) and Ray Park (Darth Maul). Each of them shared memories from The Phantom Menace and spoke to the importance of Star Wars in their careers. Although George Lucas did not join the panel in person, he had recorded a video message to the attendees that was played on the large screens inside the Wintrust Arena.
One of the highlights of The Phantom Menace panel was the sustained ovation for Ahmed Best when he took the stage. Like Kelly Marie Tran at the Episode IX panel at the start of the convention and Hayden Christensen's appearance at the franchise's fortieth anniversary panel at Celebration Orlando in 2017, the cheering reflected the love from the audience and a repudiation of the negativity and bullying he has suffered. Hopefully each of these actors will feel welcome to return to future Celebration conventions, knowing that the fandom appreciates and supports them.
One disappointing feature of the panel, however, was its failure to include more women. The Phantom Menace is Padmé's story – she is the protagonist of the film's Hero's Journey – and Amidala and her handmaidens sparked a huge growth in the Star Wars fandom, especially among young women. Only a month before the Celebration Chicago, Disney Lucasfilm Press published E.K. Johnston's Queen's Shadow, a novel centered on Padmé and her handmaidens as she makes the transition from Queen to Senator. Yet Bolte was the only woman on the panel, and she spoke the least of the four participants in the crew member segment of the discussion. Even if Natalie Portman or Keira Knightley had competing commitments, surely the panel could have recognized the importance of women to The Phantom Menace – on screen, behind the scenes, and in the fandom – rather than essentially ignoring it.
Watch The Phantom Menace Twentieth Anniversary panel here:
Related Links: