Hello, fashion friends. There's a lot to catch up on in the fandom fashion world since our last installment of Fandom Fashion Friday, so let's get started.
STAR WARS
Her Universe just came out with some new items for Back to School season. There's a Jedi Cardigan ($40), a new R2-D2 tee ($25), and a Jedi Training Shirt ($25) for your workout needs or everyday casual.
The Yoda-Patterned Scarf ($25) is a great Everday Fashion/Subtle Fandom piece, because you have to look closely to see it's Yoda. That and more is available at HerUniverse.com.
There's a bunch of new items over at Hot Topic too. Check out the tough-looking Vader Muscle Tank ($24.50) or the almost-difficult-to-see Darth Vader Embossed Pullover ($32.50).
They also have some limited edition/convention exclusive items including watches that are fairly subtle: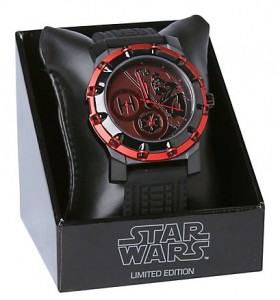 Darth Vader watch ($125)   |   Boba Fett watch ($125)  |    Stormtrooper watch ($125)
Then there's this all-white Collectors Stormtrooper watch ($179.50). And if that's out of your price range, there's a rubber-strapped Darth Vader helmet watch ($19.50).
Over at ThinkGeek they have an exclusive Millennium Falcon zip-up hoodie ($49.99) in an unisex style. If you, like us here at FANgirl, believe Leia is awesome, you might be interested in this Self-Rescuing Princess design ($28 for the tee) available on a few different top styles over at Look Human.
DOCTOR WHO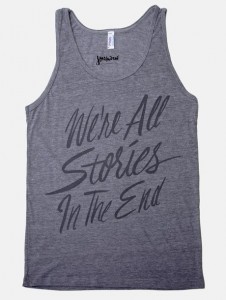 Also over at Look Human is this Bad Wolf design ($29 for tank) that comes as a tank, t-shirt, or raglan.
One of my favorite new shop finds is Jordandené. And of all their designs, this is probably the one I'd pick first – "We're All Stories in the End." unisex tank ($25) – a great line from the 11th Doctor.
For more Jordandené Whovian hits, check out the TARDIS (Time and Relative Dimension in Space) unisex t-shirt ($30) and Who-blue "Don't Blink" tank ($25) on which you can even pick out the ink color to make it bold or subtle.
Despite their bold design inspired by the character's scarf, these 4th Doctor Socks ($10.50 at Hot Topic) would probably qualify as stealth fandom fashion if it weren't for them having "4th Doctor" written on them.
And while this one is technically a men's item, menswear is in, so feel free to pull off the 11th Doctor Jacket ($59.50 at Hot Topic).
STUDIO GHIBLI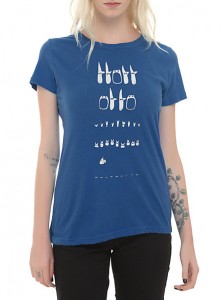 We just were talking about Studio Ghibli and Miyazaki-san's influence on Star Wars and storytelling on a recent episode of Hyperspace Theories so it's neat that so many of the new Her Universe Ghibli designs are now available at Hot Topic. I'm pretty sure we didn't plan that.
There are several Spirited Away tanks including this one from the train scene ($24.50) and this one of Chihiro and Haku ($24.50).
For My Neighbor Totoro, you'll find a minimalist Totoro shirt ($22.50) as well as this cute dancing Totoro opening credits-inspired shirt ($24.50). And I'm pretty sure the Totoro circle skirt ($28.50) will let you get your whimsy on.
One of the Kiki's Delivery Service pieces is a tank top featuring Kiki at the bakery ($24.50). Or you can pretend to carry Jiji in your pocket ($22.50) and imagine the commentary he'd give on your day.
There's more than these so if you're a Miyazaki fan, be sure to do a search on Hot Topic's site.
That's it for this edition of Fandom Fashion Friday. Next time I'm thinking we take a look at the latest accessories. What would you like to see?
In the mean time, I'll be sharing discoveries as I find them on Twitter with the hashtag #geekfashion. 
---
Kay grew up wanting to be an astronaut. After seeing Star Wars, she wanted to be Princess Leia, Han Solo, and an astronaut. A voice actor, photographer, and artist who also consults in communications and marketing, Kay spends the little bit of free time she has reading, reviewing, and, of course, making pew pew noises. She would pick up more jobs, hobbies, and fitness routines if she was a Time Lord. You can follow her on Twitter.