Tricia Talks and Megan Reviews The Clone Wars: Tipping Points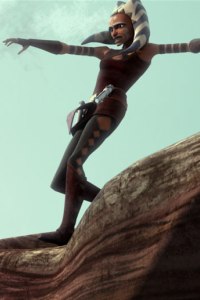 Last Friday's episode of The Clone Wars, "Tipping Points," brought the Onderon arc to a dramatic and bittersweet conclusion. Megan's review highlights the great moments, like Hondo's humor and the incredible action sequences. Like Megan, I'm also conflicted about the episode. During the course of the episode I finally felt like I was connecting with Steela, and in part that was accomplished by some great "show" moments within the last part of the arc.
Between Fringe and The Clone Wars, it was a tough week for new strong female characters.  On the upside, both women were shown dying heroically. Hopefully, Steela's death ultimately serves the story and the positive development of other characters. Only time will tell if that is the case.
Tonight, I'll have the chance to share more of my thoughts about "Tipping Points" and the Onderon arc on the ForceCast Clone Wars Roundtable. Check back tonight at 8:00 p.m. Eastern for a link to the livestream. I'll post the link to the podcast later in the week.
Update: The Roundtable has been cancelled for tonight so the ForceCast can discuss the Disney/Lucasfilm news. I will let you know when it is rescheduled.