Star Wars Celebration 2019: The Franchise Talking Points
Each Star Wars Celebration convention offers numerous memorable moments. Fans celebrating the franchise with each other, and cheering for their favorite celebrities and guests. Actors and creators sharing anecdotes from the past, and expressing their excitement for upcoming projects. The convention also provides Lucasfilm with the opportunity to roll out and reinforce the company's desired messaging about Star Wars and its relationship with the fandom. Celebration Chicago was no exception, and the current slate of Star Wars talking points came through loud and clear.
Ending the Skywalker Saga
The Sequel Trilogy previously had been described as the conclusion of the Skywalker family saga originated by George Lucas, such as last summer's cast announcement to mark the beginning of principal photography. Celebration Chicago definitively and repeatedly reinforced that Episode IX will end this storyline.
The talking point kicked off early in the Episode IX panel. "George was saying that this is the third act of a three-act structure," Kathleen Kennedy explained. "It is. That's exactly what it is." J.J. Abrams noted the challenging role The Rise of Skywalker must fulfill: "This movie, in addition to being the end of three trilogies, it also needs to work as its own movie."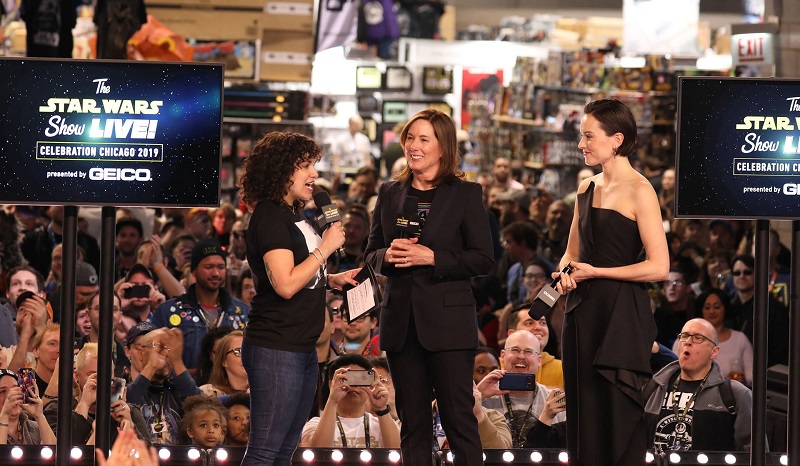 Subsequent interviews repeated this theme of ending not just the Sequel Trilogy, but all nine saga films. Abrams gave almost exactly the same quote to ET's Ash Crossan and IGN. "I want a kid to be able to watch Episodes I through IX and see that one story," he also told IGN. During his appearance on the Star Wars Show Live stage, John Boyega – self-identified as the Star Wars fan on set who asked all the big questions to seek out the answers behind the film's story and its secrets – confirmed that the film delivers on that promise in his eyes. And Kennedy confirmed to The Hollywood Reporterthat this was the intention from the start: "We knew we were going to close this up, we knew that even before we started The Force Awakens."
Several times, Kennedy noted the importance of making Episode IX timely as well as timeless, in the same fashion as the six films created by Lucas. On the panel she explained:
"What's also fascinating is it's over forty years. So the context that George was working within, it's forty years later. And to keep this relevant, and meaningful, to the characters and to the people experiencing this story, it has to feel like it's of its time. I think that what we've done, is we've taken to heart everything that inspired George, and then I think the inspiration that JJ's brought to this has given it even more depth."
Kennedy made similar remarks to Steele Wars and Yahoo Entertainment, noting that the 2019 film builds upon what came before in the saga films but also must adapt and account for how much has changed since 1977.
The Story of Episode IX
Needless to say, Abrams had no interest in revealing spoilers for the December film. But that did not deprive Abrams and his cast of talking points about what fans should expect from the movie.
Though he did not say much of specificity on the Episode IX panel, Abrams chose to overtly reveal one key element of plot structure: "This is an adventure that the group goes on together." Daisy Ridley told The Hollywood Reporter, "It's all of us together, and for me, that was enough." Boyega made the same point at the Star Wars Show Live stage and to IGN; Joonas Suotamo also noted the group adventure in talking to IGN. In speaking to MTV News, Boyega mentioned Naomi Ackie's Jannah as a part of the adventure, joining the existing hero team of Rey, Finn, and Poe.
In addition, Abrams did not shy away from discussing the overall theme of the film, beginning on the panel: "This movie is about this new generation, and what they've inherited, the light and the dark. And asking the question, as they face the greatest evil, are they prepared? Are they ready?" He raised the theme of intergenerational inheritance to The Hollywood Reporter and Steele Wars, as well. He elaborated a bit more with ET's Ash Crossan: "It's the characters in the film inheriting everything that's come before, of previous generations, whether it's the sins of the father, whether it's the wisdom that they've acquired. And the question is, this new generation, are they up to the task? Can they stand up to what they have to?"
In multiple interviews at Celebration, Abrams was directly asked whether The Rise of Skywalker would change direction from The Last Jedi or otherwise depart from the major plot and characterization developments in that film, such as Rey's parents. Each time, Abrams pivoted from the question rather than answering it, often by reciting the talking point about Episode IX's function of resolving the story of all eight prior saga films. In an interview with Fast Company published three days before the convention, though, Abrams made comments with a different connotation: "So he was taking the thing in another direction. So we also had to respond to Episode VIII. So our movie was not just following what we had started, it was following what we had started and then had been advanced by someone else. So there was that, and, finally, it was resolving nine movies."
Responsibility to the Fans
Starting at the Episode IX panel, key Lucasfilm leaders emphasized the sense of obligation they feel to do right by the franchise and its fans. Kennedy said, "The thing I think about all the time is the responsibility we have. We have it with all of you and it's something that we talk about every minute that we're involved in making these movies. This one in particular." Speaking to Fandango, she said, "Every single time I'm amongst the fans is the realization that there's an obligation on our part as filmmakers to really dig deeply into what has come before, and remind ourselves that these movies have a great deal of meaning, people care a lot about them, and it's important that we continue to serve that." In his appearance on the Star Wars Show Live stage, Abrams expressed that every day working on Episode IX he has the fans in mind.
This talking point reached beyond the final Skywalker saga film. During the showcase panel for The Mandalorian, Jon Favreau shared the importance of making Star Wars for a wide range of fans, not focusing on one particular generation or interest.
"Star Wars has so many different people that like so many different aspects of it. But the idea of creating something that would bring them all together. Everything from the Original Trilogy that I was more of a fan of and that I grew up with, and the Prequels that you're turning me on more and more to as we talk. And of course the Sequels and The Clone Wars. And even pulling stuff in from Legends, starting to bring some of the EU stuff back in."
His collaborator on The Mandalorian, Dave Filoni, immediately reaffirmed: "Looking at everything. It's important." Favreau later added:
"We want to pull all the stories together, so for the people who've been fans for forty years, we got a lot in there for you. But these are new characters and new stories, so it's a great way to invite new people in and allow them to get on the merry-go-round with all these new characters too. Much like we did with Marvel with Iron Man, let's make it something that people could jump in on, who don't know anything about Star Wars, and enjoy. But if you've been a fan, there's a lot of care that has gone into all of the details."
Appearing later on the Star Wars Show Live stage, Filoni added, "You have to keep it fun, and be honest about what you like." He also connected the idea of responsibility to the fans to the return of The Clone Wars for twelve more episodes. "Let's be honest," he told Andi Gutierrez, "one of the main reasons we brought it back was because people wanted to see it. And for that I'm very grateful."
The Future of Star Wars Films
As a small part of a lengthy September 2018 interview with The Hollywood Reporter, Disney CEO Bob Iger remarked that we could "expect some slowdown" in the release of Star Wars films after Episode IX in December 2019. Speaking to Bloomberg in connection with a Disney+ investor presentation the day before Celebration Chicago, Iger reaffirmed this plan: "We have not announced any specific plans for movies thereafter. There are movies in development, but we have not announced them. We will take a pause, some time, and reset, because the Skywalker saga comes to an end with this ninth movie. There will be other Star Wars movies, but there will be a bit of a hiatus." At Celebration, Kennedy told Entertainment Weeklythat, "We're going to take a hiatus for a couple of years."
In the early years of Kennedy's tenure at Lucasfilm, the talking point regarding Star Wars films had centered around the idea of hiring talented directors and screenwriters and letting them fulfill their individual visions in the Star Wars galaxy. The Story Group would serve to coordinate the efforts of the various projects to avoid conflicts, but the direction of Star Wars films lay in the hands of particular filmmakers.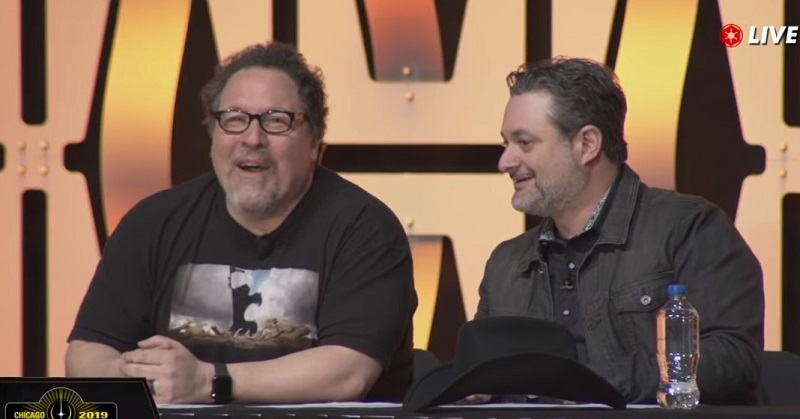 At Celebration Chicago, the talking point shifted to emphasize the intention to proceed by planning out the path of Star Wars storytelling in the movies well in advance. Kennedy told The Hollywood Reporter: "We are looking at the next saga. We are not just looking at another trilogy, we're really looking at the next 10 years or more." To Entertainment Weeklyshe said, "And we're taking the time to really look at where this is going from the standpoint of a saga. We're not just looking at what the next three movies might be, or talking about this in terms of a trilogy. We're looking at: What is the next decade of storytelling?"
Kennedy directly mentioned the previously announced creators, Game of Thrones television showrunners Dan Weiss and David Benioff and The Last Jedi's Rian Johnson, as participants in this planning. "We're all sitting down to talk about where do we go next?" she told The Hollywood Reporter about a summit scheduled for May 2019. "We've all had conversations about what the possibilities might be, but now we're locking it down." Earlier in the month at Cinema Con to promote his November film Knives Out, Johnson had clarified to MTV News that his further work on Star Wars has been very preliminary. To EW Kennedy added, "I think this is a huge opportunity to step into the galaxy in a little bit different part of the timeline."
Though no one else was named, the need for diversity and inclusion in the filmmaking process also was referenced on a few occasions. Kennedy told EW, "We have a series of filmmakers that we're bringing into the fold, that we can start to look at as directing talent, and we're trying to bring women into the mix as well. We're making it very inclusive with the group of people that we're pulling together." Kennedy did not acknowledge the departures of Kiri Hart and Diana Williams as original members of the Story Group, or the significant decrease in the group's diversity created by the addition of its newer members. On The Mandalorian panel, Jon Favreau praised the slate of episodic directors working on the Disney+ series, which he wrote: "Our great group of directors, and the primary prerequisite that they had to be a fan of Star Wars and love Star Wars. Everybody was from a different perspective, different generation, and that's what we want to do here."
Several weeks after Celebration, on May 7, Disney included three Star Wars films on an omnibus release schedule for all of its movie studios. Aside from noting these "Untitled Star Wars" projects slated for December releases in 2022, 2024, and 2026, no additional information about the films or their creators was provided.
The Legacy of George Lucas
Though the Skywalker saga may be ending, the importance of the foundation laid by George Lucas remains prominent at Lucasfilm, in the creation of the Sequel Trilogy and far beyond. "We've immersed ourselves in everything George created, talked about it endlessly." Kennedy said on the Episode IX panel. At the same time, she noted to Steele Wars, "George didn't leave anything more than a blueprint." Contrasting Star Wars to book series (such as Game of Thrones or Harry Potter) or the comic series of Marvel's superheroes, she explained, "That's the challenge. We don't have source material." For his part, Abrams told IGN and MTV News, "We met with George Lucas before we started writing the script" for The Rise of Skywalker.
The Guidance of Dave Filoni
No one has spent more time learning from George Lucas about Star Wars storytelling than Dave Filoni. At the Star Wars Show Live stage, Filoni acknowledged, "I, of course, bring a lot of what George taught me to the table, and try to make sure that that follows through." During The Mandalorian panel, Jon Favreau emphasized the significance of that relationship:
Jon: "George came by. He visited [the set]. Of course, you know he and Dave go way back. It's very interesting watching the two of them, because George would throw out some historical facts, and Dave would remind him that maybe he remembers a different account of certain things. It was very interesting."

Dave: "I am the Padawan to this day. But it was a huge thrill for me to have him there, because I don't think I ever would have considered doing live action without his teachings and his guidance. He really got me interested in it. So when he came by, that was a real thrill for me."

Jon: "He was extremely proud – when I was talking to George without Dave there – because they had been working together for so long. Dave was just starting out in that position, and had really grown as a storyteller and writer, and really had absorbed all those lessons."
Kathleen Kennedy had started off the panel introducing the two men. "I also have a feeling that everybody in this room knows that this guy is a rock star. I have to say, what could be more exciting than Dave Filoni directing live action," she said to huge applause from the audience. "So the fact that Jon and Dave have come together and are working together on Mandalorian – I have to tell you, this has been the most fun, the most amazing experience." Favreau, too, credited Filoni's input on The Mandalorian, from brainstorming ideas during development to reviewing the draft proof-of-concept scripts Favreau wrote before the project was formally greenlit. Ultimately, he said, "I don't think the show would be nearly what it is without our collaboration."
Related Links: