Star Wars: The High Republic Revealed
Back at Star Wars Celebration Chicago in April 2019, Lucasfilm first began teasing a new publishing project under the codename Project Luminous. Although a list of five contributing authors was disclosed, since then fans have wondered about all of the other details: timeline era, characters, story formats, and more. On February 24, 2020, the curtain finally pulled back to reveal Star Wars: The High Republic, which will comprise not simply five interconnected stories told by the five announced contributors, but a multi-year publishing program across a wide range of formats and publishers that will continue into 2021 and beyond.
The stories in The High Republic program will take place about 200 years prior to The Phantom Menace, in the heyday of the Jedi Order before its decline coinciding with the rise of the Sith. Lucasfilm's publishing lead, Michael Siglain, referenced Obi-Wan Kenobi's famous line from A New Hope – "For a thousand generations, the Jedi Knights were the guardians of peace and justice in the Old Republic." – as a key inspiration for the setting and stories. Other themes include galactic exploration, diversity, a new threat serious enough to scare the Jedi, and the usual mix of action, drama, fantasy, romance, and humor that makes Star Wars feel like Star Wars. The authors, editors, and other Lucasfilm participants convened in September 2018 and March 2019 at Skywalker Ranch to develop the project, and the authors seem to enjoy their ongoing interaction in a Slack channel dedicated to the endeavor.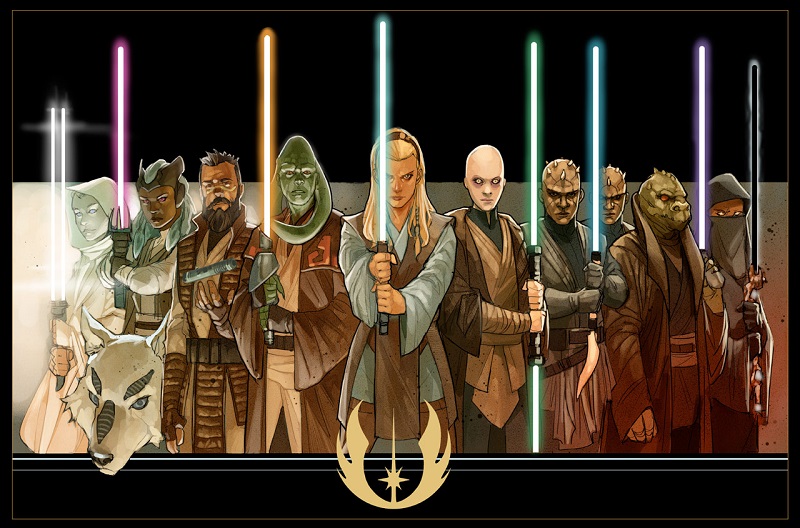 The first stories in The High Republic will include:
Light of the Jedi by Charles Soule, released on August 25 (adult novel / Del Rey)
A Test of Courage by Justina Ireland, released on Septemeber 8 (middle grade novel / Disney Lucasfilm Press)
Into the Dark by Claudia Gray, released on October 13 (young adult novel / Disney Lucasfilm Press)
Star Wars: The High Republic by Cavan Scott (ongoing comic series / Marvel)
Star Wars: The High Republic Adventures by Daniel José Older (ongoing comic series / IDW)
The publishing side of Star Wars has carried out major initiatives in the past, but not with such scope. The New Jedi Order book series spanned nineteen novels from Del Rey, but no other publishers; the Legacy timeline era announced at Celebration III in 2005 included novels and an ongoing comic series, but without interconnected coordination. With The High Republic, however, the program extends to a much wider range of formats – and tells stories with new characters in a new timeline era, without any overt connections to the movies in the key characters or marketing materials. (Fans have noted that Yoda presumably would be an active Jedi at this time, but he went unmentioned in the content released as part of the reveal.) This storytelling freedom surely is a boon to the creativity of the authors. To find out how the fans may respond to the new initiative, we will have to wait until later this year.
Related Links