Geek Fashion Finds: May the Fourth Special Edition
It's that one day of the year that's not specific movie-related where some brands release a bunch of Star Wars things and have some special sales too!
Here's my picks for some of the coolest new Star Wars geek fashion for May the 4th:
Check the shoe section for the Revenge of the 5th update!
Loungewear
There are underwear packs, onesies, and lounge pants in men's and women's styles over at MeUndies in new Star Wars Disco prints. Linda and I just did a review you might want to check out.
Shoes
Remember that cool red X-wing sneaker Po-Zu released in March? And then they had a special show exclusive all-black version for Star Wars Celebration? Now everyone who wants to can pre-order the black X-wing / Poe Dameron sneaker in women's* and men's sizing* ($77.62). It's vegan-friendly. It's low-cut. It's organic cotton and there's a cool Star Wars print on it. Delivery is expected at the end of this month so you won't have to wait long.
(*affiliate links: Use these when you buy to support my fashion roundups at no additional cost to you.)
Po-Zu has another announcement coming tomorrow. I'll update this post with the info when it goes live.
Inkkas added five new designs to their Star Wars collection today ($68 each). I still haven't gotten to try these shoes out for myself but I hear good things. Four of the five are planetary tributes to Hoth, Bespin, Tatooine, and Endor. And then this The Galaxy Slip On brings them all together, is black and white, and makes constellations so it's now my favorite of their latest designs.
Athletic Propulsion Labs has a rebellion and an empire design in their TechLoom Bliss athletic shoes ($350 each). They have a little sparkle to them with their Swarovski™ crystal midfoot strap, subtle Star Wars details, and look pretty futuristic.
Revenge of the 5th Update (5/5/19): For the 5th Po-Zu announced a low-cut Trooper sneaker ($85.61) in women's sizing and men's sizing. It's got a cool-looking elasticized top and features a stormtrooper helmet print on the side. Organic cotton, fair-trade rubber, and that comfy Po-Zu Foot-Mattress™ are all involved.
Socks
Stance now has six McQuarrie sketch designs on crew socks and you know I love a good McQuarrie sketch on clothing. There's R2, Threepio, Vader, and Boba Fett ($18 each).  Their poster pack ($120) seems to include a different Vader and Stormtrooper as well as two other designs and a poster of the infamous Starkiller vs Vader art. All these socks are listed under men's sizes.
Shirts
The Hot Topic Star Wars Design Contest winners and finalist shirts are now available. They include this Kylo Ren shirt, this Rey and Kylo Force Connection shirt, and this R2-D2 and BB-8 Boop! shirt ($22.90 – $26.90 each).
Hot Topic also has your title shirt needs covered. Previously you could only get the Episode 9 logo shirt on Amazon. Now you can get your The Rise of Skywalker title on in a bunch of different t-shirt styles ($22.90 – $34.90). There's also a few styles for The Mandalorian TV title and the Jedi Fallen Order video game title.
And they've got this new May the Force Be With You tank ($22.90 – $26.90) that's got a different graphic style than what we're used to seeing. They also have a bunch of specific May the Fourth Be With You designs in case you need something for next year. You can also find some of the same May the Fourth designs at Fifth Sun, Shop Disney, and Box Lunch.
Shop Disney added a bunch of customizable family vacation shirts including this First Order Squadron design and this Resistance Squadron design. Price vary dependent on shirt style.
Coming Soon
Black Milk's latest Star Wars collection will be available on their website on May 7th at 7am Australian Eastern Standard Time. You can check out a preview with their lookbook now.
Harvey's new line of Star Wars seatbelt bags are available today in stores and will be online at starting on May 6th.
Sales & Deals
Box Lunch – 30% off with code BLGIFTS
Design by Humans – 15% off most Star Wars with code MT4
Inkkas – 20% off Star Wars styles with code maythe4th
Fifth Sun – 20% off Star Wars gear with code MT4
For Fans By Fans – 50% Star Wars apparel
Her Universe – 30% off Star Wars select styles
Heroes and Villains – up to 50% off Star Wars
Hot Topic – 30% off Star Wars with code Force30 at check out
Loungefly – 25% off everything Star Wars with code LFMAY4
Munki Munki – 25% off with code R2DISCOUNT
Out of Print – 20% off with code STARWARS20
Rags – 20% off select items with code STAR WARS DAY
Retrospective Co – 25% off with code R2DISCOUNT
Stance – Free pair of Star Wars socks with any other sock purchase
Super Hero Stuff – 15% off with code BOBA15
Tee Turtle – 50% off
Toynk – up to 60% off (includes Star Wars accessories)
Some of these sales will continue tomorrow. Check each retailer's website for details.
Head over to my Instagram Stories today to check out some of the Star Wars fan-made geek fashion & accessories with special deals today.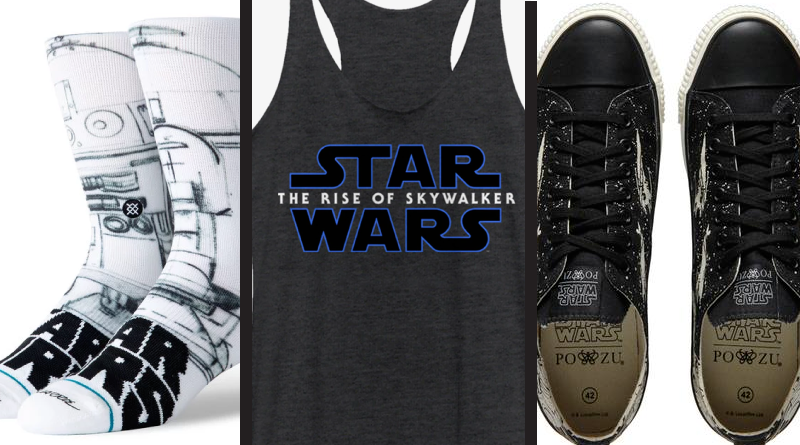 Want to say thanks for a helpful find or show your appreciation for pulling together all this info? Leave me a tip on Ko-fi.