Reviewing Casual Geek Chic from Jordandené
Remember when geeky women's t-shirts weren't even really a thing? Luckily that has changed over the past several years. And while we have more options in that realm than ever before, Jordandené is out there offering something a bit different.
Jordandené is a Brooklyn-based, woman-owned, small business known for their hand-lettered casual geeky apparel. They screen-print everything themselves and try to keep their process as eco-friendly as possible. You may have seen their t-shirts, sweatshirts, tanks, and other accessories on fellow attendees at conventions or as you scroll through Instagram.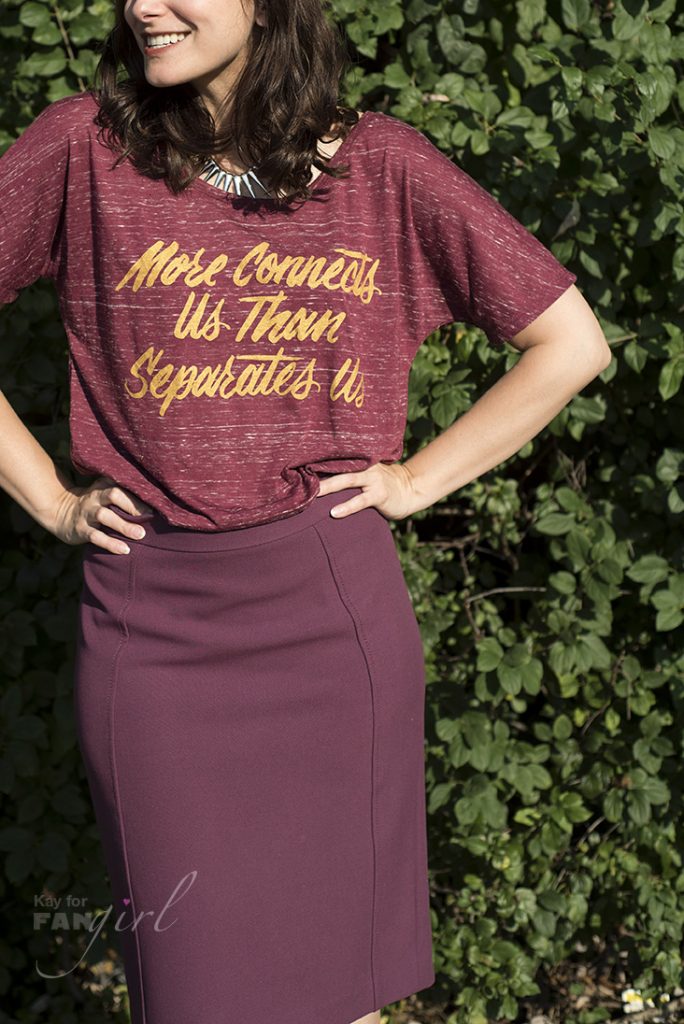 One of the things I really appreciate is the different shirt cuts they have to choose from. There's a unisex t-shirt and unisex tank which you'll see on an array of models on their site. But I was most intrigued by the scoop neck tee. So when the Jordandené team offered to send me one, I jumped at the chance to give it a try.
Checking out their website you'll see there's a bunch of fandom-related phrases to choose from. I got the "More Connects Us" design, which is not only a reference to the fantastic movie Black Panther, but is also a really great sentiment to remember in general.
The heathered reddish maroon tee is lightweight without being too sheer. Gold screen-printing of the brush-style lettering has just the right amount of shimmer to step up the look without going full-out sparkle. Size small was a good fit for me for this style.
Overall the scoop shirt is wide-neck, soft to the touch and drapes beautifully – and that's the big win for me. It's still causal but feels more elevated than a standard geeky text-based shirt design. I paired it with a pencil skirt in the same color family but I know it'll look great with a pair of jeans too. Between the softness, the style, and made-with-care feel, the $35 retail price seems like it's in the right ballpark.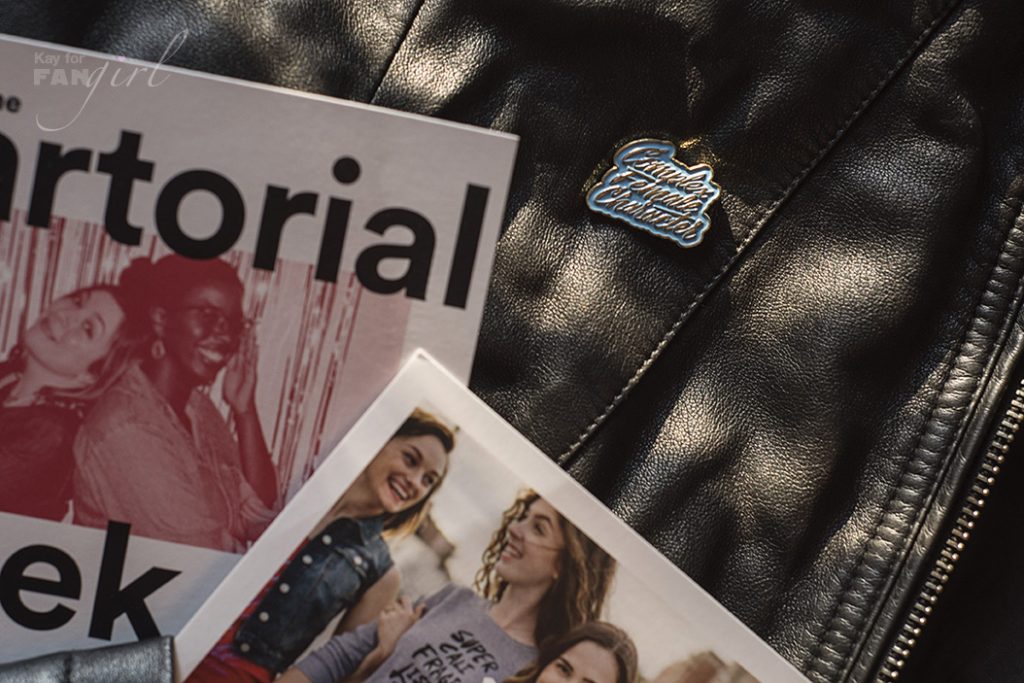 I also received a pin from this year's Jordandené x Sam Maggs collaboration. Maggs is the best-selling author of The Fangirl's Guide to the Galaxy, Wonder Women, and the upcoming Girl Squads. The team-up, also known as the Fangirl Galaxy Collection, brought stickers, zipper bags, hats, pins, and shirts with phrases like "Clever Girl" and "Space Witch". My pin says "Complex Female Character" which is not only perfect for me, but pretty much in line with the drive behind FANgirl. These sell for $10 which is the going rate for a lot of fandom enamel pins these days. The gold metal and light blue background is a nice combo, but I wish the text was a little easier to read from farther away. The swooping letters are clearer when they're on a larger scale.
The Maggs collaboration is just one facet of how Jordandené connects with the geek community though. They're also the team behind The Sartorial Geek , a blog, podcast, and magazine. The magazine is intended to be quarterly and has put out its first two issues this year. I'd read one digitally and was hooked by the range of topics and how thoughtful the articles were.
They also put out print copies and I'm happy to now have them on my coffee table. As of this posting there's 3 days left to go on their Kickstarter for their 3rd issue, which is themed around STEAM and sci-fi.  There's several reward levels including some campaign-exclusives and the good news is it's surpassed 100% funding! So not only will the magazine keep going, but if you contribute, you know you'll get it.
Thanks to Jordandené for sending the shirt, pin, and magazines to review. As usual opinions here are my own and please do not repost any of this content without my permission.