Fandom Fashion Finds: January Picks
It's a new year and we're back!
This month there's a bunch of great geek fashion options for the upcoming Marvel movie Black Panther as well as Minnie Mouse (believe it or not). Heads up: The ThinkGeek and Po-Zu links in this post are affiliate links. Making your purchases through these links helps support my ability to keep bringing you fashion content like this at no extra cost to you.
Let's take a look at this month's finds:
Marvel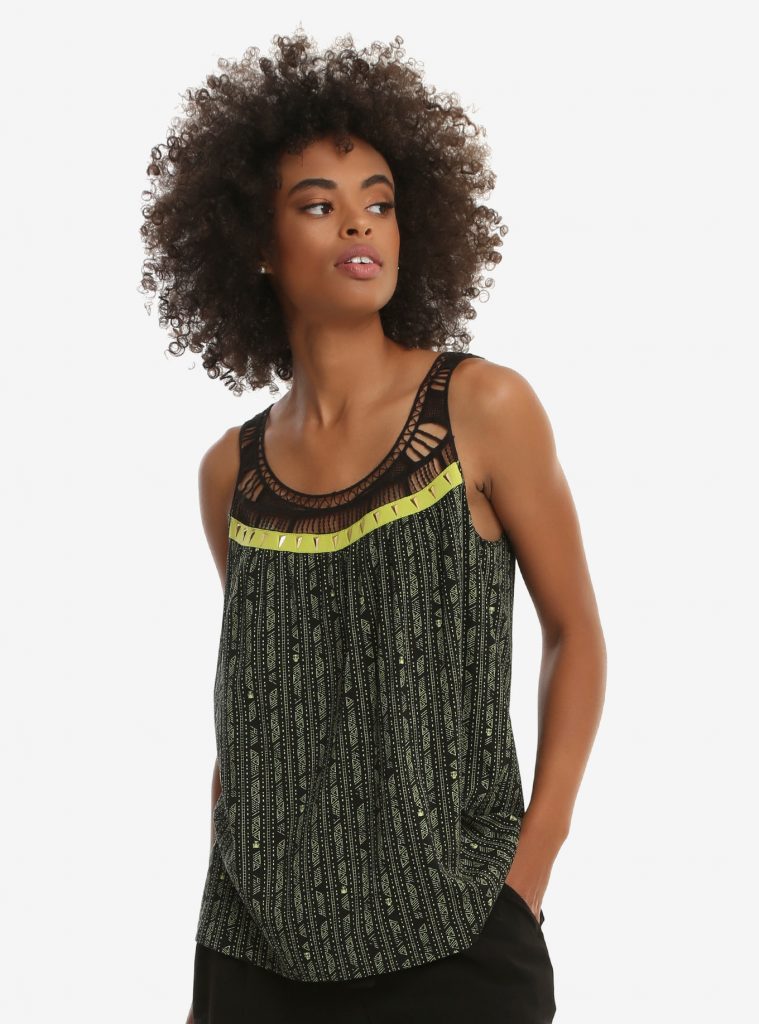 There are some stunning subtle geek tops from Her Universe in celebration of the upcoming new Black Panther movie. Her Universe Marvel Black Panther Nakia Cold Shoulder Top ($34.90) & Her Universe Marvel Black Panther Wakanda Womens Tank Top ($34.90). Both can be found at Box Lunch. A woven geometric print button-up shirt ($44.90) can be found in men's sizes. 
And don't miss out on the Douriean Black Panther jewelry collection ($72 – $453). It's designed by the movie's special jewelry costumer Douriean Fletcher and includes possibly the prettiest snapback hat ($166) I've ever seen as well as this lovely small claw necklace ($72).
You'll find a subtle monochromatic Black Panther tie at Shop Disney ($54.95). One of their photos has a great styling idea. ThinkGeek has Black Panther High Top Sneakers ($49.99) and the Loungefly Black Panther Handbag ($74.99). And Hot Topic has a black and gold Black Panther tank top ($22.90-$26.90).
New label Our Universe even has a pretty cool-looking athleisure line for kids that includes Black Panther designs.
If you have a spare $2,865 and are a Spider-Woman fan, Olympia Le-Tan has a comic cover recreated in appliques and embroidery as part of her book clutch collection.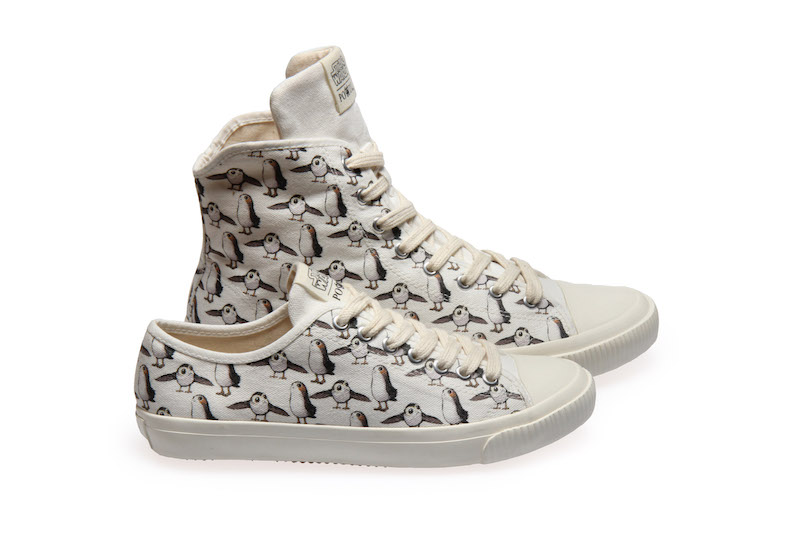 Star Wars
Bioworld Darkside Quilted Purse with Tassle ($30.09) – black and silver, fun, yet kind of sleek.
Shop Disney has a new print pattern camp shirt ($54.99) featuring Star Wars ships.
Po-Zu launched two styles of unisex shoes covered in a porg design (£59 – £69). They're also having a 25% off sale on everything except pre-orders through Wednesday, January 31st midnight GMT to celebrate their successful Crowdcube campaign that will help expand their distribution centers. You can check out the other Star Wars shoe options via the porg link too. 
The Box Lunch General Leia ring still hasn't appeared on their website but in the meantime a similar one that's also adjustable has shown up on Amazon ($29.99).
Also take a look at: Her Universe online exclusive Star Wars Patch Skinny Jeans ($89.90), Loungefly's The Last Jedi Poe Dameron and Finn wallets ($38 each), and Elhoffer Design's Galactic Bromance Shawl Cardigan ($80).
Disney
This Minnie Mouse Fashion Collection for Girls from Shop Disney is a complete ensemble ($24.95 – $49.95).The Minnie Mouse Rock the Dots/Walk of Fame celebration continues with the Minnie Mouse 1865 Walking Shoes for Women by New Balance ($139.95). More Minnie shoe options for women and girls can be found at New Balance's website. And Box Lunch has another subtle option with their cut-out collar Minnie Mouse Rock The Dots Sweater ($54.90). Torrid's Minnie Mouse red and black pleated midi skirt ($54.90) is pretty fabulous.
Unique Vintage's Happiest Collection on Earth: Couples Edition ($4 – $265) has pieces ideal for Disneybounding/ everyday cosplay. For kids Old Navy has a "Hidden Mickey" Disney collab that includes these leggings ($10.99) and tee ($16.99).
In other Disney pieces, check out:
Box Lunch's Mulan Mushu Gold Ring ($18.90)
Loungefly Disney Snow White Evil Queen Floral Tote ($69.90 – Box Lunch Exclusive)
The Aristocats Marie Music Embroidered Blouse ($44.90 – Box Lunch Exclusive)
Alice In Wonderland Womens Chiffon Top ($38.90)
Shop Disney's Cinderella "No Sleep" Baseball Cap ($21.99)
Mickey Mouse Memories Pin Set – January – Limited Release ($16.95)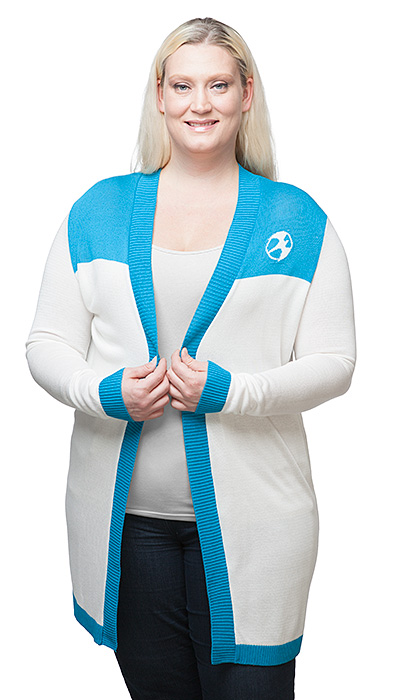 More Fandoms
Elhoffer Design has teamed up with Valiant Comics for a three-piece line inspired by Faith. You'll find all three pieces at ThinkGeek: Faith Longline Cardigan ($49.99), Faith Cropped Cardigan ($49.99), Harbinger Unisex Sweater ($59.99).  
You'll find the Harry Potter Solemnly Swear Tote ($59.90) with its debossed word art exclusively at Box Lunch. Alex and Ani have expanded their Harry Potter collection with several new pieces including this pull-cord bracelet featuring house sigils ($28).
This My Neighbor Totoro coin purse ($24.90) at Box Lunch is adorable.
Fun.com has some new women's DC Comics-themed office wear. There's the Women's Vintage Print One-Button Blazer ($59.99) and the Women's Vintage Print Pencil Skirt ($39.99) both featuring a cool and colorful lining. Over at Box Lunch there's the DC Comics The Flash Bolt Print Tie ($59.90).
Hot Topic, Torrid, and Box Lunch all release pieces for a Sailor Moon collection. GeekFold interviewed Torrid's fashion designer for the collection.
In Geek Fashion News:
Oh My Disney released their first collaboration with Shop Disney. The collection includes shirts, phone cases, bags, jackets, pins, and more.
Hero Within is having a Valentine's Day sale! 20% off with code IHeartBatman
Daisy Ridley is on the cover of Elle Canada's February issue.
The Minnie Mouse x Coach limited accessories line sold out in a matter of days. If you'd like to see what was in it, check out Elle's article. Meanwhile abyi's spring/summer 2018 collection will be a Disney capsule collection.
Her Universe will be part of the Studio Ghibli pop-up shop at 190 King Street in San Francisco February 24 – March 18.
Looking for more? Check out my December and November picks.