The Beautiful Dance of The Shape of Water – a Review
Filled to the brim with oceanic colors, classic film love, and human truths Guillermo del Toro's The Shape of Water is a magical experience of a movie.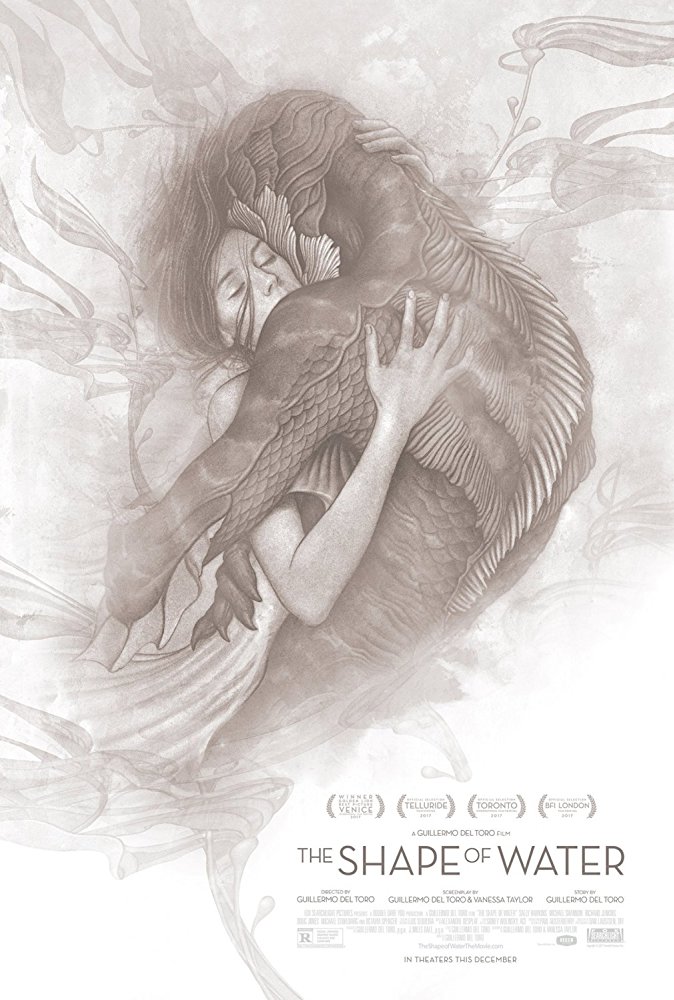 The story revolves around the actions of Elisa Esposito, a night-shift custodian at a research institute in the early 1960s. Much like the movie itself Elisa contains multitudes. She's mute yet Sally Hawkins' portrayal makes sure you always know how she feels, that she's constantly taking everything around her in, and then of course there's the sign language. Her appearance and silence allow others to underestimate her while her friends and the audience can clearly see the strength and power she holds.
When an amphibious yet kind of humanoid being is brought into the lab by General Strickland (Michael Shannon), Elisa's curiosity leads to a bond with the creature. Strickland's treatment of The Asset, on the other hand, makes his inability to see those around him as fellow human beings no less difficult to watch but unsurprising to say the least.
The Shape of Water is filled with plenty of plot points and moments that if I described them to you now you'd look at me askance but within the film seem totally natural. It's definitely one of the easiest times I've ever had suspending disbelief.
A theme of otherness pervades throughout the story. We see it not only with Elisa and The Asset, but with Elisa's friends – an African American co-worker named Zelda (Octavia Spencer) and a gay neighbor named Giles (Richard Jenkins). Both are no strangers to oppression and both actors give the solid performances you'd expect. Spencer especially is adding to her roster of characters you'd want in your corner. The script by del Toro and Vanessa Taylor combined with these actors gives supporting characters who not only feel real, but clearly have their own stories.
The pacing of the film is lovely as it glides through with natural pauses that make it feel like a dance. The score by Alexandre Desplat is a complement. A few moments of graphic violence were a little much for me, but for everything else being delivered I was willing to literally look the other way.
Del Toro builds moments of genuine tension and foreboding that maintain a core of hope propelled by characters who still have a deep kindness about them despite their outsider status. The overall aesthetic is somehow like that of a classic movie, a tribute to classic movies, and retains a modern feel all at the same time. To describe it as Amélie meets Creature from the Black Lagoon and Edward Scissorhands blended with a a fairy tale would get you in the right direction but not fully encapsulate it. This movie feels so clearly like its own thing too.
If you're open to seeing something that feels familiar and new, that'll tug at your heart if you've known what it feels like to be an outsider and to be loved, go see it. Don't bring the kids though. Save this one for when they're older.
The Shape of Water is in select theaters now.
Rated R for sexual content, graphic nudity, violence and language.