Clarks' Star Wars Force of Nature Shoes Channel Rey
Excuse me for a moment while I take a deep breath. Remember how Target's Bring Your Rey Game struck a serious chord with me?
From that article:
As someone who started gathering materials for her first Rey costume in late 2014, I've spent over two and half years now talking to people of all different ages, ethnicities, and genders about this character. So I've known and I know many other fans have known of her widespread appeal for some time now. It's fantastic to see the retail end on board too. Merchandise being in-line with the messaging the movies send out, not only enhances the overall story being told but allows for tangible, everyday interaction with it. Tricia, the founder of this site, is fond of the phrase "If you can see it, you can be it."
Well, it looks like we have another company that is sending the message out loud and clear. Today the shoe company Clarks released their limited-edition Force of Nature collection. It's a Star Wars branded shoe line explicitly aimed at women and girls "designed to celebrate the Force of female power".
Yesterday in preparation for the launch, Clarks held a Force of Nature panel with 4 women: Vix Anderton (former RAF intelligence officer & current entrepreneur/conflict advisor), Viktoria Modesta (the first bionic pop artist), Easkey Britton (environmental scientist & pro surfer), and Flt. Lt. Kerry Bennet (RAF jet pilot & astronaut trainee).
There is only one shoe design and it seems to be a tribute of sorts to Rey's boots from The Force Awakens and The Last Jedi.  Three color options are for women (Black, Gray, Sand) and three different colors are in kids sizes (Chocolate, Grey, Rust).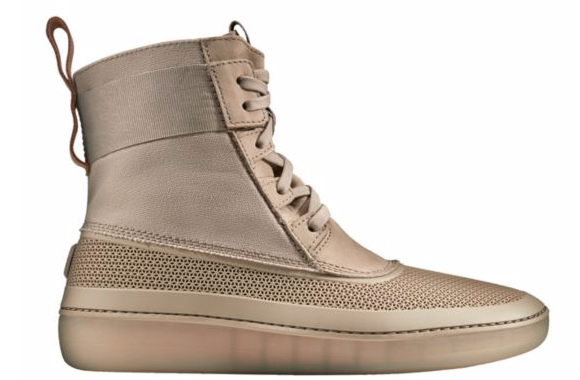 Clarks cites a few special elements to the boot-like design including minimal component parts, an advanced footbed, and a combo of new materials, construction, and technologies. From the product description:
"The close-fit, high-top design keeps the ankle protected, and the soft fleece lining and innovative lacing system ensures the foot stays warm and dry, providing extra protection against the elements. Features include an exclusive Rey heel detail, the iconic Resistance symbol, and premium collectable packaging."
The shoes are available on Clarks website and in select stores now.