More Episode IX Developments: The Return of J.J. Abrams
A week after the announcement of Colin Trevorrow's dismissal from Episode IX, Lucasfilm confirmed a familiar face as his replacement:
J.J. Abrams, who launched a new era of Star Wars with The Force Awakens in 2015, is returning to complete the sequel trilogy as writer and director of Star Wars: Episode IX. Abrams will co-write the film with Chris Terrio. Star Wars: Episode IX will be produced by Kathleen Kennedy, Michelle Rejwan, Abrams, Bad Robot, and Lucasfilm.

"With The Force Awakens, J.J. delivered everything we could have possibly hoped for, and I am so excited that he is coming back to close out this trilogy," said Lucasfilm President Kathleen Kennedy.

Star Wars: Episode IX is scheduled for release on December 20, 2019.
Abrams is undeniably an improvement over Trevorrow – regardless of Star Wars – and that alone is cause for renewed, if cautious, optimism. In addition, The Force Awakens demonstrates many of Abrams' strengths, including world-building, casting roles, commitment to onscreen diversity, bringing out great performances from actors, and a passionate commitment to the franchise and its success. The Force Awakens also includes a narrative innovation for Star Wars with parallel Hero's Journey story arcs for both Rey and Finn, which may bode well for Abrams' ability to synthesize the seeming inevitable interconnected resolutions for the storylines for Rey and Kylo Ren in Episode IX.
At the same time, Abrams' hire for Episode IX presents several risks, and it is important that Lucasfilm not defer too greatly to the director simply by virtue of his $2 billion box office haul with Episode VII.
First, one of Abram's longstanding weaknesses is in bringing the stories he has helped to create to powerful, satisfying, and cathartic conclusions. As the opening tale of the Sequel Trilogy, Episode VII was playing to his strengths in creativity and origins; Episode IX presents a very different storytelling dynamic that is far less within his wheelhouse. Even The Force Awakens itself showcases this concern: its first two acts are quite strong, but the third act is considerably weaker, including the overly fanservicey X-wing assault to blow up Starkiller Base and the construction of the sequence involving Han's death. The third act has its iconic moments – Han telling Finn "That's not how the Force works!" or the Skywalker lightsaber flying into Rey's hand – but it fails to live up to the storytelling quality of the earlier parts of the film. Abrams needs to do better for Episode IX, as a whole and with its own ending.
Second, Abrams' method of writing Star Wars was isolated rather than collaborative. The Force Awakens could have been stronger if Abrams and co-writer Kasdan had been more open to input from others at Lucasfilm on matters such as characterization. The fact that a novel like Bloodline has to rehabilitate Han's and Leia's relationship, for example, indicates that openness to even some minor tweaks to dialogue or portrayals could have brought The Force Awakens more in line with Lucasfilm's overall vision for its characters. With Episode IX bringing some crucial character arcs to a close – most importantly Rey's and Leia's – those resolutions should benefit from the perspective of Star Wars' entire brain trust, not just the minds of a few.
Third, with no disrespect to Chris Terrio, he cannot be a co-writer of the magnitude of Lawrence Kasdan. Abrams rightfully revered and deferred to Kasdan, not just due to The Empire Strikes Back and Return of the Jedi but his entire body of work. By contrast, Terrio is Abrams' junior and has no authoritative history with the Star Wars franchise. While Terrio won an Oscar for Best Adapted Screenplay for Argo, his screenplay for Batman v Superman: Dawn of Justice underwent significant reshoots before release, and Joss Whedon will receive co-writing credit on Justice League due to the extent of those reshoots, as well. That track record more closely resembles some of the other men fired from Star Wars movies than it does Kasdan, Michael Arndt, or Rian Johnson.
Even if Lucasfilm is proactive in addressing these weakness in Abrams' creative process and delivers a superb movie with Episode IX, his hire nevertheless will remain disappointing from the perspective of creator diversity in cinematic Star Wars. For the five films slots for which hires have been officially announced – that is, three saga movies and two standalones – Lucasfilm has hired a dozen middle-aged white men as screenwriters and nine middle-aged white men as directors (ten, counting Tony Gilroy's extensive work on Rogue One). Through 59 episodes in three seasons of Star Wars Rebels, women have directed zero episodes and one woman has written three episodes. With the younger men fired, replaced by more seasoned hands like Abrams and Ron Howard, the danger is even greater that women directors will be deemed "too risky" to take on a Star Wars movie – and given the longstanding inequalities in Hollywood, few women have been able to build credentials of proven blockbuster experience.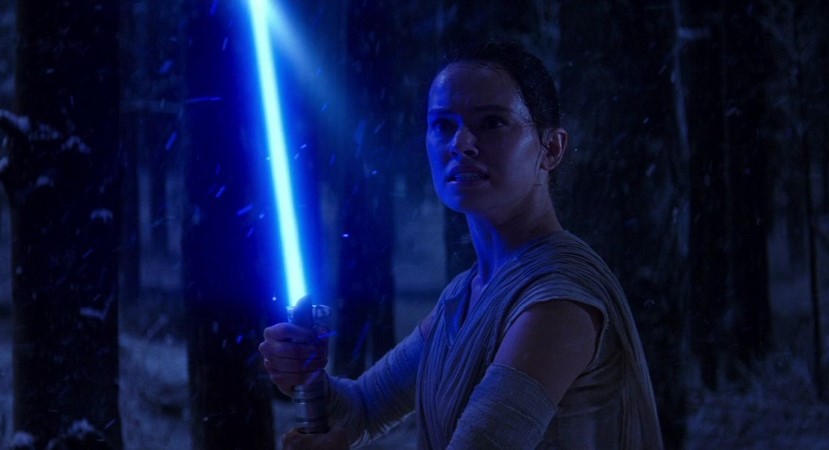 It is concerning that a mythic series with a female lead will have no women in key roles. If Abrams brings back his entire team from Episode VII, then women will be excluded in almost every key role once again. Women have succeeded impressively in numerous other areas of Star Wars storytelling, including Forces of Destiny, books, comics, games, and the Story Group and editorial positions – not to mention women's amazing performances onscreen in the movies and animation. For "The Force is Female" to really ring true, however, they also must be hired into the most prominent creative roles in the movie-driven franchise. It is long past overdue to hire a woman to write or direct a Star Wars film.
Finally, the shift in release date to December 2019 is a positive sign for the future of Episode IX. Both The Force Awakens and Rogue One suffered from a rushed development process, including major screenplay revisions during principal photography and critical scenes revised or created in reshoots; both were being edited down to the very last hours before the final deadline necessary to accomplish release. By contrast, The Last Jedi has benefitted from plenty of time for its screenplay and filming, and apparently is essentially completed nearly three months ahead of release day. Giving Episode IX more time to get the story right, rather than holding firm on the original date of May 2019, is definitely the right decision.
Related Links