Fandom Fashion Finds: August Picks
Luckily August was a little quieter on the fandom fashion front. I could use a breather after July. And I'm sure with Force Friday coming up, there will be a bunch of new Star Wars items next month. So for now, let's get to this month's picks:
Star Wars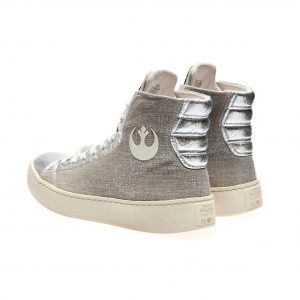 August brought us six more pairs of Star Wars shoes. Read my review from the Star Wars x Sperry 40th anniversary collection here. And learn more about the Po-Zu silver Limited Edition linen & Pinatex vegan Resistance sneakers here.
I'm also intrigued by:
Elhoffer Design added a pre-order for her Galactic Snips Longline Cardigan ($70 pre-order).
Her Universe has a Empire Strikes Back Tie-Back Circle Skirt ($49.90) that brings bedsheet fashion more mainstream.
Box Lunch added Rebel and Imperial dad hats ($18.90 each). I like their minimal style.
State Bags has a not inexpensive but very cool new Star Wars backpack collection (starts at $80). Your can read more about State and these bags on StarWars.com.
Also this month Tricia spotted some new Star Wars shirts for men and women at a Disney Park. Many of them can be found on the Shop Disney Parks App.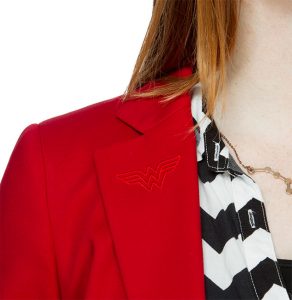 DC Comics
Want to add Wonder Woman to your office wear? ThinkGeek has a Wonder Woman Ladies' Blazer ($79.99). In addition to the blue background with white stars making up the lining, this red blazer has the Wonder Woman logo discreetly embroidered into the lapels.
Also seen this month:
Hero Within's previously SDCC-exclusive-only Wonder Woman fashion t-shirt ($29) available in limited quantities from the comfort of your own internet connection. Their Premium Flash Hoodie ($99) is also now in stock.
Disney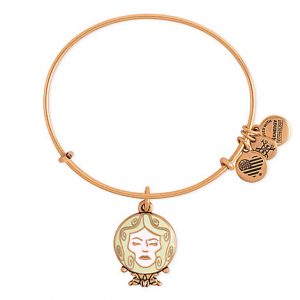 The Disney Store added some Haunted Mansion-themed Alex and Ani bracelets to their site: Haunted Mansion Singing Busts Bangle and Madame Leota Bangle ($44.95 each). They're subtle, fun, and stackable.
Unique Vintage expanded their Happiest Collection on Earth with a Villain's Edition. These are great for everyday cosplay and Disneybounding.
Check out Hot Topic's first shoe collection, based on the tv show Once Upon a Time ($72.90 – 89.90).
Need more shoes? Bensimon has tropical Tennis Bensimon X Disney Mickey Mouse shoes (32 – 35,00 €).
Disney Style also has some ideas for incorporating Disney pieces into your fall fashion.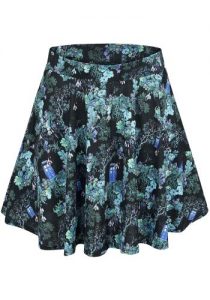 Geeky Grab Bag
Han Cholo's Dragon Ring ($290) may be of interest to Game of Thrones fans (h/t Johna).
ANOVOS added a pre-order for their Battlestar Galactica Classic Colonial Warrior Jacket ($300). You can read about the research that went into re-creating the jacket on their site.
Her Universe has this subtle, floral Doctor Who skirt with pockets! ($49.90) The skirt is also available on EMP for those in the UK. 
I'd like these Studio Ghibli My Neighbor Totoro socks ($9.90) from Box Lunch – please and thank you. And speaking of Studio Ghibli, this Princess Mononoke Minimal Tank Top ($26.90) from Her Universe is a beauty. 
In further geek fashion news:
eShakti, a customizable clothing company, now has a dress category called Celestial. (h/t Margaret H. Willison)  
Jordandene added scoop neck, slouchy tees to some of their designs. Check them out here.
Tom + Lorenzo have a cool article about the meaning behind a few queenly characters' clothing on season 7 of Game of Thrones.
Over on Nerd in the City Lizzie has been doing a month of Thrift Store Cosplay.
On the newly launched GeekFold, Lisa interviews the co-founder of J!NX about working with Hot Topic.
Check out @GeekFashionGalaxy on Instagram for this kind of fashion news and findings as it happens.
Support my ability to share more fashion content like this by clicking on the corresponding ad banner below when you're ready to buy your new Star Wars x Po-Zu shoes or Star Wars x Sperry shoes.