Fandom Fashion Finds: February Recap
This February has been more on the quiet side for new fandom fashions with the exception of one major movie. Be sure to read all the way through though because there's plenty of fashion news to go around. Let's take a look at the most stylish and fun fandom fashion finds found in February.
With the live action Beauty and the Beast movie coming out in March, related apparel and accessories are making their way online and in-stores. There are now collections at Macy's, Kohl's, JCPenney, and Hot Topic. All of these are working to blend French pastoral, Rococo, and modern fashion sensibilities – some to more success than others. For the most part the pieces are very flowy and feature a lot of flower prints for a look that's subtle and sometimes even borderline generic as far as the fandom part goes. Pretty much all of it is sized for Junior's. Make of that what you will.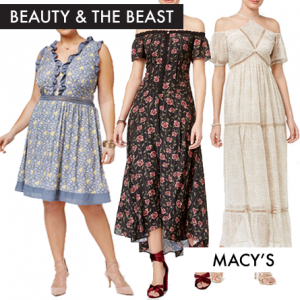 Macy's offerings feature quite a few t-shirts. Some of them are a bit more on the fashionable side like this Snowflake Graphic Shirt ($29), this Rose Graphic T-shirt ($29), and this Power of Love Shirt ($29). Macy's also has at least 18 Beauty and the Beast-specific pieces by way of dresses, blouses, skirts, gaucho pants, military pants, and a bomber jacket ($59). There are plus sizes available for many of the items too.  The standouts to me are: Beauty and the Beast Juniors' Printed Off-The-Shoulder Dress, Trendy Printed Fit & Flare Dress, and Printed Off-the-Shoulder Maxi Dress. All three retail for $69 each.
More t-shirts can be found at JCPenney as well as a couple of dresses that are very similar to some of Macy's styles. There's also a flowery shorts jumper ($60), a high-low maxi dress ($68), and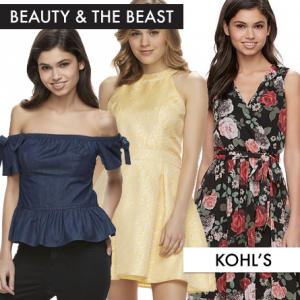 a silver-tone and crystal Beauty and the Beast bangle ($60). You can find their complete offerings here.
Kohl's has the t-shirt, dress, and shirt melange as well. Some of these styles definitely remind me of the 90s, which is, funnily enough, when the animated movie came out. My top three from Kohl's are this Floral Surplice Maxi Dress ($58), Brocade Yellow Halter Dress ($58), and this Chambray Off-the-Shoulder Top ($40).
There seems to be a fair amount of re-purposing designs from earlier collections going on in the Hot Topic Fashion Collection.  None of it is yelling out to me either. They do have this fun Stained Glass Enchanted Rose Crossbody Bag ($22.90) though. Out of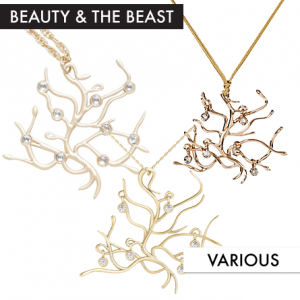 the four stores Hot Topic appears to be the only collection to offer something for men. Lids is carrying themed New Era baseball hats for both men and women though. At the time of posting only three designs were in stock online, but you can check out more of the neat designs on Disney Style.
Both Hot Topic and The Disney Store offer a necklace based off one Belle wears in the film. Hot Topic's Beauty and the Beast Replica Necklace comes on a chain for $9.90 while Disney's Belle Rosetree Pendant Necklace is on a chord for $24.95. The premium version of the necklace appears to be at Helzberg for $299.99.
UPDATE: After publishing another collection appeared – this one at Unique Vintage. Their have a lot of different types of pieces that'd be great for Everyday Cosplay or a DisneyBound.
Speaking of The Disney Store, they also recently added some Disney Boutique apparel. The Mickey Mouse Paisley Cape ($39.90) is super subtle and chic for something out of this retail venue. It's so happy-looking too.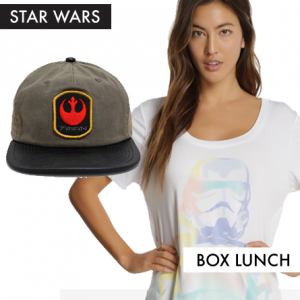 The Muppets are featured in a new bag collection from Essentiel Antwerp. They're only being sold in the EU at this time, but I'm here for this Kermit wallet (€95).
On the Star Wars front, two stylish and subtle items over at Box Lunch caught my eye. The Stormtrooper Iridescent Tee ($28.90) is so different than the typical stormtrooper shirt designs. And a latent Rogue One arrival appeared in the form of the Rogue One Rebel Snapback Hat ($22.90). It reminds me of the great Loungefly bag designs from December. Plus – Aurabesh feature.
If you're in the market for Star Wars logo loungewear, you can find shirts and such at the Disney Store here, here, and here.
In case you missed it in other fandom fashion news:
Love and Madness announced they'll be adding a whole wrap bracelet section to their site.
Allison Cimino of Rock Love Jewelry announced that the company has now teamed up with Marvel, Disney, and Star Wars. A Guardians of the Galaxy collection will appear first. Plus there will be new Twin Peaks pieces as well as a Firefly set for ThinkGeek. (I've been admiring Rock Love's jewelry for a while now and cannot wait to see all this new fabulousness!)
Bill Nye (the Science Guy) and Astronaut Buzz Aldrin walked in the Nick Graham NYFW show. While at London Fashion Week, Mary Katrantzou's collection featured images and inspiration from Disney's Fantasia. 
Emma Watson and her style team have a new Instagram account called The Press Tour where they're featuring all the sustainable & eco-friendly fashion and make-up from her Beauty and the Beast press tour ensembles.
Po-Zu continues to show us that we should be setting aside some money for their upcoming Star Wars collection. This month brought Finn and Poe boot previews.
Check out @GeekFashionGalaxy on Instagram for this kind of fashion news and findings as it happens.