Fandom Fashion Finds: January Recap
As we move past Rogue One's release and clothing, let's take a look at some of the most stylish and fun fashion finds that came out in January.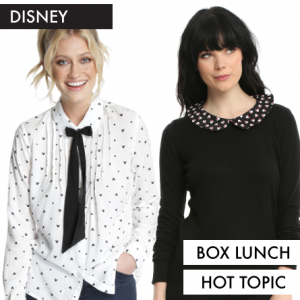 Disney used National Polka Dot Day to celebrate Minnie Mouse's "impact on fashion and pop culture" with their #RockTheDots events at parks and online. And this past month saw both Hot Topic and sibling-brand Box Lunch, add some pretty fashionable Minnie tops to their wares. Box Lunch now offers a Minnie Mouse Front Tie Women's Blouse for $34.90. Its print is fairly subtle and could probably pass most office dress codes. Meanwhile the Minnie Mouse Girls Collared Sweater for $44.90 – $48.90 over at Hot Topic reserves their print for the peter pan collar and a few faux buttons.
Hot Topic also launched a middle-of-winter Disney Swim Collection with everything ranging from $39.50 – $49.50. Disney Princesses also got some new clothing items such as this toile print and chiffon-backed top and this fun Snow White graphic tank with "Fairest of Them All" on the pocket.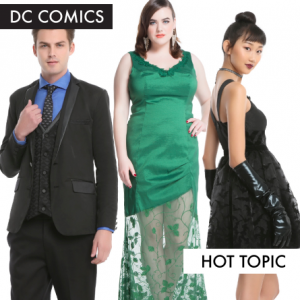 Their new souvenir jackets include designs for Mulan and Lilo & Stitch as well as other fandoms including Deadpool, Dragon Ball Z, and Pokemon.
Hot Topic continues with the on-a-roll collection roll-out with their Gotham Nights collection – a formalwear line inspired by characters from DC Comics. I haven't been able to check out the quality on any of these but it's cool to think someone can go to a school dance or other event and incorporate their geekiness into their dress or suit.
And in the wait for the new Her Universe website, a few Her Universe x Studio Ghibli pieces were added including this Spirited Away Posh No Face Dress ($59.90). The metallic brocade print of the dress makes it one of the fancier Her Universe apparel items.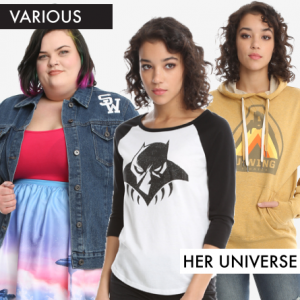 Speaking of Her Universe, the new website launched towards the end of the month and there's definitely some nice improvements to help you find what you're looking for.
In addition to offering extended sizing for many of the existing pieces, there's a few new additions including the Loki Retro Jersey Hoodie ($40), Marvel Black Panther Mask Raglan Tee ($30), embroidered May the Force be With You Denim Jacket ($95), and this comfy-looking Rogue One U-Wing Fighter Hoodie with thumb holes ($45).
As a bonus – standard shipping from the site is now $4.99.
And last, but certainly not least (in price), Kay Jewelers started selling a crystal pendant necklace inspired by Jyn Erso's kyber crystal one seen in Rogue One. Their Star Wars Rogue One Quartz Necklace 14K Rose Gold retails for $3,399.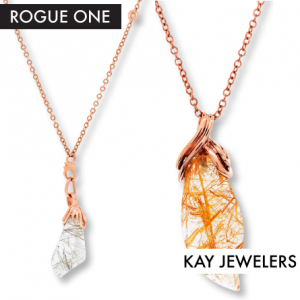 When the movie came out it looked like the biggest movie merchandise mis-step for accessories was no official/licensed kyber crystal necklace, so many fans were excited and then kind of in shock over the price tag of this one. The two diamonds embedded on the sides of the quartz are most likely a contributing factor to the price. Days later the more accessible Star Wars Rogue One Quartz Necklace Sterling Silver/14K Plated ($199) appeared on their site.
I'm still holding out hope for another kyber crystal necklace that looks more like the one in the movie since I have a fondness for incorporating movie costumes into my everyday wardrobe. In the meantime, it's possible to find a quartz necklace independently that'll do the trick if those prices are out of range for you.
In case you missed it in other fandom fashion news:
Hero Within is now being sold at ThinkGeek and BoxLunch in addition to their own webstore.
Po-Zu has been slowly revealing images of footwear from their new Star Wars line on Instagram. So far there's the Rey boots, Poe/Resistance sneakers, and some Chewbacca boots.
Bioworld has been teasing a whole slew of sleek Star Wars bags on Instagram too.
Check out @GeekFashionGalaxy on Instagram for this kind of fashion news and findings as it happens.