Kay and the Jedi Council Discuss Star Wars Rebels Season 3 Opener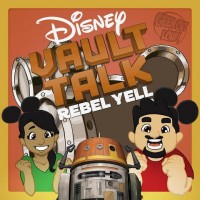 The Disney Vault Talk Rebel Yell Jedi Council (we should probably consider shortening the name) re-convened to celebrate the start of Star Wars Rebels' third season.
Hosts Steve and Teresa welcomed me, Erich, and Aaron to cover the highs and lows of "Steps Into Shadows".
Listen in as we discuss the dark side–and the light–of the Force, Ezra's approach to getting the job done, the amazingness of Bendu, railings, and dear old Thrawn. There's even an Indiana Jones reference in there.
Disney Vault Talk: Rebel Yell -"Steps Into Shadow" can be found:
on iTunes   |    on the Geek Out Loud website    |    on Android
OR right here