Fandom Fashion Friday: Episode 7
It's back–Fandom Fashion Friday, that is!
In the months leading up to Star Wars The Force Awakens there was a big influx of Star Wars apparel and accessories. Now that the movie is out and on it's way to DVD/Blu-Ray/Digital there is still some new items appearing but not nearly as much.
For example, remember how I (and many of you) were all excited by Old Navy carrying several Star Wars shirts for women and girls? As of this posting, you might be able to find a couple of those items in the clearance section in-store, but they're totally gone from online. What's more, Old Navy currently has Star Wars apparel available for men and boys–including new items. That's cool for the men-folk but sad trombone for the ladies.
So let's celebrate what is out there right now instead. And there are some cool items for everybody.
Forever 21
The Forever 21 Star Wars Collection is still going and seems to have a few more pieces. Clothing items are currently available for adults and kids.
This hoodie is a bit different from what you typically see for Star Wars. It's spattered in metallic text with phrases like "May the Force Be With You" and "Star Wars 77" as well as "Obi Wan Kenobi" and "Vader". There's also a big Star Wars logo outline on the back.  ($24.90)
If you're a fan of metallics, you're in luck because Forever 21 also has this Star War Graphic Metallic Pullover featuring icons for a stormtrooper, R2-D2, and Darth Vader. ($24.90) Like, the previous item, the content depicted is a bit random, but it's definitely a different style than the typical logo-only or image-only t-shirt and sweatshirts.
Also available is the Darth Vader Graphic Leggings, which are actually a bit more subtle. A tonal Darth Vader helmet repeated runs down the seams of these leggings and they feature that all-important key pocket. ($19.90)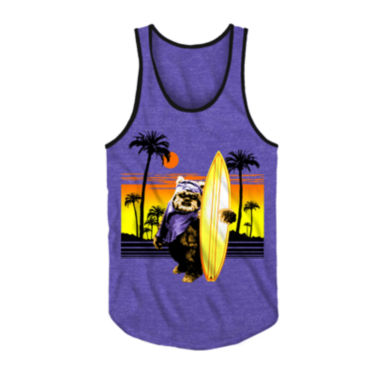 JCPenney
A few more Star Wars items have appeared on the JCPenney website in recent weeks which include accessories as well as some fun and modern designs. At the moment they're having a sale of 40% many of these items with potential for another 20-25% off. Retails prices are listed with the items below.
If you're wondering what an Ewok would look like as a surfer, check out the Ewok Surf Tank Top ($20).
There's also a metallic print C-3PO sweatshirt that says Stay Golden ($34). More metallics appear with this tonal The Force Awakens poster t-shirt which includes Rey ($22). And then there's this golden opening crawl from A New Hope on a tee ($22), although from the photo it looks like this one might be a little see-through, a common occurrence in women's Star Wars shirts these days.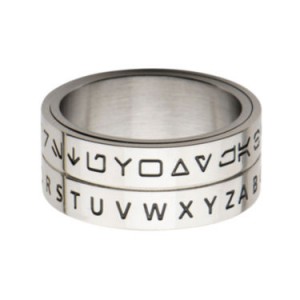 Several Star Wars sunglasses ($26) are also available, including: X-Wing sunglasses, Chewbacca, Darth Vader aviators, Epic Fight wrap sunglasses, and a design called Millennium Falcon.
A 3D Chewbacca design ($108.32), R2D2 spinner ($91.65), Red Rebel ($108.32), and my favorite, an English to Aurabesh translation design ($91.65) are among the rings now available. As seems to often be the case in department store offerings all these rings are listed as men's and/or start with a size 9 as the smallest option. If it's too big for your fingers, hanging it on a necklace is still an option.
There are also a few new woven short-sleeve shirts intended for the guys but with cool designs I hope we start seeing on more women's shirts too. This shirt incorporates the Millennium Falcon ($48) while this one has cartoon drawings of droids and other Star Wars imagery ($48).
ThinkGeek
If you're in the market for a wind breaker, ThinkGeek has an exclusive Darth Vader design ($59.99).
ThinkGeek has been branching out with some different designs than what you typically see in Star Wars apparel. While I personally wouldn't wear some of the new items, it's still refreshing to see and an effort to be applauded.
There are two new maxi skirt designs: R2-D2 ($49.99) and the Death Star ($49.99). If you're an R2-D2 fan, check out their new R2 Plaid Ladies' Button-Down ($49.99). ThinkGeek is now also offering R2-D2 and Boba Fett corsets ($32.99 each). There's also the Rey Hooded Tank Dress ($49.99). The Kaleidoscope Maxi Dress features Vader and stormtroopers ($54.99) and is probably my favorite of the pieces in this newest grouping as its flattering and an interesting take on the well known images.
For the kids there's a few new geeky zipper tie options including this adorable BB-8 tie ($29.99).
ThinkGeek is also now carrying two Musterbrand Star Wars jackets: Imperial "TIE Pilot" ($499.99) and Skywalker Rebel Leader ($189.99).
Design By Humans
The Star Wars tops at Design by Humans feature some graphics that are a bit different than what you typically see and these tops usually are available in multiple styles. For example, check out this May the Force Be With You top ($26-$46) that incorporates popular icons from the saga. Rey and Finn on the Run Tank ($26) appears to be available exclusively for women. Saber This Moment ($26) is a men's shirt spotlighting some lightsaber hilts. Force Awakens tee has some neat monochromatic art.  Always Be Darth Vader ($26) is another men's design, but this might be what Kylo Ren wears under his tunic. ;)
And if you're got your ears to the fashion ground or your eyes to the social media skies, you've probably heard there's a bunch of new items out from Her Universe within the past week and even more on the way next month. Look for more info about those in a separate post.
Spot any different than usual Star Wars apparel? Share it in the comments below.
And remember to watch #geekfashion on Twitter for the latest.