I've Seen The Force Awakens, Now What?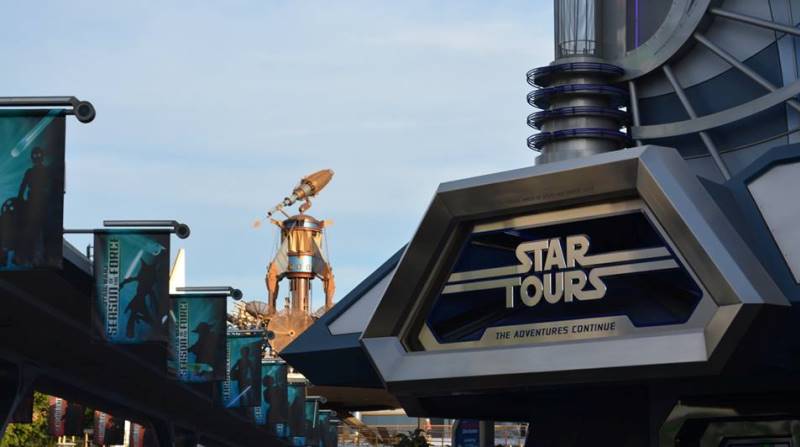 After seeing The Force Awakens [insert your number here] times, you might have a Star Wars itch still feeling like it needs to be scratched. Books, comics, and merchandise can fill that gap to experience more of the galaxy far far away. Others may find suitable outlets like cosplay, fanfic, or fanart. If you're craving something a bit more immediate and immersive, Star Wars Land may seem lightyears away, but Disney has found some ways to allow fans to experience the magic of Star Wars here and now.
Disneyland
It is the Season of the Force at Disneyland in Anaheim, California. Tomorrowland has been transformed with banners of favorite Star Wars characters, old and new. Nighttime illuminates the difference between the sides: light side in blue and dark side in red. Tomorrowland restaurants have galactic-themed fare like Forest of Endor pasta at Redd Rockett's Pizza Port or the Darth Tamale at the Galactic Grill. BB-8 sippers and First Order TIE fighter popcorn buckets can be found at various food vendors and Death Star balloons hover above the crowds, waiting for the inevitable child to take one home.
While the superb assortment of The Force Awakens merchandise for fanboys and fangirls at Star Traders is worth perusing, the must-see experiences are Star Wars Launch Bay, Hyperspace Mountain, the updated Star Tours, Path of the Jedi, and Jedi Training: Trials of the Temple. Hyperspace Mountain and the Jedi Training, with its larger stage, are unique to Disneyland. As a Florida resident, I was firmly entrenched in the mindset that Disney World offered the best experience, but I was blown away by one ride on Hyperspace Mountain. The reskinned Space Mountain is now an immersive rollercoaster ride much like Rockin' Roller Coaster at Hollywood Studios, set during a mission to destroy the second Death Star in the Endor system. Join the men and women of Blue Squadron as they take on a Star Destroyer.
Also unique to Disneyland is the 60th Anniversary celebration, running through September 5, 2016. Or try Disneyland later in the year, when the Haunted Mansion and It's a Small World are spruced up with Christmas-themed decorations. The Nightmare Before Christmas reskinning of Haunted Mansion is unique to Disneyland, and the Christmas carols intermixed with the "It's a Small World" soundtrack will put anyone in the holiday mood. Disneyland can be very crowded and the parades can get in the way of moving around the park, so plan accordingly.
Disney World
For the Star Wars experience in Florida, Hollywood Studios is the destination for fans. Star Wars Weekends will be missed, but the park has been slowly adding more experiences. Like Star Tours at Disneyland, the Florida version has added a new Jakku sequence and an interstitial featuring BB-8. At both parks, experienced Star Tours riders will notice slight variations in some of the other sequences. We won't give them away here, but the important part is that each ride has even more ways it can play out. The Jakku sequence is now one of my favorites, riding along with Rey and Finn, although it is in place of one of my other favorites, the Hoth sequence.
Both Disneyland and Hollywood Studios offers a Jedi Training Academy, but in Florida parents need to rise early to get their Padawans signed up for the experience. For fans of Star Wars Rebels, the Seventh Sister makes an appearance as a villain. Hollywood Studios and Disneyland have slightly different versions of the Star Wars Launch Bay, which showcases props and costumes from the movie. Path of the Jedi, a short film that weaves together the heroic narrative of the Star Wars saga is a must-see; check park schedules for show times.
Where Disneyland can't touch Hollywood Studios is their updated "Symphony in the Stars" Fireworks. I recommend pairing this with the Dessert Party for best viewing, or sneak over to the backside of Echo Lake where it is less crowded. Also a remnant from Star Wars Weekends, Watto's Grotto creates one of the best Star Wars shopping experiences in the park. The space is ample to explore the store and fashion is styled and displayed, giving shoppers geek fashion inspiration.
If you want a particular reason to visit either park, my Fangirls Going Rogue co-host Sarah Woloski has arranged a meet-up for her Skywalking Through Neverland podcast regular listeners this weekend at 6:30 p.m. PST at Downtown Disney in Anaheim. In April, I will be joining Sarah for another meet-up during the Star Wars Half-Marathon: The Dark Side weekend.
For more images from Season of the Force and holidays at Disneyland, check out our album on Facebook.
Full disclosure: FANgirl Blog was provided entry and fastpasses to Disneyland.