The Force Awakens-Inspired Everyday Cosplay: Captain Phasma
The costumes of The Force Awakens are so artfully-crafted I couldn't help but be inspired to translate them into everyday outfits. In this edition of Everyday Cosplay I take a look at channeling the intimidating tower of silver, Captain Phasma.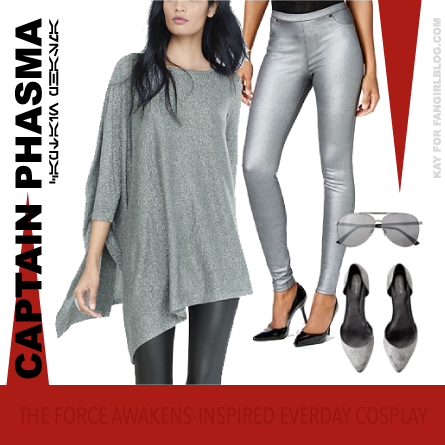 Tunic | Pants | Sunglasses | Shoes
 Phasma may have provided the most fun in clothes hunting for this series. Obviously her main color is silver but you can bring black and red in too from her cape. This tunic brings the shine while also providing potential for some dramatic cape-like movement. Note the sunglasses are mirrored as a stand-in for the chrome dome.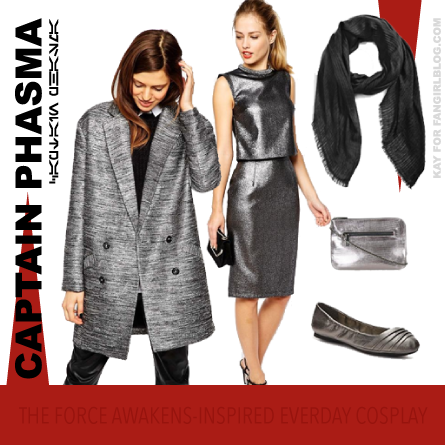 Coat | Skirt | Scarf | Purse | Shoes
(The top pictured with the skirt is currently unavailable. Here's an alternate.)
Not all silvers match. Some are more white, some are more gray-black or pewter. You can mix them, but some pieces will look better together when they're the same silver. Add a black scarf to wrap around your shoulder for the Phasma cape effect. Bonus points if you can find a black scarf edged in red. Layering a red scarf under a black scarf is another option.
Shoes | Sunglasses | Pants 1 | Pants 2 | Shirt
Somehow we reached a more laid back style while getting even more sparkly and shiny. First, check out those shoes. You might be able to check your make-up in them. There are two pants choices dependent on how bold you want to be. The darker ones are good for mixing silvers while the lighter ones still have a slight sheen and are closer to matching. The sunglasses are actually Star Wars-branded from Kohl's.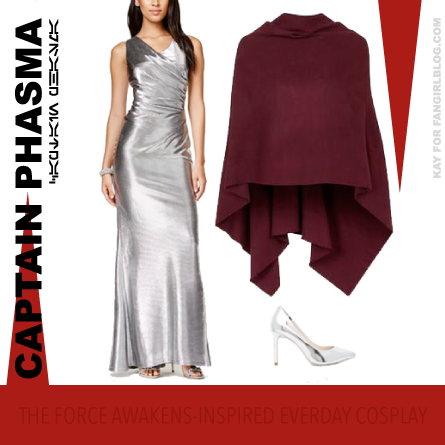 I could keep going, but I'll leave this fancy Phasma style for our last look. That gown looks like liquid armor and it's another chance for shiny shoes. I did not know there were so many chrome-looking shoe styles out there until I started this project.
Two more installments of The Force Awakens-Inspired Everyday Cosplay are yet to come. If you follow me on Twitter, you know who at least one of the characters is. In the mean time, if you haven't already, check out the previous entries: First Order Stormtrooper, Pilot Poe Dameron, Resistance Finn.
Putting together your own Star Wars style? Share it with us in the comments or  on Twitter using #StarWarsEveryday.