The Collected Works of Hayao Miyazaki on Blu-ray from Amazon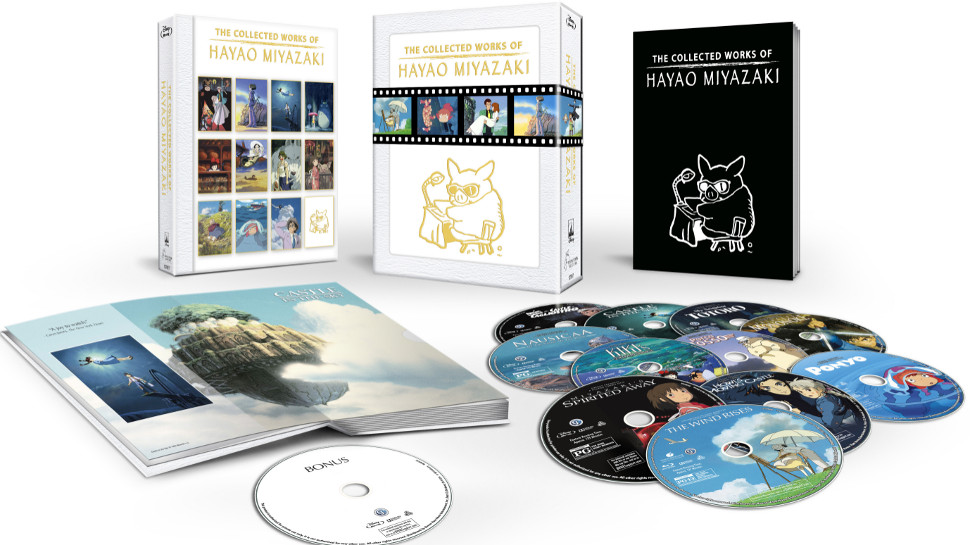 On November 17th, Amazon will release an exclusive Blu-ray collection of the films by Japanese master Hayao Miyazaki. As revealed in July by the Nerdist:
The Collected Works of Hayao Miyazaki contains each of the maestro's eleven feature films: Lupin the Third: The Castle of Cagliostro, Nausicaä of the Valley of the Wind, Castle in the Sky, My Neighbor Totoro, Kiki's Delivery Service, Porco Rosso, Princess Mononoke, Spirited Away, Howl's Moving Castle, Ponyo, and The Wind Rises.

But the highlight for those who already own all of these films on Blu-ray will be the set's bonus features … Fans will also get the uncut version of Miyazaki's Retirement Press Conference, which was thankfully not the final page in his career. The whole package is rounded off with a book featuring The Great Dichotomy: Looking at the Works of Hayao Miyazaki by Tomohiro Machiyama, which "explores the themes and techniques of this revered Japanese filmmaker, and selected text from Hayao Miyazaki's initial notes and creative proposals for the production of each film."
In our June episode of Hyperspace Theories, we discussed the influence of Miyazaki's work on Star Wars, particularly the Star Wars Rebels animated series.
---
For updates on all things FANgirl follow @FANgirlcantina on Twitter or like FANgirl Zone on Facebook. At times she tries the Tumblr.