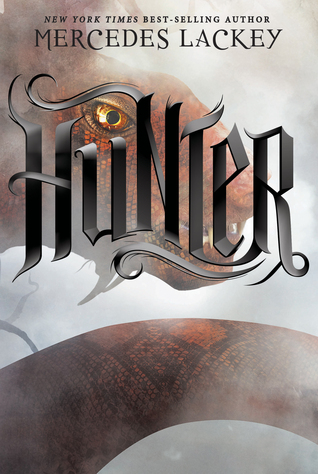 A female protagonist.
Mythical creatures.
Protecting others.
The premise of Hunter by Mercedes Lackey sounded promising. The fact that I haven't read much of the YA offerings from Disney's publishing division raised my interest further.
And yet, when the book was over, I began to dread writing this review. That is, after I figured out that the book was indeed over and my digital copy didn't have some sort of defect. But the elements that bothered me began way before that abrupt ending.
At the start we join our titular Hunter, Joyeaux, reluctantly aboard a train to the capitol city of Apex. She's never been before and would rather be back home. At its base level it's an understandable and relatable situation. Plus there's a certain mysteriousness about Joy's life before the train that leaves you feeling that there's a whole world to discover.
Unfortunately that mystery is very short lived. Joyeux's inner-monologue explains where she's from, everything she knows about where she's going, and the Diseray – an apocalyptic event. The outpour of information doesn't end there either. Throughout Hunter our protagonist is constantly comparing her present to her past while also speculating on her future.
All this does not make for an easy-breezy read. What's more as the story plodded forward it started to feel very familiar. If you made a list of major plot events in The Hunger Games, you could check off almost all of them with the events of Hunter.
***SPOILERS TO FOLLOW***
Our lead is drawn into a world where she has to fight to survive and do things she doesn't like to protect those she cares about – all while nearly her every movement is broadcast on TV to the capitol city's population as a form of entertainment and to reinforce that they're safe. She's popular and beloved by the masses despite being awkward and not trying much to win anyone over. Back home she lived a rustic, low-tech, live-with-the-land type of life and sometimes did things that were against the capitol's rules. She's got enemies within her enclosed group who are threatened by her talents and her just being herself. She makes unlikely allies with an especially good-hearted male. A mentor who specifically helps her with fashion is put in danger because of their relationship. And these are just a few of the similarities.
***END OF SPOILERS***
Now none of those on their own are problematic. It's that so many of them are in the same book with a protagonist who is only half as dynamic as Katniss Everdeen. I have to give Joyeaux props for understanding people's expectations of her and using it to her own advantage. But beyond that Joyeux is consistently balanced and middle of the road. She doesn't want to ruffle any feathers. Any selfish thought or act will be immediately countered by a selfless example. She always sees all sides to everything. Questioning new things around us and wanting to find the best in people is interesting. Somehow here it's monotonous. Furthermore the mythological aspect that should really set this story apart rarely rises above plot device.
If you were looking for more of The Hunger Games without reading The Hunger Games, this may be a book to consider. Teens may find certain aspects of Joyeux very relatable as well, but Hunter is definitely not one of those YA books you could hand to just about anybody to enjoy.
The publisher provided FANgirl Blog a copy of this book.