Daisy Ridley Roundup: October 5, 2015
On October 2, 2015, Daisy Ridley removed a #FitnessFriday Instagram video after a string of inappropriate posts hit her Instagram. Sandra Choute, who manages the Fangirls Going Rogue social media, posted Ridley's follow-up message on our Facebook page. We saw a lot of support for the actress. As fans who like to enjoy interacting with the stars, we each can help prevent this type of behavior. For one, tell trolls that their behavior in unacceptable. Don't argue with them; keep short and sweet and follow that up with something nice to the user being trolled. Block trolls. Take the extra step to report them. Most importantly, if you know the individual, say something to them directly. As we head toward December, it is important to remember that Ridley is an actress portraying a character in a story she did not write, and she deserves to be treated with respect.
Cake, anyone?
https://instagram.com/p/8bWzT4FEzj/?taken-by=daisyridley
Last month, we noted the Girl Power prong of The Force Awakens marketing plan would be ramping up. Ridley's role may not be as obvious yet in that push, but Home Shopping Networks #HSNCares live event featuring Ridley's Only Yesterday co-star, Star Wars voice actress, and veteran fangirl advocate Ashley Eckstein help bring the franchise to a new audience. During the broadcast, HSNi CEO Mindy Grossman and U.S. Fund for UNICEF President and CEO Carl M. Stern talked about their own experience in Guatemala providing education and nutrition to children. Mega-platforms are becoming the new weapon against sexism as the UN General Assembly and the Global Citizen Festival highlighted a push by world leaders to eradicate sexism through events like the Olympics, #HeforShe led by Disney's Beauty and the Beast star Emma Watson, and #62MillionGirls. Speaking to Stephen Colbert, Michelle Obama highlighted the same concerns brought forward on the HSN Star Wars event, that for women the biggest hurdle is opportunity.
https://instagram.com/p/74YxerlExG/
Following the Emmy Awards, Daisy Ridley shared this post on Instagram to remark on the historic night for black women. She immediately shut down negativity in her feed. It is often said that Star Wars actors are cast to type. Daisy Ridley appears to be following in the footsteps of fierce women like Jennifer Lawrence who have portrayed heroines on screen. According to Variety, 63 percent of Star Wars fans anticipate The Force Awakens will "blow them away," but Episode VII is second to Mockingjay Part 2 when ranked for overall movie-goer engagement. This isn't really a contest, as the latter is a known quantity and Star Wars a much bigger mystery. The true winners are the young women who will grow up with two amazing female characters to emulate, and of course the suits in Hollywood. If Star Wars markets their movie right, the end of Katniss' heroine's journey will be the perfect launching point to bring new fans into Star Wars to enjoy Rey's.
[tweet_embed id=646788480136122368]
It's also important to note that The Force Awakens was one of the few movies that was "cast proof." Variety notes, "Enthusiasm for the new "Star Wars," for example, neither rose nor fell when its cast of veterans like Harrison Ford and newcomers such as Daisy Ridley was matched to the latest story from a galaxy far, far away." Then again, most people assume this teaser shot of the Millennium Falcon flying in atmosphere has Han Solo in the pilot's seat, when the Behind the Scenes video implies Rey has that honor. The young actress isn't quite a household name, but page one position in People's September 28, 2015, "Ones To Watch" is one example of why this is bound to change in 2016. With women like Nicola Clarke and Mary Greenwell working with Daisy Ridley this past week, I suspect we will see her on some magazine covers by the end of the year.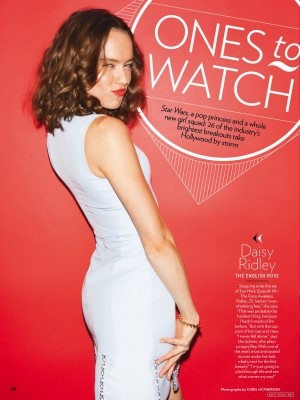 Image via Daisy-Ridley.net
Speaking of flying, Facebook launched a new 360 video feature with a flight of Rey's speeder through the landscape of Jakku. There are some fun Easter eggs for fans who want to scan around. Check at 4 o'clock near the end to catch a glimpse of BB-8 peeking out from some wreckage.
Not to be outdone, Ridley posted her own video on Instagram of her ride on a hoverboard. She and co-star John Boyega had a little fun teasing fans about Rey's last name, which is now the billion dollar question mark in fandom.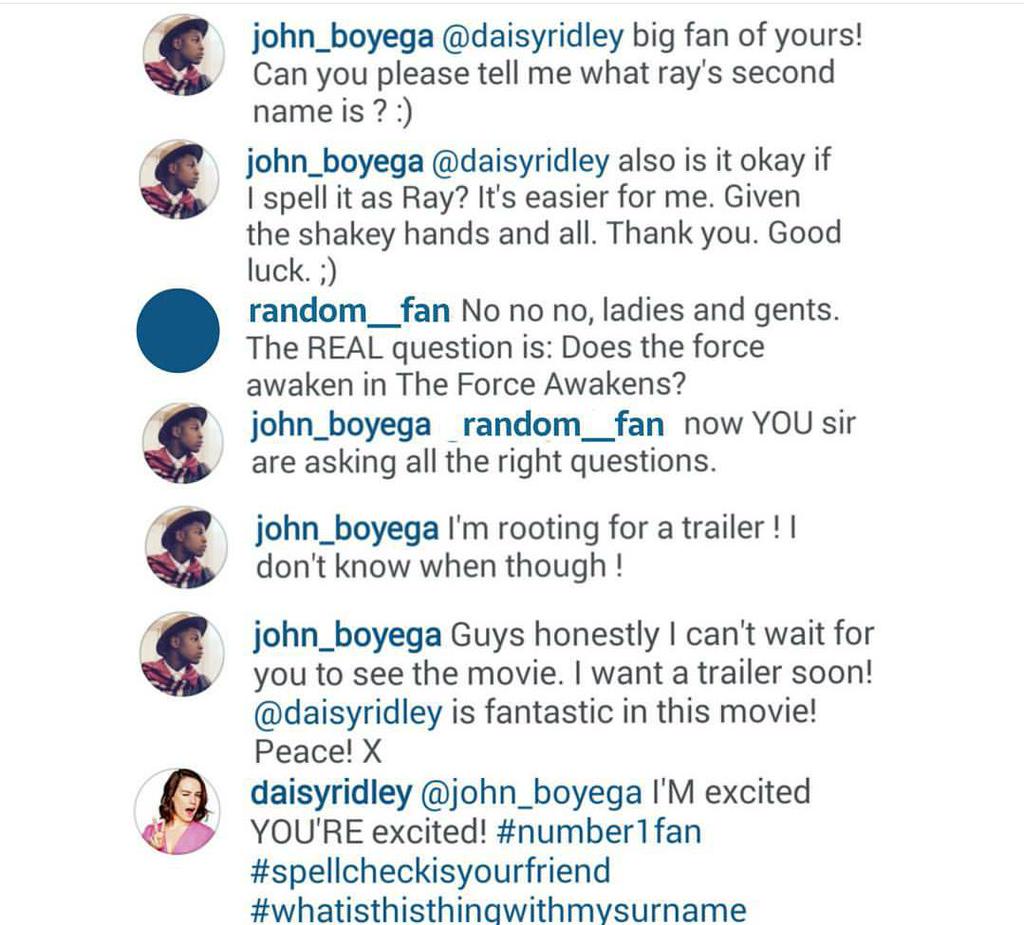 If you missed FANgirl's report on the CoverGirl make-up line and possible clues to Rey's backstory, check it out. Star Wars News Net speculated about Rey's role following an Irish Mirror report on the Skellig Michael shoot earlier this month. There is some interesting speculation on Spoiled Blue Milk about the character as well. As we have discussed on Hyperspace Theories, much of the speculation is still missing motivation.
Spoilers aren't your thing? How about Ridley's passion for dogs?
https://instagram.com/p/8Gme8BlEzj/
For the collectors, Rey has now hit the food aisle on GoGurt, and Jedi News completed the Topps Rey puzzle in only three boxes. Rey is now available as a Topps digital card and in print. I'm particularly fond of the pink version.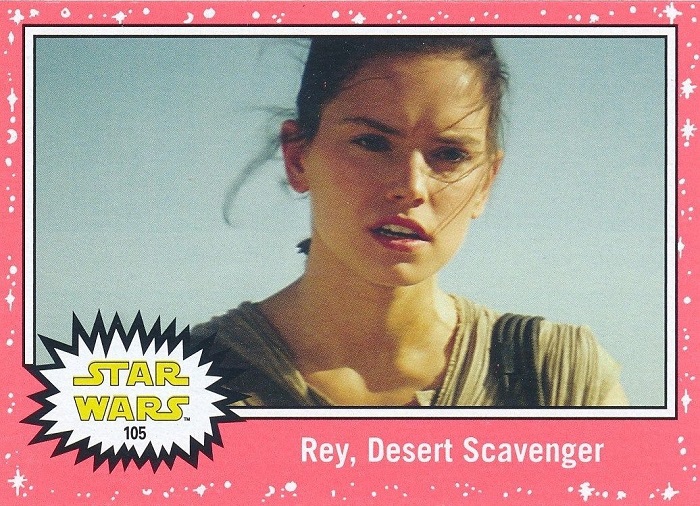 On December 18th, everyone can see the movie and read about Rey, Finn, and company to their heart's content. StarWars.com has all the details.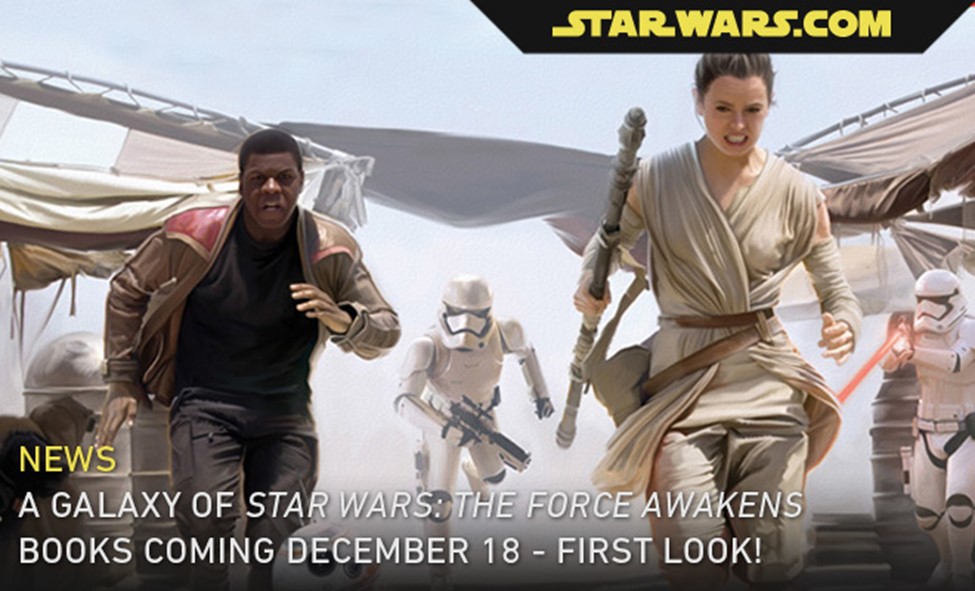 Also, the Empire Magazine with Rey on the cover has been spotted at Barnes and Noble!
If you're more into unique memorabilia, check out these adorable Finn and Rey dolls donated by Amy Sjoberg to the Rancho Obi-Wan Galaween auction.
How about this fanmade costume?
Let's wrap this edition up with more fanart. Most of the art we're seeing are recreations of promotional images. Here's some cool pieces that use some imagination. (h/t to Kay for the last two)
Featured image for this post is artwork by Paul Shipper, available from Hero Complex Gallery at New York Comic Con this weekend.