Return of the Clones Celebrates the Fans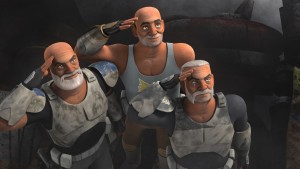 Last week, Lucasfilm unveiled another promotional video for the upcoming second season of Star Wars Rebels, highlighting a trio of familiar faces joining the crew of the Ghost for their next round of clashes with the evil Galactic Empire. Longtime fan-favorite clone trooper Captain Rex is joined by fellow former Republic warriors Commander Wolffe and commando Gregor. Aging at double speed due to their genetically modified DNA, the clones bring an avuncular presence to the cast along with their extensive combat experience from The Clone Wars.
Like the earlier featurette on the return of Ahsoka Tano to Star Wars animated television, "Return of the Clones" emphasizes the importance of the fans to the franchise's success. Dee Bradley Baker, who has voiced all of the clones throughout the six seasons of The Clone Wars, expresses his deep appreciation for the fans' passion for his characters, as does executive producer Dave Filoni, who has watched fans embrace characters introduced on television for both of the series he has produced. Both Baker and Filoni understand the significance of the fan reaction to the second season trailer's unveiling at Star Wars Celebration Anaheim in April, and the video's brief glimpse of the crowd erupting with applause when Rex's voice first was heard in the auditorium reminds everyone how powerful fandom's passion can be.
New episodes in the second season of Star Wars Rebels premiere on Wednesday, October 14th, at 9:30 p.m. ET/PT on DisneyXD.
---
For updates on all things FANgirl follow @FANgirlcantina on Twitter or like FANgirl Zone on Facebook. At times she tries the Tumblr.