Lupita Nyong'o Shows Her Comedic Chops on Colbert's The Late Show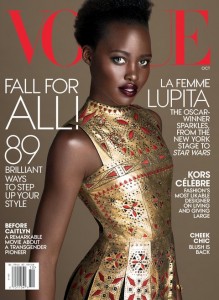 Lupita Nyong'o appeared Friday night on The Late Show hosted by self-professed uber-geek Stephen Colbert. She appeared to promote her play Eclipsed, a war story that focuses on the lives of Liberian women written by The Walking Dead's Danai Gurira. The play has received multiple extensions and now ends its run on November 29, just in time for Episode VII press.
Nyong'o talked about her amazing year following her Oscar win for 12 Years a Slave and her bout with "imposter syndrome." Despite her self-professed insecurities she was quite confident in her own skin, even correcting Colbert's American perspective on her name, which she says is not out of the ordinary in her birth country of Mexico.
While The Force Awakens came up only in the broadest sense, her acceptance of Colbert's physical comedy challenge proved she has the right stuff for motion-capture performance. Check out her silly walk, done in a killer set of heels no less!
---
For updates on all things FANgirl follow @FANgirlcantina on Twitter or like FANgirl Zone on Facebook. At times she tries the Tumblr.