May the Fourth Star Wars Sales 2015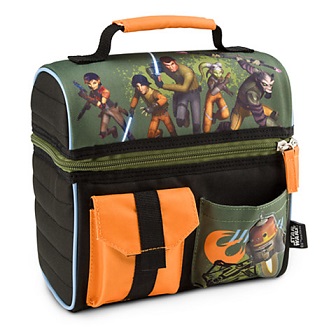 The Disney Store is offering 30% off Star Wars merchandise. While the clothing offerings for adult women at the Disney Store is only slightly better than this time last year, it might be time to pick up a die cast Millennium Falcon. They're also still selling the Rebels Lunch Tote that features the entire Ghost crew (yes, even Sabine and Hera). And if you collect Kotobukiya statues, you're in luck because the Han and Chewie ARTFX figures are part of the sale. The Disney Store is also offering a free Star Wars Day pin and the opportunity to buy a stormtrooper watch for $8 with your purchase.
Hot Topic has 25% off Star Wars merchandise for May 4th & 5th. They just launched a line of Star Wars Underoos for the big kid in us all. A few new earrings and necklaces featuring the Rebel Alliance symbol, Yoda, and Darth Vader recently became available. There's a braided edge R2-D2 tank, and don't forget Hot Topic also sells select Her Universe items so check those out as well.
Over at We Love Fine you can get 20% off Star Wars merchandise with promo code THEFORCE. This includes the brand new women's apparel collection designed by Goldie which premiered at Star Wars Celebration Anaheim. I swooned over the Han Solo shorts at the show as well as on Fangirls Going Rogue and yet somehow missed out on buying them before they sold out, so I'm glad to see them online.

ThinkGeek will give you 20% off all Star Wars merchandise and a free limited-edition pin for purchases over $20 with code TENPACES while supplies last. Fancy carrying a crashed Star Destroyer from Jakku on your keys? (Or at least pretend that's what it is.) This is the place for your Star Wars scarves including the new R2-D2 one and the beloved Her Universe infinity symbols scarf. And if you're looking for something for the kiddos, ThinkGeek carries the Future X-wing Pilot shirt.
Anovos, the purveyor of fantastic screen accurate uniforms and prop replicas, is discounting their Star Wars collection by 15% for May the 4th. It'll also be the last day for the pre-order pricing of the new classic trilogy Stormtrooper set. It's available both as a completed uniform as well as for less in kit form with a completed helmet. Anovos' first women's uniform – the Imperial Officer – is also still available for pre-order and part of the May the 4th discount. Especially after getting to see that uniform at Celebration, it's a very tempting purchase.
Linda passed along this Star Wars fabric special from Jo-Ann Fabrics.

---
Kay grew up wanting to be an astronaut. After seeing Star Wars, she wanted to be Princess Leia, Han Solo, and an astronaut. Life's taken her on a bit of a different path, but she's still a Star Wars fan at heart who enjoys surprising people with how geeky she really is. Currently a voice actor, photographer, and artist who also consults in communications and marketing, Kay spends the little bit of free time she has reading, writing, learning and, of course, making pew pew noises. She would pick up more jobs and hobbies if she was a Time Lord. You can follow her on Twitter.