Star Wars Costumes Shine at EMP Museum in Seattle
On the evening of January 30, the Grand Opening Gala for the "Rebel, Jedi, Princess, Queen: Star Wars and the Power of Costume" exhibit kicked off with a bang at the EMP Museum in Seattle, Washington. For me, the excitement started earlier that day when project director Saul Sopoci Drake walked me around the two-level exhibit. He shared insights into Smithsonian's latest collaboration with Lucasfilm and the Lucas Museum of Narrative Art. While he was explaining how the costumes of the Star Wars movie saga are arranged in imaginative narrative clusters – for instance, Han Solo and Zam Wesell in a Western movie gunslinger showdown – Jen Schommer of Smithsonian Public Relations interrupted to inform me that Anthony Daniels was available to speak about the exhibit. The glorious costumes faded into the background while the man behind everyone's favorite golden protocol droid shined a spotlight on the artistry on display.
As I've listened back to the interview, which is featured in Star Wars Insider 157 out now, I realized that other than George Lucas himself, there probably isn't any other individual better positioned to understand how the franchise's artistic legacy has been shaped, from the influences of film classics to the contributions of concept artists like Ralph McQuarrie and Ian McCaig. Daniels explained it was McQuarrie's depiction of the protocol droid, displayed larger than life in the exhibit, that drew him to the character. He described the costumes as characters in their own right as he gestured over to the stunning dresses worn by Padmé Amidala. Her packing gown from Attack of the Clones, encased in plexiglass so the exhibit guests can appreciate the subtle detail from all angles, stood beside us; just beyond it her wedding dress is staged on a podium with Anakin Skywalker's robes.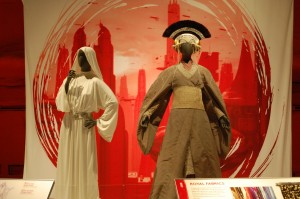 With nothing between most costumes and the attendees except some cleverly hidden alarms to prevent anyone from getting too close, the artistry and level of effort put into them becomes evident. Displays allow guests to touch samples of the fabric or scroll through behind-the-scenes footage of the creation process on iPads. Although the films never linger too long on any one outfit, the exhibit allows fans to stop and take a moment to be in awe of the achievement, such as the hand-sewn pearls that adorn Padmé's wedding dress. As Daniels noted, "One of the things I absolutely admire about Star Wars is that it's encouraged people – kids, grownups – to be creative. Don't buy a stormtrooper costume; just make one. It has to be the spirit of a stormtrooper. It doesn't have to be totally shiny; use cardboard. Anybody who's here today in a costume that they made, they get a hug – even if they don't want one."
The EMP Museum's opening night party capitalized on fan eagerness to wear their Star Wars fandom proudly, encouraging guests to come in costume. Luckily the Seattle weather proved mild as Jedi, Sith, bounty hunters, and stormtroopers filled the queue to get inside. While Star Wars costumes have made many a fashion statement over the years, it was the Princess Leia double buns that seemed all the rage, worn by fans old enough to have seen Star Wars in a theater back in 1977 to fangirls who are just dipping their toes into the galaxy far far away.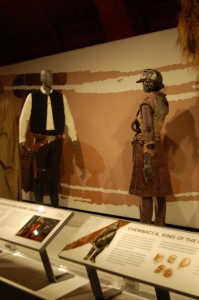 Bedecked in a gold tie, Anthony Daniels served as master of ceremonies for the event, which included a costume contest, geek-themed musical guests, and an enormous social media display in the Sky Church featuring Tweets and Instagram posts shared with the hashtag #EMPStarWarsParty. Spotlight talks in the museum's theater included Billy Dee Williams, Return of the Jedi costume designer Aggie Guerard Rodgers, and Star Wars Costumes: The Original Trilogy author Brandon Alinger. Billy Dee Williams' conversation with museum curator Jacob McMurray was recorded for the EMP's Oral History Program. The actor took time to acknowledge the many artists, from seamstresses to set builders, who have brought Star Wars to life.
The EMP Museum will be hosting "Rebel, Jedi, Princess, Queen: Star Wars and the Power of Costume" through October 4, 2015, when it will continue on its 12-city tour. In addition to the Star Wars exhibit, the museum houses many other unique geek-centric exhibits, including an amazing one on fantasy with costumes from Game of Thrones and Wizard of Oz. If you live in the Northwest or plan on taking a trip that way, the EMP Museum is easy enough to find at the base of Seattle's Space Needle. For more from the opening weekend activities, check out RebelForce Radio, Fangirls Going Rogue or the Comlink.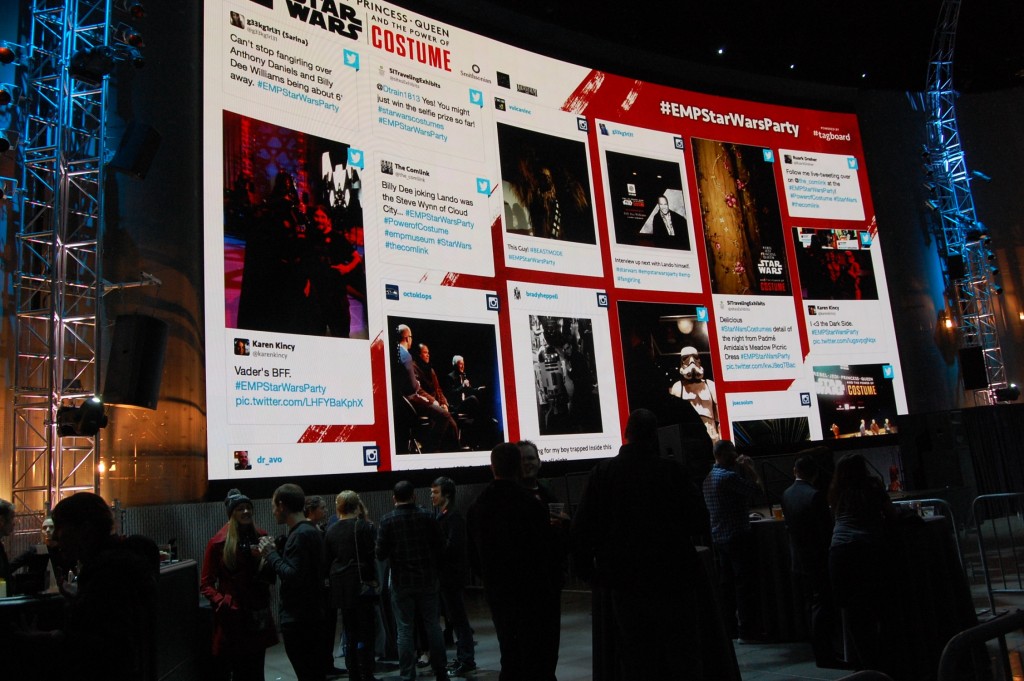 ---
Tricia Barr took her understanding of brand management and marketing, mixed it with a love of genre storytelling, and added a dash of social media flare to create FANgirl Blog, where she discusses Star Wars, fandom, and strong female characters. She is one of four authors on the upcoming Ultimate Star Wars from DK Publishing, has written several feature pieces for Star Wars Insider magazine and is a contributor for Her Universe's Year of the Fangirl. Her FANgirl opinions can be heard on the podcasts Hyperspace Theories and RebelForce Radio Presents Fangirls Going Rogue.
Tricia Barr's novel, Wynde, won the 2014 Independent Publisher Book Award Gold Medal for Best Science Fiction/Fantasy/Horror Ebook. She was also part of Silence in the Library's successful all-female creator science fiction and fantasy anthology Athena's Daughters, which is available now. For excerpts and tales of her adventures in creating a fictional universe, hop over to TriciaBarr.com.
For updates on all things FANgirl follow @FANgirlcantina on Twitter or like FANgirl Zone on Facebook. At times she tries the Tumblr.