Daisy Ridley Roundup: Celebration Anaheim Coming Out Party April 16th-27th, 2015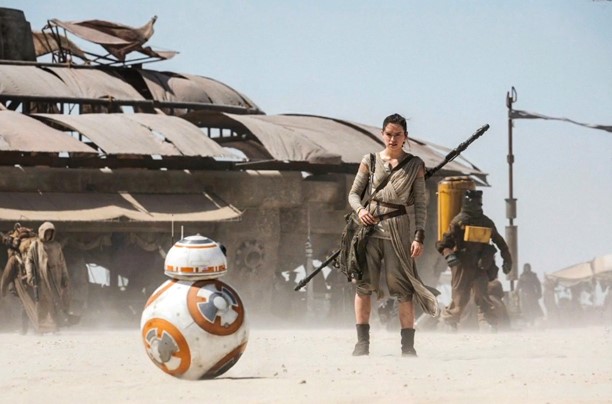 Star Wars woke up the Force and its fandom by kicking off Celebration Anaheim with a bang. Although the original trilogy Big Three of Han, Leia, and Luke were featured on the convention artwork, Kathleen Kennedy and J.J. Abrams brought out their next generation of stars to greet fans gathered for The Force Awakens panel, which was simulcast around the world. After months of virtually no news about newcomer Daisy Ridley, the event introduced the young star to the world.
On her character, Ridley explained:
We discover Rey on the desert planet Jakku. She is a scavenger, in a ship graveyard, and she is completely self-sufficient. She does everything for herself.
Highlights from backstage gave fans another chance to see Ridley and her co-stars John Boyega and Oscar Isaac react to their big introduction to the fandom.
For anyone who is worried that Rey will be the lone strong female character in the new sequel trilogy, Kathleen Kennedy dispelled those fears while speaking with the crowd at her panel, then again in an interview with Entertainment Weekly. Kennedy explained to Lizo Mzimba of BBC News about the casting process:
But there's a new trio at the core of this sequel to 1983's Return of the Jedi. Oscar Isaac who plays Resistance pilot Poe Dameron. And two young British actors, Daisy Ridley (Rey) and John Boyega (Finn).

They were introduced to deafening cheers and applause at the same Celebration event where the teaser was premiered. An early indication of how this film is likely to change both their lives. "[It's] a journey no-one can prepare either one of them for," admits Kennedy. "I think so far they've handled it great."

Both Brits were cast after an extensive process that included traditional auditioning of young actors as well as a series of open casting calls that attracted tens of thousands of hopefuls.

"Daisy Ridley was a product of a massive search that we went on for months and months and months. But when she came into the room I would say almost instantaneously she just lit up and was so obviously the right person that we were looking for. She really claimed the role."
[tweet_embed id=590194166967046144]
Ridley's first interview with EW.com was posted this past weekend.
EW: I know there's not much you're permitted to disclose about the plot of the film. But can you say which was your personal favorite location while making The Force Awakens?

Ridley: Weirdly enough, probably Abu Dhabi, even though it was so hot, it was like you literally can't imagine that heat. The feeling of stepping onto a real set for the first time, it genuinely was a baptism of fire. To see creatures walking around and speeders chilling in the sand, that was amazing, and because I was shooting there, it was like everything had built up to that moment. So a few days in, I was like, OK. I'm getting my groove now.

…

EW: So what are you up to now? Are you involved in anything else, or are you just lying low for a while?

Ridley: I'm lying low for a while, hoping that other cool stories about cool young women come along.
While Ridley is advocating for more cool stories about cool young women, she did so in a style that shows she can be fierce and feminine. Her pink dress got the attention of Glamour after she rocked a beautiful brocade dress at the Burberry Fashion Show in Los Angeles on the night of the 16th. On Twitter, Lucasfilm publicist Chris Argyropoulos previewed upcoming The Force Awakens spreads in People and Entertainment Weekly featuring the Star Wars cast. In a Daisy Ridley Roundup last year, we reported that the actress had turned down an invitation to the Met Gala in New York City. This year the Gala is on May the Fourth, otherwise known as Star Wars Day. Here's to hoping she attends with co-star Lupita Nyong'o, who has become a fashion icon since her red carpet appearances for the 2014 awards season.
[tweet_embed id=590941532141719552]
Some fans at Celebration Anaheim were lucky enough to get into The Force Awakens costume exhibit; the wait time reached four hours on Saturday. Inside the exhibit, fans were treated to a full view of the Kylo Ren, Finn, and Rey scavenger costumes, which included concept art with her brandishing a Han Solo-esque blaster. Our Facebook page, FANgirl Zone features costume reference photos from all angles. A tip we learned: Rey's headwrap is made from a long-sleeve t-shirt. Her hairstyle appears to be a modified version of the style worn by Padmé in the Battle of Naboo, with a slightly more samurai flair.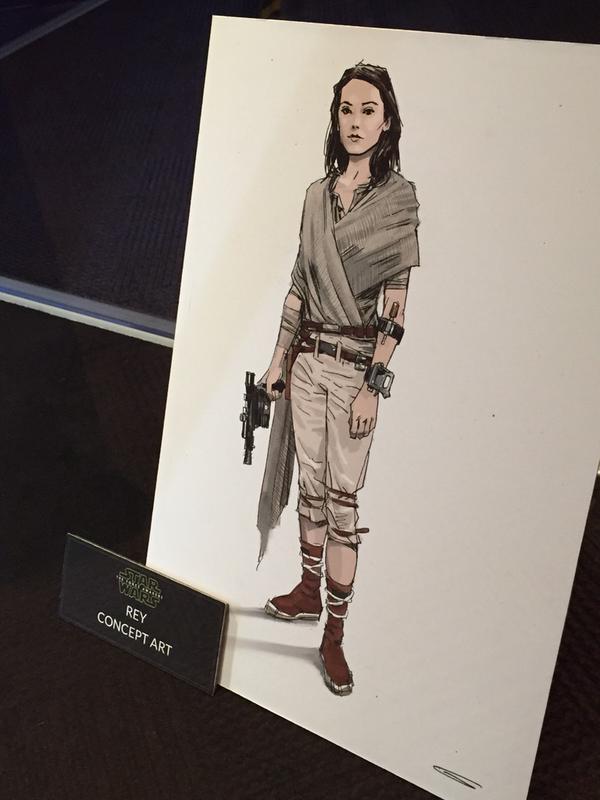 Concept art photo from Gamezone
Other fans might have run across Daisy Ridley and John Boyega on the con floor. They explored Celebration Anaheim and perhaps spread some of their earnings on merchandise.
Photo credit: Peter-Angie Mayhew
[tweet_embed id=588975928572686336]
FANgirl contributor Kay cosplayed Rey; her costume was based solely on images from the first teaser trailer. After getting a chance to watch the second teaser and pose on Rey's speeder built by the Belgium Legion, Kay has upgrades underway. Story Group creative executive Rayne Roberts let it slip on the "Rebel Women Who Fought The Clone Wars" panel that there will be more costumes and hairstyles in the movie.
With excitement building, fan art of The Force Awakens' female lead has been popping up on Tumblr. You can check them out on our page. Here is one of my favorites.
In case you missed it, here's the second teaser for The Force Awakens. Christmas can't come soon enough!
---
For updates on all things FANgirl follow @FANgirlcantina on Twitter or like FANgirl Zone on Facebook. At times she tries the Tumblr.