Kay Reviews Star Wars: Tarkin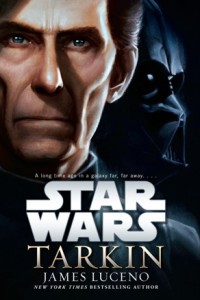 The latest Star Wars novel is Tarkin by James Luceno, and Kay has our review. Taking place five years after Episode III and ten years before the new Star Wars Rebels television series, the book connects elements from A New Hope, The Clone Wars, and other tales. In addition to the future Grand Moff, Darth Vader also gets a prominent role.
From Kay's review:
If you can make it past the opening chapters, Tarkin has some interesting bits of information for you. If you've wondered what made Tarkin the cold, calculating character you briefly saw in A New Hope, you'll get your answers here. You'll learn how much he knows (and doesn't seem to know) about Darth Vader, the Emperor, and how the Empire runs. But for me the most compelling insights weren't about Tarkin – they were about Vader.
Author James Luceno's Vader is imposing but he's definitely not just the Emperor's dark side muscle. This Vader is a bridge between the increasingly frustrated Jedi Anakin Skywalker seen in The Clone Wars TV series and the distant, "more machine than man" Sith Lord that appears in A New Hope. His military experience from the war shows though. He's adept in the Force and the biggest threat to the dissidents who stole Tarkin's ship. He's clearly working with Tarkin only because the Emperor told him too, but since this is not his story his thoughts on the Moff remain a mystery.
Click here for her full review.
---
Kay grew up wanting to be an astronaut. After seeing Star Wars, she wanted to be Princess Leia, Han Solo, and an astronaut. Life's taken her on a bit of a different path for now, but she's still a Star Wars fangirl at heart who enjoys surprising people with how geeky she really is. A voice actor, photographer, and artist who also consults in communications and marketing, Kay spends the little bit of free time she has reading, dancing around, writing, learning and, of course, making pew pew noises. You can follow her on Twitter.