Talking Star Wars Weekends Week #1 With Skywalking Through Neverland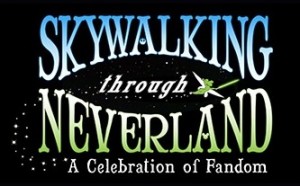 Tricia joined Sarah and Richard Woloski for Skywalking Through Neverland's Episode 31. From the show notes:
We have been count­ing down the days to Star Wars Week­ends for the last few months on Sky­walk­ing Through Nev­er­land, and now, it's finally here! Disney's Hol­ly­wood Stu­dios kicked off a Star Wars sum­mer just last week­end, May 16 — May 18.

Our good friend from fangirlblog.com Tri­cia Barr is here to tell us all about her awe­some time at Star Wars Week­ends Week #1! (She also is a Gold Medal Win­ner in the Inde­pen­dent Pub­lisher Book Awards for her novel, Wynde! Con­grats, Tri­cia!) She tells us all about her amaz­ing time at Star Wars Week­ends Week #1 as well as what to say when approached by park scav­eng­ing Jawa. She also tells all you Sky­walk­ers how to pre­pare men­tally and phys­i­cally for the Florid­ian weather. One moment it's burn­ing up like Tatooine, the next you're hav­ing tor­ren­tial down­pours like on Kamino. But in the end, these are mem­o­ries you will never forget!

Zeroid. ZEM-21. Star Hawk. What do these names mean to you? Well, If you weren't around in the 1970's then they mean noth­ing. How­ever, for the first gen­er­a­tion of Star Wars fans they meant every­thing. These were the toys we were stuck with because Ken­ner didn't have their line of action fig­ures, play­sets and Dip-N-Dots ready yet. Our east coast core­spon­dant, Jim Pruy, intro­duces a new seg­ment, 'Not Gonna Have It'. Here, Jim talks in detail about the Star Wars rip-off toys and the frus­trat­ing Christ­mas when a Star Hawk ship was under the tree and not a Mil­len­nium Falcon!

There are a mil­lion ways to say just about any­thing. But if you ask Denis Law­son (aka Wedge Antilles) he will give you the worst way. (Note to Mr. Law­son: instead of say­ing a role in Episode 7 will 'bore' you how about just say­ing, 'no thank you'?) We rip into him in another new seg­ment, 'This Week In Great Career Moves'.

We also talk about the new rope-drop pol­icy when it comes to meet­ing Elsa and Anna at Dis­ney World. And where these two Frozen princess' rank in the top 5 Dis­ney princess'.

And remember…Never land on Alderaan.

Pod­cast Guests

Tri­cia Barr – Cohost of the Assem­bly of Geeks Pod­cast and Fan­girls Going Rogue Pod­cast. Author of the novel, Wynde and FangirlBlog.com

Jim Pruy – Sky­walk­ing Through Nev­er­land East Coast Correspondent
---
Tricia has completed her first novel, Wynde – a military science fiction with a fantastical twist that features heroines Vespa and Gemini. For excerpts and tales of her adventures in creating a fictional universe, hop over to TriciaBarr.com.
For updates on all things FANgirl follow @FANgirlcantina on Twitter or like FANgirl Zone on Facebook. At times she tries the Tumblr.