Daisy Ridley Roundup: December 4, 2015
Last week, Daisy Ridley stunned in a gold dress at the Fashion Finds The Force benefit for Great Ormond Street Hospital Children's Charity on Thursday night. (via Daily Mail)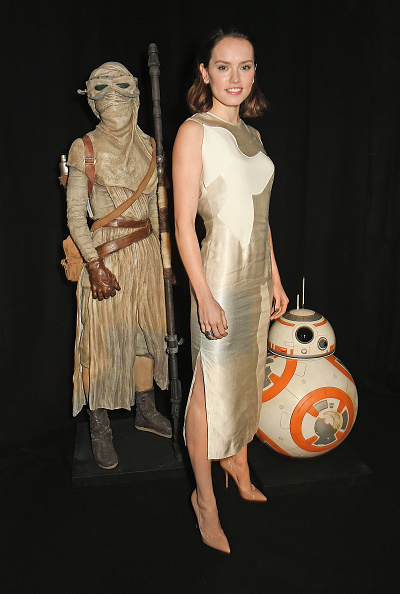 She also appeared at the Force4Fashion event in New York City with fellow co-stars John Boyega and Lupita Nyong'o. Daily Mail has great shots of all the stars, including Ridley's incredible braided up-do. Nyong'o's dress was the star, a Zac Posen design with LEDs that changed. The dress was created in partnership with Google as part of their effort to get more young women into coding. (via The Mary Sue)
On the fun side, Ridley baked a BB-8 cake.
In Print
Empire Magazine, from which Ridley's cover was revealed in the last Daisy Ridley Roundup, has a map of the galaxy.
Continuing the trend from last week, Ridley has shown up in several more magazines, including the cover of Glamour. Here's the online article; she warns on Instagram that she swears a lot.
Daisy-Ridley.com translated an interview with Daisy Ridley for the Swedish magazine Di Weekend. Here are some shots and a great quote.
http://captainsphasma.tumblr.com/post/133966178384/daisy-ridley-and-john-boyega-for-diweekend-x
I know girls and boys can look up to Rey, but isn't cool that young ladies like Gigi have someone special they admire? (See her Fangirls of the Day profile at Her Universe.)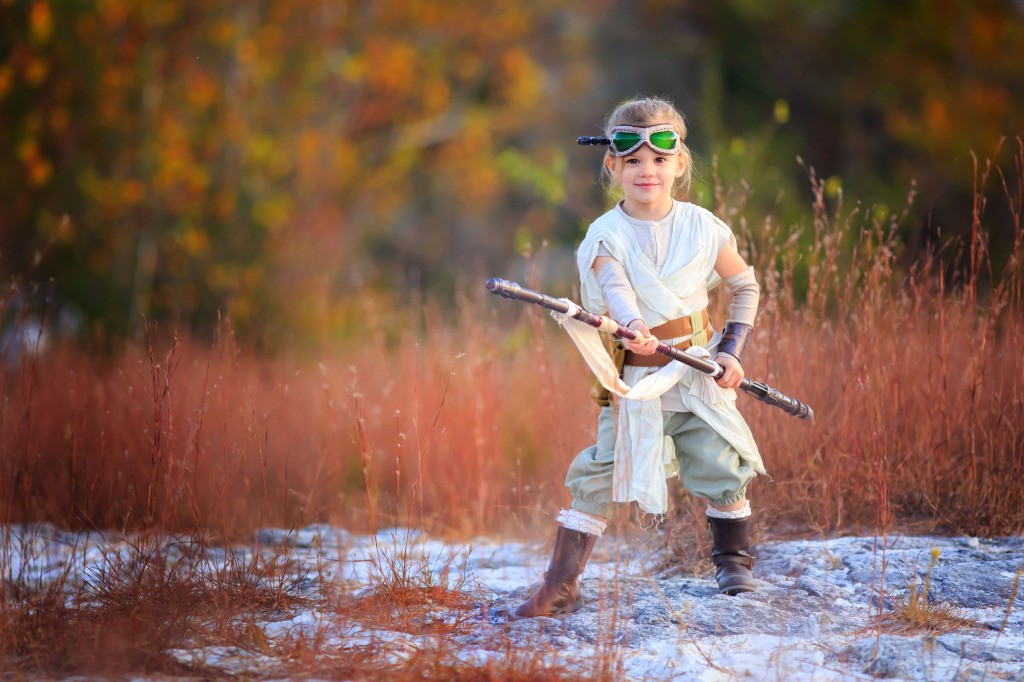 The cast of The Force Awakens talked to Time. Ridley shared a collage of cast photos from the article; she later changed her post to a slightly different image.
No bikini-clad Carrie Fisher splashing in the water this time for Rolling Stone's The Force Awakens cover. We get Han, Chewie, Finn, Rey, and BB-8. But my favorite image is Rey and Poe's droid. Maybe he isn't Poe's for long?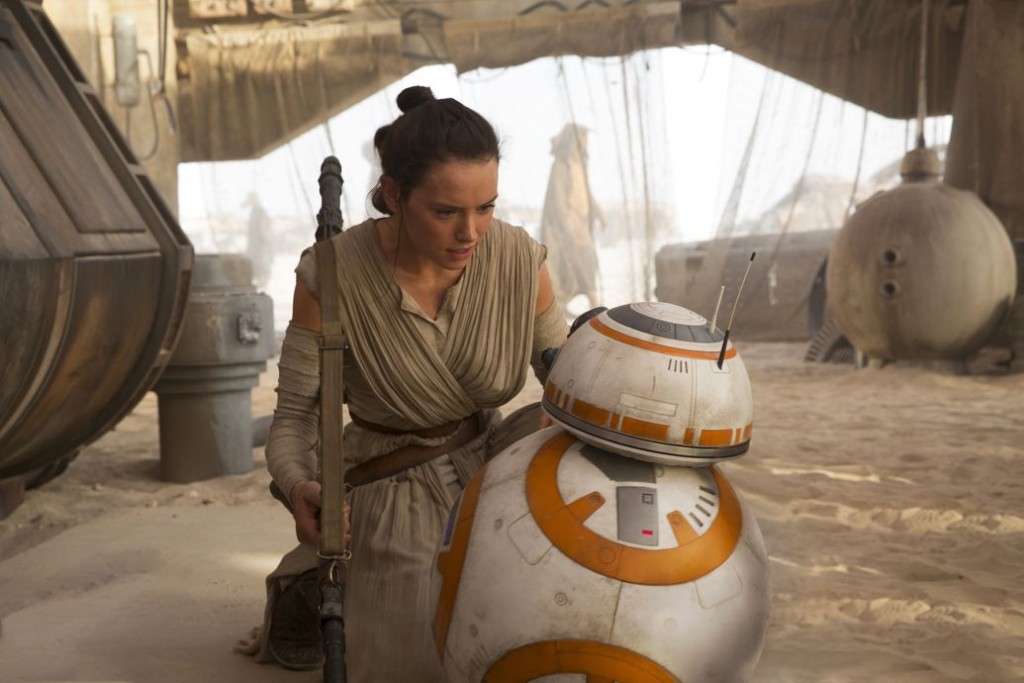 Ridley also hasn't been afraid to speak up on issues of sexism and inequality. In today's feature piece by Meredith Woerner in the L.A. Times, her candor is notable:
After working on "The Force Awakens" Ridley admits that the parts Hollywood was offering after she wrapped haven't lived up to the character of Rey. "I understand sexism is going on, and I've seen it actually more this year being out of the film in the scripts I'm being sent. Sometimes I'm reading it and I'm thinking, 'Are you for real? Literally the bit on the side?' That's not cool."
Video
Ridley sat down with Movie Maniacs, where she says she knew about having the part for three months before filming, putting her casting somewhere around January or February of 2014. She focused on physical training because J.J. Abrams didn't want her "too prepared."
Here's Ridley training recently. Is this still a scavenger workout or something new? Only time will tell, but Episode VIII filming isn't that far off.
Disney Channel offered a behind-the-scenes look at The Force Awakens and features Ridley talking about the role.
Daisy Ridley and John Boyega have made the talk-show rounds together, highlighting their camaraderie and friendship. Here are two of my favorites.
Ridley's visit to The Tonight Show with Jimmy Fallon was designed for the Tumblr era.
Much of her style from the past week has been posted at Daisy Ridley Style.
Finally, here's Ridley talking about her charity pick for Omaze's Force For Change.
J.J. Abrams on Daisy Ridley
J.J. Abrams made the press rounds on Monday and gave us a few insights into Rey. On Howard Stern's show (via EW) he said:
"When Kathy and I started talking about these characters, the idea that Luke Skywalker, Han Solo, Princess Leia – this is forty years ago. So for someone who's 19 years old, this is like, they're myths. Who knows what they know about them. People wouldn't even know, maybe, who some of these characters are. And the thing that got me, that grabbed me, was that feeling of a new young character – in the case of this conversation it was a female character, didn't know anything about her – but in the conversation, the question of this young woman asking, "Who is Luke Skywalker?" I don't know why, but it made me feel like, [bleeeeep], that's so cool. That idea that this would be a discovery. These would be essentially kids, who didn't see Star Wars themselves, who would be in this universe. The idea of rediscovering this world."
Talking about making a movie with a female lead with Good Morning America, Abrams said:
"Star Wars was always a boy's thing, I was really hoping this could be a movie that mothers could take their daughters to as well."
The reaction from long-time female Star Wars fans was swift.
While Abrams was likely speaking to the perception that Star Wars is for boys, his words stung of erasure to the women who have been fans and integral to Star Wars fandom since the beginning. Women ran the Fan Club, most fanzines, and flocked to Star Wars from the Star Trek fandom in 1977. There are a whole host of reasons the perception changed, including a patriarchal backlash against the feminist movement in the 1980s and again at the turn of the millennium. It's interesting to note those are the time frames Leia was stuffed in a gold bikini and Padmé lost her will to live.
Abrams, though, reframed his message later on the AOL Build interview the same day.
AOL: You've said that you want this film to be for both boys and girls. Do you want to elaborate on that a little bit?

Abrams: Well, what I meant by that — First of all, girls and women have loved Star Wars since it came out. That's not the issue. But a lot of times the toys, for example, were often geared towards boys. There were very few figures that were made for girls as well. And honestly, Star Wars should be for everyone. That's the whole point. What I was saying, as a father of a daughter as well as two sons, I wanted this movie to be something where Leia wasn't the only girl — until Padme, Leia was essentially the only female in that universe — and I really wanted to make sure that this movie felt a little bit more equal in that regard. But there have always been great female characters in Star Wars, and girls and women have loved this world from the beginning. But I do feel that given that Daisy Ridley — who's extraordinary, by the way, I cannot wait for you to see her — plays a central role in this movie, it felt like something — women could see themselves in this movie perhaps in a different way.

AOL: Well, she's not playing a princess in this film of any kind — not to say that Princess Leia wasn't a character of agency. Right away she's fighting with Han Solo —

Abrams: Princess Leia is one of the greatest characters in the history of time. I mean, she's unbelievable. For me, the best Star Wars stories are the ones where there are characters who consider themselves ordinary, and they're faced with absolutely insane, extraordinary, desperate situations. And that's very much the story of Daisy's character, Rey.
All About Rey
Rey merchandise is proving elusive, Today Online reports.
Disney has expanded Star Wars merchandise to include cosmetics, jewellery and purses, quite a change for a line historically dominated by light sabers and spaceships. There's demand: Social-media firestorms erupted when Internet critics decided Under Armour and Target hadn't produced enough female-oriented items tied to the film.

There have been other bumps. Licensees including Hasbro and Lego have churned out Rey goods in large numbers, but while Rey figurines are on prominent display in Disney stores they can be harder to locate in places like Target or Toys "R" US. And retailers have reported Rey products are selling out fast, disappointing parents.
While Lucasfilm's Paul Southern says there has been a "really concerted effort," Ken Nisch, chairman of JGA, a retail design consultancy, sees being "less gender specific … a challenge." Only in your mind, Nisch. Southern continues, "We're working really hard to get into a healthy stock position. All of a sudden a very broad group of consumers began to buy product a lot quicker than we expected."
When it comes to franchises with female characters, merchandisers have been behind consumer demand for the past few years. Even Disney missed the boat with Frozen, and the company has been on notice about the concerns of fans regarding producing content for both genders since #WheresHera (February 20, 2014) and #WheresLeia (July 20, 2014). This issue did not sneak up on the franchise as Southern suggests.
Part of the problem with getting the licensees on board was due to the Mystery Box, which held the ball on who the lead character was, but even in late2014 employees working on Star Wars told me personally that women and girls weren't a demographic who bought toys. If the mindset hadn't been changed by then, it was likely licensees couldn't catch up in time.
In today's L.A. Times feature, Kathleen Kennedy addresses the issue head-on:
"It's not just about casting female protagonists. It's gotta be across the board throughout the industry. I think Hasbro, who's making toys for a while, they were perhaps a little reluctant to move too quickly with something that's been such a successful boys line. I think they're recognizing that selling to girls is just as effective as selling to boys. More and more the lines are being blurred as to deciding ahead of time that some things are for boys and some things are for girls. I think that's a big part of the conversation. It's all of these areas that are contributing to change really happening. Over the last several years that I've been in the business it seems to me that this has been a topic of conversation every few years. Then everybody thinks it's a trend or that it's a significant change. And then it doesn't really move the needle. I think that's — hopefully— what's going to begin to happen now. It's going to be real change. And not just perceived change."
Rey and Phasma are making an appearance in less traditional Star Wars venues, like fashion shows and jewelers. Star Wars may figure out shortly that these avenues provide higher price points and thus bigger profit margins than toys, ultimately earning the attention of Lucasfilm licensing.
Hallmark does have Itty Bitties and cards available.
If you want to learn a bit more about Rey's speeder, Entertainment Weekly's Anthony Breznican has got that covered.
In case you want to channel your inner Rey, Disney Infinity is set to release their The Force Awakens playset on December 18. The new trailer gives an idea of the game play, and if you watch closely at the end, that person holding the blue lightsaber against Kylo Ren is not Finn.