Kay Reviews Captain America: The Winter Soldier
If my review of Captain America: The Winter Soldier was done physically, it would be me running laps around you pumping my fists and yelling "That was superb… in so many ways! Ahhhhhh!"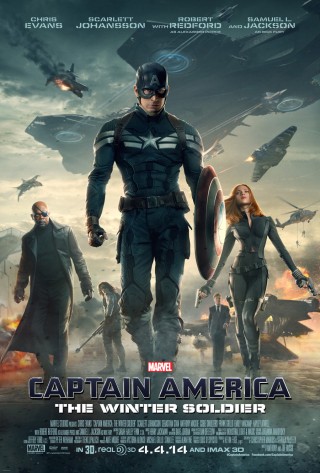 But that doesn't seem like a proper review, so I'll write some words too.
Thrilling. Entertaining. Exciting. Moving. I felt so many things watching this movie and at the core of it was the characters. So many of them are engaging and well-developed. Captain America, as a character, is all about being unselfish and that carries right through to him not hogging this movie. It's not just Captain America's story – it's Black Widow's, it's Falcon's, it's Nick Fury's. They all feel fleshed out. They all bring something to the table. They all develop. They have strengths and flaws. And not a single one of them could have saved the day all by themselves.
We even got great supporting characters who felt like real women: Maria Hill and Peggy Carter. The only character that it felt we needed more on was the titular Winter Soldier. And yes, it's all about the relationships between all these people too. It's about doing what you believe to be right and figuring out who you can trust. All this is wrapped up in a really interesting story.
It's always fantastic when a movie fully creates a world and pulls you into it, making you feel like it's real. Even when there is CGI in Captain America: The Winter Soldier, it's virtually seamless. I read somewhere that directors Anthony Russo and Joe Russo wanted everything built that could be built and I think it's so neat that there are still people making action movies who want to do that. The visuals are consistent and beautiful.  And, much like at the end of Thor: The Dark World, I want to know if they're selling that end credit art.
I am on board with this Marvel Cinematic Universe plan as much as ever. It's enjoyable to have all these movies tied together, to get more of and move forward in a character's story even if their name isn't part of the title.
Thank you for Captain America: The Winter Soldier, Marvel. It made up for the ridiculous pose you put Black Widow in on the poster. Please don't put her in another pose like that when you make the poster for her titled movie. By the way, you do a really nice job casting characters. Also, I noticed there was a woman in the team of bad guys looking for Cap and Widow at the mall. Thanks for that too.
Captain America: The Winter Soldier was part of my Top Ten Movies to See in 2014 aka Only Grand Captain Mockingjays of Future Tomorrow.
---
Kay grew up wanting to be an astronaut. After seeing Star Wars, she wanted to be Princess Leia, Han Solo, and an astronaut. Life's taken her on a bit of a different path for now, but she's still a Star Wars fangirl at heart who enjoys surprising people with how geeky she really is. Currently a photographer who also specializes in communications and marketing, Kay spends her free time reading, cooking, writing, learning and, of course, making pew pew noises. You can follow her on Twitter.