Janine Spendlove's War of the Seasons Kickstarter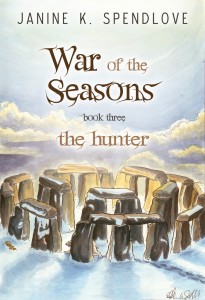 Earlier this month, I had a chance to talk about playlists with author Janine Spendlove. I had read the first two novels in her War of the Seasons series and realized we both used music for inspiration in our storytelling. On the Tosche Station podcast Janine talked more about her novels, writing and, of course, Star Wars. Right now her Kickstarter is underway for the third book in the War of the Seasons series. This is a thoroughly enjoyable story about a heroine named Story, and the Kickstarter gives readers a chance to grab all three books.
Kickstarter for War of the Seasons: Book 3: The Hunter
There are some really great stretch goals too, including stories from Aaron Allston, Michael Stackpole and Bryan Young.
---
Look for a future Kickstarter from Silence in the Library for an all-women penned science fiction and fantasy anthology with female protagonists as its theme. Tricia Barr will be one of the stretch goals authors with short story set within the events of her upcoming novel Wynde.
Here's a peek at the cover!