Fangirls Around the #SWEU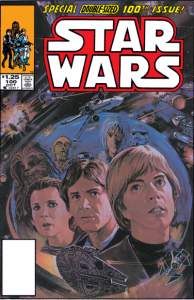 Highlighting Star Wars Expanded Universe – #SWEU – female contributors and fans spotted recently.
Del Rey Editor-at-Large Shelly Shapiro spoke to Jedi Journals on August 12th. She discusses her experience with the Prequel Trilogy and where Del Rey stands with future movie tie-in books. She also discusses the upcoming novel Kenobi and likens it to James Luceno's passion project Darth Plagueis. My impression from the interview is that we should expect more guidance from the Star Wars story team in the future, and that Del Rey is ready and waiting for it. The interview with Shapiro starts about the 1:20 mark.
Lucasfilm Senior Editor Jennifer Heddle tweeted that William Shakespeare's Star Wars made the New York Times Bestsellers List for another week.  Over at Star Wars Blog, she takes a nostalgic look back at the Marvel Star Wars comics and the reasons she is still fond of them today.
Sure, everyone likes to single out Jaxxon, the giant green bunny rabbit from the earliest days of the comics, but I try not to hold against anyone what they did in the 1970s. Within those comic book pages there's plenty of action, and drama, and pathos, and exuberance, to be found. Writers like Archie Goodwin, David Micheline, and Jo Duffy tackled years of stories to spin between and after the films, and delivered both sweeping action-packed storylines and smaller character moments that stick with me all these years later.

So consider picking up one of the collections Dark Horse has put out (under the titles "A Long Time Ago…"). You may just be surprised by what you find there.
Blogger Megan Crouse, who reviews Star Wars television here and EU over at Knights Archive, ponders the implications of genderswapping a character like Han Solo at her own Blog Full of Words. These types of thought exercises are good practice for storytellers and critics, and help form understanding of how tropes and personal bias can affect story creation or reception.
And of course, the ultimate lesson of this might be that we have to forgive female characters a little. Female fans tend to hate on female characters whether the characters are strong (Mary Sue!) or weak (damsel in distress!) This looks like a blanket statement, but I don't mean that either of those criticisms are useless. I've used less generic versions of them myself.

I really mean two things: We need more female characters like the theoretical lady Han, who can be romantic without becoming arm decoration for the hero. And sometimes we need to forgive lady characters for having the same flaws we love in male ones.
Another FANgirl contributor, Mary, is the only female contestant left in GrayHaven Comics Apprentice-style competition. The latest challenge is about marketing and promotion. This indie comic publisher allows comic noobies to publish alongside VIPs like John Jackson Miller and Gail Simone.  We encourage you to check them out and support Mary's team by following them at @ComicsCC and/or buying some comics using the code "Team A" for 20% off.
Bria from White Hot Room and Tosche Station has started on her Star Wars: Empire and Rebellion: Razor's Edge Leia cosplay.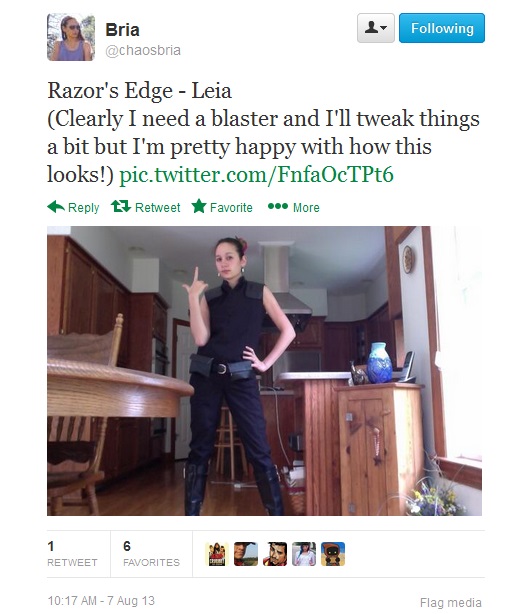 ---
Tricia Barr took her understanding of brand management and marketing, mixed it with a love of genre storytelling, and added a dash of social media flare to create FANgirl Blog, where she discusses Star Wars, fandom, and strong female characters. She also writes about Star Wars for Random House's science fiction and fantasy blog Suvudu.com and Star Wars Insider magazine and is a contributor for Her Universe's Year of the Fangirl.
Tricia is putting the finishing touches on her first novel, Wynde – a military science fiction with a fantastical twist that features heroines Vespa Wynde and Gemini Reed. For excerpts and tales of her adventures in creating a fictional universe, hop over to TriciaBarr.com.
For updates on all things FANgirl follow @FANgirlcantina on Twitter or like FANgirl Zone on Facebook. At times she tries the Tumblr.