Loki and The Winds of Change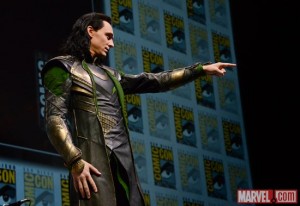 Guest post by Lauren Benson
Saturday July 20th at San Diego's 43rd hosting of Comic-Con International, fans in Hall H were astonished at the release of the new trailer, with unseen footage, for Thor: The Dark World.  What they were expecting was an amazing trailer; however, when the moderator, Chris Hardwick, was announcing the room went black and a mighty voice filled the room. "Humanity, look how you've fallen!"
As the lights came on, Tom Hiddleston appeared in front of the crowd, in full costume, as Loki.
During his speech, he had the audience absolutely captivated. He questioned where their precious Avengers were and commanded they say his name and swear allegiance to him, to which the crowd complied instantly. Without hesitation, they knelt down in front of the stage.
Now this is an interesting turn of events…
In the trailer for Thor: The Dark World, the leader of the Dark Elves – Malekith of Svartalfheim – compromises the safety of Thor's sweetheart, Jane Foster. In order to protect her, Thor brings Jane to Asgard. But when the power of this ancient enemy becomes a force too strong for even Thor, he resorts to desperate measures. Thor goes to his archenemy and adopted brother, Loki, and frees him from his isolated prison in exchange for Loki's help against the Dark Elves of Svartalfheim.
What does this mean for Loki?
Loki, in the entire history of Marvel, has been a supervillain. Loki is corrupt even in the Norse mythology used by Marvel for the character. But we can accept that Loki isn't completely a bad guy. He is a mischievous and wile character that constantly dances between the lines of evil and redemption, which is completely understandable considering his history.
As a child, Loki was hidden by his father – the ruler of the Frost Giants – from his people because Loki did not have the appearance of an ideal Frost Giant. After Loki's father was murdered, he was taken in by his father's killer, Odin, and became the adopted brother of Thor. In his new home of Asgard, he was viewed as inferior to his arrogant brother Thor. Loki at one point was entombed in a tree by his foster father, only to be released when someone shed a tear for him (which never legitimately happened). Loki's desire to be king can be viewed simply as a way to prove his worth to the people of Asgard, the Frost Giants, and to himself, as well as taking a position that he would have eventually had with the Frost Giants. While Loki has gone to rash extremes, it is not impossible to see where things went wrong for him.
Loki does have a moral compass, though. Despite rejection from Asgard, Loki helped defend his home from the Fire Demons. He also chastised Balder for banishing Thor from Asgard, which he himself was then banished for. Most importantly, when Asgard was taken over by the Void, Loki repented for his actions and fought back against the Void.  The Void ripped Loki apart, killing him in front of Thor, and Loki's last words were an apology to Thor. Loki was later reincarnated.
This is the first story and movie where Loki will be playing a crucial role at Thor's side helping things go right. We know he is capable of good. He certainly has the favor of those at Comic-Con. Will this supervillain become a superhero? Does he have your allegiance?
---
Lauren Benson is a student and aspiring writer. In her free time she enjoys reading sci-fi, illustrating, and indulging in an embarrassingly guilty pleasure or reading magazines like People and Cosmo.