Fangirls Around the Web: July 15, 2013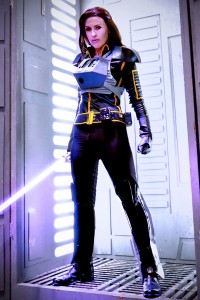 Fangirls Around the Web spotlights fangirls and the heroines, real-life and fictional, who inspire them.
At io9, Rob Bricken explains why Marvel needs a superheroine who can stand alongside its superheroes, and he suggests Captain Marvel as the solution to their problem. While here at FANgirl we've taken a look at the existing framework of the Hero's Journey and how it does and doesn't work for a heroine, Alyssa Rosenberg at Slate considers the female anti-hero. She notes, "There really isn't an equivalent framework available for women, who get penalized rather than rewarded for displaying masculine traits like aggression, physical force, ambition, or selfishness."
As discussed during my appearance on the ForceCast last week, one of the things I have been told by the Powers That Be, when asked about the lack of female characters or diversity in past stories, is that they didn't see a demand, or a voice representing those requests, in fandom. Bria at Tosche Station wrote a fantastic post on diversity in Star Wars last week. I'll reiterate the point I've made multiple times: if you want something as a fan, you need to ask for it; if you see fabulous posts that represent what you want, point those out to the creative parties by whatever means possible – tweets, email, snail mail, Facebook or Tumblr.
The Year of the Fangirl continues with Fangirls of the Day Sandra, Courtney, Lisa, Melissa, Bella, Emilee, Sarah, Arwen, Tessana, Alexa, Lisa, Sheila, Maria Jose, Andrea, Sarah, and Skylar. The Her Universe campaign inspired Kai Charles to celebrate Fangirl Summer at her blog Fictional State of Mind.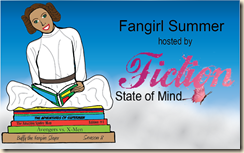 She includes some neat buttons for the event, including this fun one of Princess Leia reading some books. At Fashionably Geek, Year of the Fangirl contributor Amy Ratcliffe featured Alexandria Law's images inspired by young girls cosplaying superheroes.
Proof that business and media are still trying to figure women out: Alyssa Rosenberg talks about what women want from television at ThinkProgress. Amanda Dobbins at Vulture breaks down the math on how women have been represented in movies over the last two decades. The Daily Mail reports that "female gamers spend as much time and money on consoles as men." (via The Mary Sue) Emily Asher-Perrin at Tor.com showcased a video commercial for the Goldie Blox, a toy that understands little girls want to be more than princesses, and "they deserve toys that engage their brains" with engineering-type toys. Another young fangirl, Riley, expressed strong feeling about the lack of Black Widow merchandise. (via Fashionably Geek)
Recently I've seen a lot of gendered slurs used on Twitter and Facebook. Quite a few times they have been comments not meant to be offensive, while other times that was the intention. And remarkably, they are men hurling them at other men. Some examples: the word "bitch" used to compare one villain to another and "hitwhore" used to disparage a site. Like Kat Richardson, in her blog post "Insidious Language," I don't think the men using these terms are sexist, but they are continuing to perpetuate a culture that is uncomfortable for women.
Wonder Woman continues to be a hot topic around the web. Over at the L.A. Times HeroComplex, Grant Morrison talks about his graphic novel Wonder Woman: Earth One, and the Cartoon Network previewed a Wonder Woman short for DC Nation that provides a 70's hipster vibe for the character:
It's about the sexes and how we feel about one another, and what a society of women cut off from the rest of the world for 3,000 years might look like, and what kind of sexuality, what kind of philosophy, what kind of science would that have developed, and how would that impact our world if it actually suddenly became apparent that these women existed.
At io9, George Dvorsky highlights a study where women did better on math tests when they faked their names. Self-reputational threat – "the fear some women have of doing poorly when they're concerned that it'll be taken as proof of a stereotype" – is a problem that appears to plague the performance of women in math tests, but "removing this pressure seems to alleviate the fear and the distraction."
News to me, the Star Wars magnolia and the Princess Leia iris are real flowers! Thanks to Susan Pfiel for sending along information on where to purchase the Princess Leia iris. The iris was spotted at artist Karen Hellion's Facebook page, where she has created beautiful Leia artwork that incorporates the flower. Crossing our fingers that this image gets picked up by WeLoveFine tees, where she submitted it.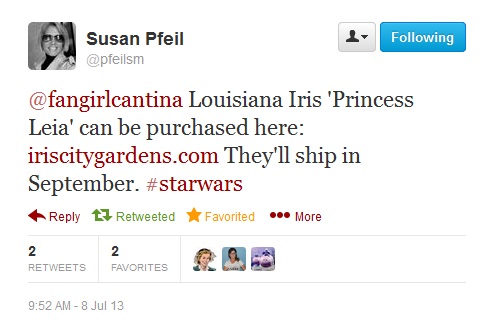 JustJenn reveals her tips for surviving San Diego Comic-Con this week.
Just a reminder, The Legend of Korra: Book One: Air hits shelves this week. Tor.com features some behind the scenes Season 2 footage.
Julie Crisp, Editorial Director at Tor UK, discussed sexism in genre publishing from a publisher's perspective. The entire post is worth a read, including the discussion in the comments. Crisp highlights that "every genre publisher in the UK has female commissioning editors and 90% of the genre imprints … are actually run by women." Her position as an editor is that publishers "can't publish what we're not submitted." She states that "of 503 submissions – only 32% have been from female writers." Crisp is honestly and openly trying to address the concern, but some of the responses make the point that the hard facts don't address the conscious and subconscious cultural and business biases that affect women in the industry, as well as women trying to break into the industry. Female science fiction writers still aren't represented equally on convention panels and face harassment at conventions and science fiction communities. At this blog I've discussed the flawed assumption that having a women as editor or writer will fix the gender problems facing the industry. I have seen science fiction books authored and edited by two men that craft solid portrayals of female characters, and books authored and edited by two women that do just the opposite. Women aren't always our own best advocates, but Crisp is certainly taking a step in the right direction by opening a dialogue. One step that I don't see being done enough is women in publishing actively seeking to mentor other women. This has been true in engineering, where I have spent over twenty years as a professional. Part of FANgirl's mission has been to provide a site that gives women a platform and encouragement to voice their opinions within the fandom.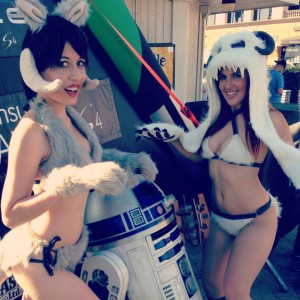 To further make the point that women in the science fiction industry aren't always accepting of our fellow geek girls, this week provided a classic example. On his Facebook page this weekend, artist Joe Corroney reposted an image of two prominent Star Wars cosplayers in their Team Tauntaun and Team Wampa outfits. Team Tauntaun was represented by Victoria Schmidt, who has provided inspiration for Corroney's Jaina artwork featured recently in multiple issues of the Star Wars Insider and is also the Jaina model on this blog's banner. Schmidt created geek fashion blog Set to Stunning, is a contributor on Her Universe's Year of the Fangirl, and has cosplayed numerous characters from Star Wars and comics. Team Wampa was represented by Shea Standefer, a Topps sketch card artist who will be making her debut as a Celebration artist this month in Europe. She is an avid Expanded Universe fan and has cosplayed many Star Wars and genre characters.
In response to the image, Lorne Cook posted a classic fake geek girl accusation, "I'm guessing neither girl has actually seen a Star Wars movie…" which was Liked by author Christie Golden. Cook's post received responses from Corroney and others, backing up both Standefer's and Schmidt's geek cred. In fact, Standefer is the fan who, at the Celebration VI panel where Golden's Sword of the Jedi trilogy was announced, went to the microphone and declared her exuberance for the upcoming stories dressed in a Jaina Solo Stealth-X pilot costume.
The next day, Golden posted in the thread: "I have received an extremely kind and courteous letter from @Shea Leigh gently informing me of what Joe said after I posted my "like" of Lorne's comment.  She's definitely a huge fan and knows her stuff, and I'm grateful for her for pointing out my assumption–one I won't make again.  Thank you Shea, and I apologize again!" Considering the cosplayers were raising money for the Make-A-Wish Foundation by participating in Course of the Force, this only highlights how careless assumptions based on one image can spiral into hurt feelings. Kudos to Standefer for addressing the comments head-on with grace; to the fans, including Corroney, who stood up for their fellow fans; and to Golden for acknowledging her mistaken assumption.
---
Tricia Barr took her understanding of brand management and marketing, mixed it with a love of genre storytelling, and added a dash of social media flare to create FANgirl Blog, where she discusses Star Wars, fandom, and strong female characters. She also writes about Star Wars for Random House's science fiction and fantasy blog Suvudu.com and Star Wars Insider magazine and is a contributor for Her Universe's Year of the Fangirl. She has recently joined Beyond the Screens podcast as a regular contributor.
In her spare time, Tricia puts the finishing touches on her first novel, Wynde. For excerpts and tales of her adventures in creating a fictional universe, hop over to TriciaBarr.com.
For updates on all things FANgirl follow @FANgirlcantina on Twitter or like FANgirl Zone on Facebook.