REVIEW: Star Wars: The Last Jedi by Michael Reaves and Maya Kaathryn Bohnhoff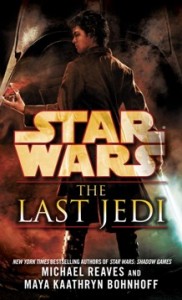 Linda Hansen-Raj reviews the latest Star Wars Expanded Universe novel, The Last Jedi. From her review:
The story starts out with a good pace and continues fairly evenly, finishing in a climactic duel with Darth Vader. In between are a host of characters including smugglers, the Whiplash team on Coruscant, Antarian Rangers, time-bending Cephalons, a Sith holocron, Dathomiri witches, Prince Xizor and Black Sun.
All of which sound interesting, but the story is plot driven and the characters suffer. There were a great many of them, and instead of a few developed in depth, there were many who were flat, shallow, and failed to engage me. The death of Jax's lover, Laranth, did nothing but send Jax into a spiral of what appears to be self-pity rather than real mourning. Meanwhile, almost every other female that Jax runs into finds herself attracted to him.
Click here for her full review.