Valentine's Day Genre-Style 2013
For the last few years, Suvudu has celebrated the romance of Star Wars on Valentine's Day. In 2011, artist Chris Trevas added stunning Luke and Mara art to accompany the short story "Star Wars: Judge's Call" by Timothy Zahn. Last year, I talked about some of the best kisses from the Star Wars universe, and Trevas topped his previous year's piece by capturing a fan-favorite moment from Rebel Dream. Erich Schoeneweiss, Trevas, and I have been throwing around ideas for Valentine's Day 2013 for months. One of my early thoughts was to highlight power couples in Star Wars. Then a few weeks ago, George Lucas and Mellody Hobson announced their engagement, and it felt like a sign from the Force.
For the purpose of defining power couples in Star Wars, Lucas and Hobson are the gold standard: openly committed to one another, with positions of power in their respective careers, and striving to make the world a better place. Leadership and community service both require sacrificing time with loved ones. As with the ways of the Force, power couples are all about balance.
Over at Suvudu, I consider some of my favorite power couples in Star Wars. It includes exclusive artwork by Chris Trevas of fan favorite Wedge Antilles and Iella Wessiri from Starfighter of Adumar. So definitely check it out!
Over the day, we'll compile other Valentine's Day inspired posts from around the web. So be sure to check back!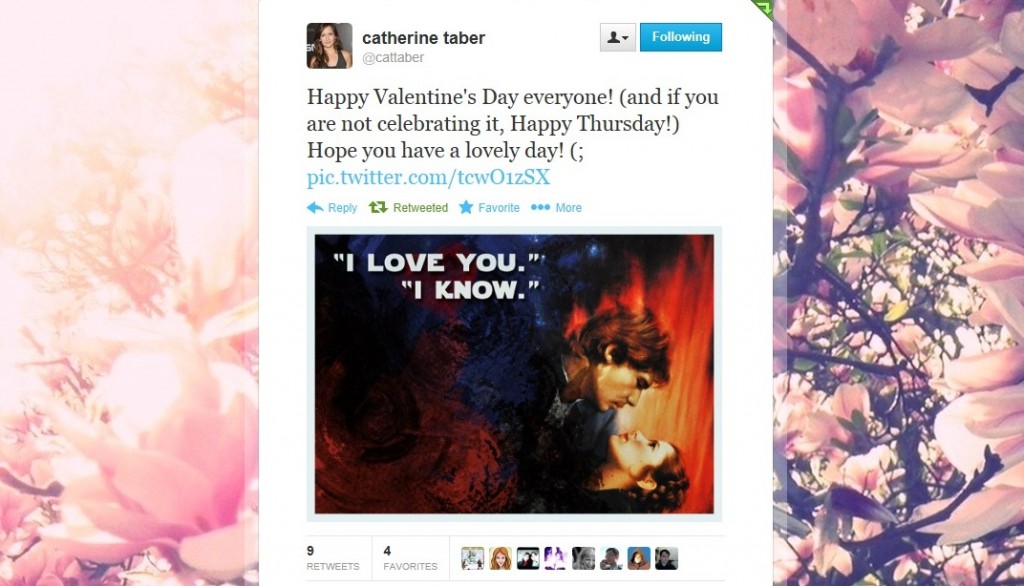 ---
Tricia Barr admits that when she first met Chris Trevas, she was only able to mutely point at her phone's wallpaper – a close up of last year's Jaina and Jag first kiss artwork. She did manage to put together a few coherent sentences after the fact to coordinate this post. You can follow Chris Trevas at his website or on Facebook. Many thanks to Erich Schoeneweiss at Del Rey who coordinates the approvals through Lucasfilm. You can follow Tricia on her website FANgirl or on Twitter. If you like romance and power couples in your science fiction and fantasy, be sure to check out details of Tricia's upcoming novel Wynde.