Reminder: Star Wars Reads Day and Limited Edition Bundles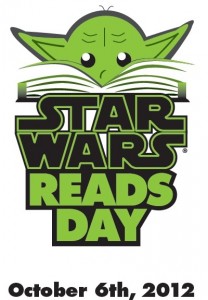 This Saturday, October 6th, bookstores and libraries nationwide are hosting the first annual Star Wars Reads Day. All of the Star Wars print licensees are participating, and the local events will feature giveaways, trivia contests, and much more. Check the official map on StarWars.com to find the locations near you.
Also in connection with Star Wars Reads Day, Del Rey is releasing two limited-edition ebook bundles. The four-book edition for $7.99 includes four great Expanded Universe starting points: X-Wing: Rogue Squadron by Michael Stackpole, Heir to the Empire by Timothy Zahn, The New Jedi Order: Vector Prime by R.A. Salvatore, and Legacy of the Force: Betrayal by Aaron Allston. The ten-book edition for $62.99 adds novels by Matt Stover, Paul Kemp, Karen Traviss, Joe Schreiber, and James Luceno.