Star Wars Weekends 2012: Merchandise Shopping
Disney is famous for offering all kinds of merchandise practically spanning the full range of your imagination, and Hollywood Studios is no exception. Shirts, hats, toys, stuffed animals, Vinylmation figures, souvenir mugs… The list goes on and on. Combine that with Star Wars Weekends, and it's a fangirl shopper's dream zone – and maybe a bank account's nightmare. I couldn't possibly discuss everything that's available this year, so here are the highlights from my retail browsing this past Friday.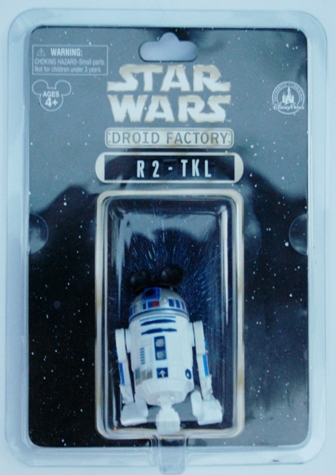 Droid Factory (inside Tatooine Traders at Star Tours)
If you've ever wished you could build yourself a custom astromech action figure, the Droid Factory is for you. The various droid parts – torsos, heads, right and left legs, center leg, and Mickey hats – are available in variety of styles and colors for you to mix and match. The assembly station in the center of Tatooine Traders is fairly small, however, only allowing two builders to work at a time. You're allowed to build one or two droids at a time, and the friendly staff will help you find the parts you want to complete your droid speedily. The young lady who assisted me had my R2-D2 sensibilities pegged pretty quickly.
When I observed it, the Droid Factory line was fairly long all day – probably a 30-60 minute wait – but it got shorter later into the evening. When I stopped by after the Hyperspace Hoopla, there was only one person in line in front of me. I built a regular R2-D2 with a black Mickey hat, and I'm calling him R2-TKL. Afterward, I realized I wish I'd built a purple astromech too, in honor of Team Jaina and her violet lightsaber – so that's definitely on my list to build when I pay my next visit to Star Wars Weekends..
Darth's Mall (enter through the Rockin' Roller Coaster courtyard)
The special merchandise venue opened every year for Star Wars Weekend has been redecorated in reds and blacks to mark the return of Darth Maul in the 3D rerelease of The Phantom Menace and the finale of Season Four of The Clone Wars.
The selection is just as wide and fun as ever, including lots of merchandise and collectibles from Star Wars, Disney, and Her Universe, as well as exclusives specific to Star Wars Weekends.
During much of the day on the first Friday, there was an hour-long line just to get inside Darth's Mall. I suspect a lot of that was due to it being opening day, though, and the rush of collectors snagging the limited edition collectibles when they were first available. First thing in the morning when I was arriving at the main entrance aboard the parking lot tram, I spotted a few collectors with overloaded store bags already headed on the departing tram back toward the lots; I'm wondering if carrying capacity was the limiting factor? Hopefully, those collectors headed back into the park to enjoy the festivities. By the time I visited Darth's Mall at dinnertime there was no line at all, so I suspect most Star Wars Weekend guests won't have any problem, either.
The Darth's Mall line was really my only complaint about the day. As with the long collector lines that crippled Celebration III at times, I wonder if Disney and Star Wars forfeited business from casual fans, and also the potential to gain new collectors, by the long wait at Darth's Mall entrance. Hopefully, the Star Wars Weekend management can find a happy medium that suits both extremes of the fandom, much like the improvements at Celebration IV and V.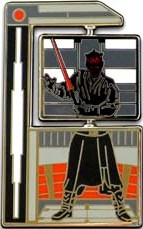 Tempted as I was to buy everything I saw that I liked, I managed to escape with only a few of my favorites:
I've always liked the japor snippet pendant that Anakin gave to Padmé, so I made sure to get the matching charm from Her Universe to add to the others on my charm bracelet.
I'm also a Disney pin collector and trader, so I picked up four of the Star Wars Weekends exclusive pins, including the hilarious two-part pin with Darth Maul sliced in half. Someone at Disney certainly has a sense of humor.
I have several of the ACME character keys, so I was delighted to discover a limited edition of 1,000 X-Wing fighter sketch key.. It'll look great in my collection next to Snow Bunny Padmé, Slave Leia, and Obi-Wan Kenobi.
One really fascinating part of Darth's Mall was the art sale section toward the back, featuring prints of many of the artist's renditions showcased in Star Wars Art: Visions. If only they weren't so pricey, I might have left with two or three of them. Still, there are a few other things I'm considering picking up on my return visit…
Other Star Wars Shopping
In addition to the regular Tatooine Traders, several extra Star Wars shopping sites are set up in Hollywood Studios during Star Wars Weekends. I picked up a Star Wars themed lanyard for my pin trading at the stand near Echo Lake. I got a big chuckle out of the knit winter caps – Chewie's big furry head, Yoda's green dome with pointy ears, and a stormtrooper helmet with Mickey ears. You never know what you might find, so be sure to check out these venues, too, because they have a lot of cool and fun items to peruse.