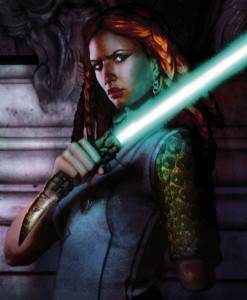 The month starts on an exciting note on May 3 with my talk On Science Fiction and Writing Wynde at the Belvedere-Tiburon Library in California. I expect even more great fun to follow in the coming weeks, including more news about Wynde as I push to the finish.
The month will end with excitement, too. The first two Star Wars Weekends at Walt Disney World are May 18-20 and 25-27. And if you visit during the June 1-3 weekend, be sure to stop by one of their scheduled events to say hello to Del Rey editor Erich Schoeneweiss and get a copy of The Essential Guide to Warfare signed by author Jason Fry.
---
Star Wars Discussions – We'll kick off the month with the last installment of the season-in-review of Season Four of The Clone Wars with Megan, Lex, and I. Then I'll start a new discussion with Racheal and Kay about the Hapans, one of the fascinating societies in the Expanded Universe that isn't included in the stories nearly often enough. They're a ruthless matriarchal culture with a longstanding hatred of the Jedi – and a former Jedi Knight as their queen – and they can serve as an interesting lens on issues of feminism, sexism, and justice.
---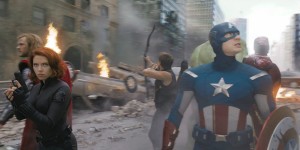 The Power of Teamwork – Several FANgirl Blog contributors return in May with new posts I'm thrilled to share here. Up first is a post from Racheal about the Fel family and their role, or lack thereof, in the conclusion of the Fate of the Jedi series.  That so many fans are stepping up to share their thoughts is a great example of teamwork, which seems to be a running theme in storytelling these days from Apocalypse to The Hunger Games and now with The Legend of Korra and The Avengers. Hopefully as I finish up Wynde this month, I'll be able to share how teamwork is an important theme in my story, too.
---
Here are a few of the other things we're looking forward to this month:
New Comics
Buffy the Vampire Slayer: Season Nine #9 – May 9th
Star Wars: Dawn of the Jedi: Force Storm #4 – May 16th
Star Wars: Darth Vader and the Ghost Prison #1 – May 23rd
Star Wars: Boba Fett is Dead #2 – May 30th
New Movies
Marvel's The Avengers – May 4th
Dark Shadows –  May 11th
Battleship – May 18th
Men in Black 3 – May 25th
New Releases on DVD
Haywire – May 1st
Covert Affairs: Season Two – May 1st
Underworld: Awakening – May 8th
Red Tails – May 22nd
True Blood: The Complete Fourth Season – May 29th