Romance, Wonder Women, and Sith too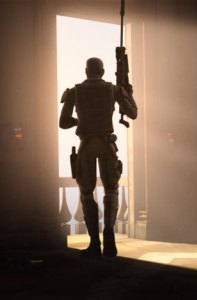 The concluding episode of the Undercover Obi-Wan arc, "Crisis on Naboo," included some great action scenes and a few sharp moments of chilling foreshadowing. Megan's review takes a look at all of that.
I also enjoyed yet another connection to The Empire Strikes Back in this episode, furthering my speculation that we're reaching the end of the middle segment of the story arcs to The Clone Wars.
---
The Phantom Menace pulled in $23 million this weekend at the box office, coming in fourth place. Interestingly enough the top draw was the romantic drama The Vow, which made $41 million, more than was expected for that movie. Of course there is always the inscrutable magnetism of star power, with Channing Tatum and Rachel McAdams in The Vow's lead roles, but I think romantic movies are proving they have a magnetism of their own.  Romance allows fans a means to become invested in the characters, and that's why I have lobbied for more romance in Star Wars books.  A few days ago Racheal Ambrose wrote a nice piece, "Where's the Love?", discussing balancing romance.
Romance is a fickle thing in writing. Too much will make the story seem too soppy or distract from the main plot while too little leaves readers unsatisfied. Finding that balance is one that many writers struggle with. When it comes writing romance, I shy away from the long, love-filled speeches. I prefer to use actions and gestures, like a touch or favor. There's no set formula, though, about how much or how little a story needs.
Like Racheal, I don't see anyone really asking for Harlequin-style stories, but just a bit more flirting, relationship-building, and a better use of the conceits and tropes. (More on romance and 'ships in an upcoming blog.)
---
Over at Yahoo! Movies, Catherine Taber did a pre-release interview and discussed Padmé, the character she voices on The Clone Wars, and also Natalie Portman's portrayal.
I think Natalie did an amazing job of bringing to life this character that George Lucas created. I try to expand on the character that he created and Natalie portrayed. It's interesting because my portrayal actually takes place at a different time than hers. It's in between the movies and not a direct overlap. I have the luxury of examining her life more closely during this time period than you even get to see in the movies. That's really cool. There's a lot of information. I was able to read about her history. That's one of the coolest things about the "Star Wars" database. I then take what Natalie had done, expand on that, and just try to be true to who Padme is. I think [series director] Dave Filoni and I have a clear understanding and agreement about who she is. It works out really well trying to bring her to the audience in "The Clone Wars."
The two actresses both did a phenomenal job with the material they were given. Watching The Phantom Menace in 3D, a couple of things occurred to me. First, watching the ascension guns scene in 3D I became even more impressed with Padmé's role within the film. As the camera pans over the ledge the 3D reminds the viewer just how high up they really are. "Fearless" shot to my mind as she rode the ascension cable up to the next floor of the palace. There's also the figurative ledge Padmé puts herself out upon, becoming the diversion in the plot to capture Nute Gunray. She runs front and center, making herself a target to allow the second team to sneak around the palace and play their part.  More important to her characterization in the later movies was a moment during the Boonta Eve Podrace. As the Tusken Raiders put their sites on the contestants, Padmé reacts visibly to their savage aggression as they pop a few shots at Anakin.  This is Padmé's first and only experience with the Tuskens prior to Attack of the Clones, and it lends a little more credence to why she sympathized with Anakin's response to their kidnapping and murder of his mother.
---
The Book of Sith is now available. An in-universe collection of Sith writings, it mirrors the popular The Jedi Path. In author Dan Wallace's interview at TFN, I came across an interesting response.
Sith Lord Sorzus Syn makes her debut in this book as one of its authors. Why did you decide to create her and not give an established character that first chapter? What makes her appealing as a co-author?

I wanted to have a new character if possible, and I wanted to have gender balance if possible. In the final book there are four male authors and two female authors, but it would have been more skewed if I had used Karness Muur or somebody. Sorzus Syn is the lead alchemist and monster-maker among the Jedi Exiles, and she both despises the Sith while admiring their ritualistic skill at spellcasting.
Bravo to Dan Wallace for giving the females equal chance at Sithdom. Balance in-universe for the good guys and the villains is something I'm excited to see. The second female Sith is Mother Talzin, who I've written about before. I expect she will be showing back up in the four-part concluding arc of The Clone Wars, since Katie Lucas wrote Mother Talzin originally and is the credited writer for the next arc.
---
Finally, I like to show support for the efforts of fangirls.  Here's a few you might check out:
17 days are left on the Kickstarter Project for Wonder Women! The Untold Story of American Superheroines, which premieres soon.
Her Universe – run by Ashley Eckstein, the voice of Ahsoka Tano – has Naboo-themed merchandise available to coincide with The Phantom Menace rerelease.
GeekGirlCon has announced the dates for the 2012 convention in Seattle: August 11

–

12.