Star Wars Roundup – January 12, 2012
With the release of Darth Plagueis, author James Luceno shared some great insights about the writing of the novel in an extended interview with Eric Geller, including input from George Lucas and Howard Roffman and his collaboration with Dave Filoni to work out details involving Darth Maul. You can read part one at TFN and part two at Suvudu. Also worth a listen is Luceno's podcast interview with the ForceCast's Jedi Journals from mid-December.
---
Looking ahead to this summer's convention season, a well-deserved congratulations to Aaron Allston for being selected as the Author Guest of Honor at the Origins Game Fair (May 30-June 3 in Columbus, Ohio). Check out Aaron's blog for a description of the long list of events in which he'll be participating, including what is sure to be a fantastic panel about writing for Star Wars with co-panelists Tim Zahn and Mike Stackpole. Just yesterday, in fact, Tim confirmed on Facebook that he'll be attending Celebration VI. With any luck, maybe we'll get a similar panel there.
Speaking of Aaron's Star Wars writing, Erich Schoeneweiss of Del Rey tweeted on Tuesday:
Read the first chapter from Allston's X-Wing: Mercy Kill. Brilliant! A perfect first chapter. You'll get a look at it after Apocalypse.
I'm still keeping my fingers crossed that the next Star Wars series following Fate of the Jedi will be more X-wing books.
In other Star Wars author news, a big thank you to Paul Kemp for agreeing to do an interview with blog contributor Linda. Look for it to be posted soon, once it's finalized and cleared through approvals.
Update: Star Wars Books Facebook page posted their first mini-excerpt from Fate of the Jedi: Apocalypse.
---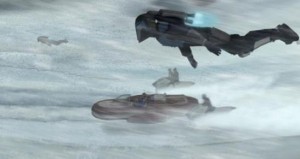 This Friday, the 13th, marks the return of the Mandalorian Death Watch commandos to The Clone Wars in a storyline featuring Ahsoka Tano and Lux Bonteri. The episode is directed by Dave Filoni, and includes returning guest voice Jon Favreau as Pre Vizsla and a new character voiced by Katee Sackhoff, best known for playing Starbuck on Syfy's Battlestar Galactica. As usual, 8:00 p.m. Eastern on Cartoon Network.