ABC's newest addition to the fall television lineup, Once Upon a Time, got its premiere late in the season, but I think it's shaping up to have been well worth the wait. Created by Lost writers Edward Kitsis and Adam Horowitz, with Damon Lindelof as a consulting producer, the show will follow our favorite childhood fairytale characters when they are dropped into the "real world" by the curse of the Evil Queen.
Fans of Lost will see obvious similarities – including an even bigger, badder smoke monster – and should be excited about the bread crumb trail of show lore that is already being trickled out.  One of the greatest achievements of Lost was its ability to engage viewers by telling stories about not just one central character, but a broad and diverse cast of important players.  It's obvious everyone will have a favorite, just like we have favorite fairy tales.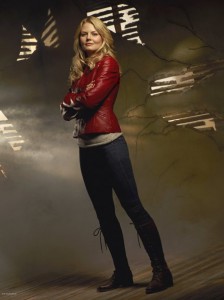 Emma Swan, played by Jennifer Morrison, grabbed my attention. Right off the bat, they show her bold and sexy. You think she's on a first date, but she's not – she's a bailbonds-person chasing down a deadbeat dad who skipped on his bail.  Emma's beef isn't so much the money, but rather the woman and child he stiffed.  She's already a dichotomous character, and then a ten year old boy shows up at her door claiming to be her son.
One of the common reasons female characters fall flat is that writers don't acknowledge that women are faced with an extra set of choices. Historically, heroes can be both fathers and saviors to the world, because there's a wife at home to look after the kids.  The choices surrounding motherhood, though, can be paralyzing, especially because women are frequently unwilling to accept that sometimes they can't do it all.  Emma was forced to make a choice – a long time ago, appropriately – and it's come back full force with the appearance of precocious Henry, who believes the fairytales in his hefty tome are real.  The parallels between Emma's travails in Storybrooke and the intercutting flashbacks from the fate of Snow White and Prince Charming in the Enchanted Forest add further resonance to each of their choices.
I already like Emma, and she appears to have all the makings of a strong female heroine.  She's tough, a loner, and emotionally scarred, but she's up for the fight.  Most importantly, they've already proven in one episode that she has a good heart and makes choices for the right reason. Emma even tells Henry she has a superpower – it's left deliberately vague whether she means that metaphorically or literally – and she puts her talent for telling if people are lying to good use several times in the premiere.
Emma has a huge destiny hung on her shoulders. She's the chosen one, an archetype usually handed to a man. For some reason, even though she's alone right now, I have confidence she won't have to fight the prophesied final battle alone.  The relationships she forges are what will keep fans coming back for more.
Based on the ratings numbers from the premiere, as reported today at TVLine, Once Upon a Time is off to a very strong start. Hopefully many of those viewers were as intrigued by the opener as I was and will return for future episodes. I found it interesting, as well, that when a few commenters to the TVLine article dismissed the show as too much chick-fare, a much larger number of male commenters posted to say they had enjoyed it. Further proof that if you write good characters, including strong female leads, you'll draw a broad audience – from both women and men.
The Lost writers were big fans of Star Wars, inserting references into almost every episode. The similarities to Star Wars in Once Upon a Time's first episode weren't obvious winks to the films, but rather mirrored some of the most powerful themes in the movie saga. There were mentions of the dark side, destiny, and most importantly the belief that good has to be able to defeat evil.  That belief about good triumphing – ultimately, it's called hope, the same driving force behind the original Star Wars and its sequels.  In fairness to the fairytales, though, didn't George Lucas borrow these themes from them first?
There is a conceit to Once Upon a Time, just like there was in Lost, and Star Wars for that matter: the viewers know they will, in the end, get that happy ending, even though at their core fairy tales are gritty and dark.  Fairy tales have inspired generations, each time being reinvented with a new twist. I can't wait to see where this one goes…