REVIEW: Knight Errant (novel) by John Jackson Miller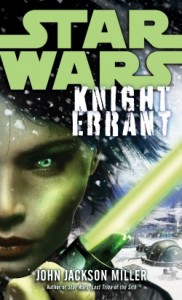 My newest review is the novel Star Wars: Knight Errant, by John Jackson Miller. The book has been out over a month at the time I post this review, and I've just now reached the point of completing it. That probably sums up my lack of enthusiasm for the novel. 
You can read my full review for the details, but sadly I have to say it: the Knight Errant novel is the perfect example of why Del Rey and Lucas Books should stick with their policy of only hiring previously published novel authors to write books for Star Wars. In some reviews of Knight Errant around the internet, you'll see effusive praise for Miller's world-building. I don't deny that Miller is very skilled in that department, and if you're the kind of reader who enjoys reading novels for their world-building environment more than their characters and stories, then you probably will like this book. But for readers, like me, who care primarily about the tale being told, there's just not enough story in Knight Errant to carry a 400-page novel.
And that's ultimately my bottom line: Knight Errant is a niche book for a certain type of fan who enjoys world-building and factual details about the Star Wars galaxy. In fact, much of what's presented in the novel could just as easily, and perhaps more effectively, been presented in a roleplaying game manual or a nonfiction sourcebook. For female readers who want to read about characters, and their interactions and relationships, this book has basically none of that to offer them. For that reason, I wouldn't recommend it most of my friends who read novels for entertainment, even the ones who read Star Wars.
No brownie sundae here.
5/10