Hyperspace Theories: The Clone Wars Season 7 – The Bad Batch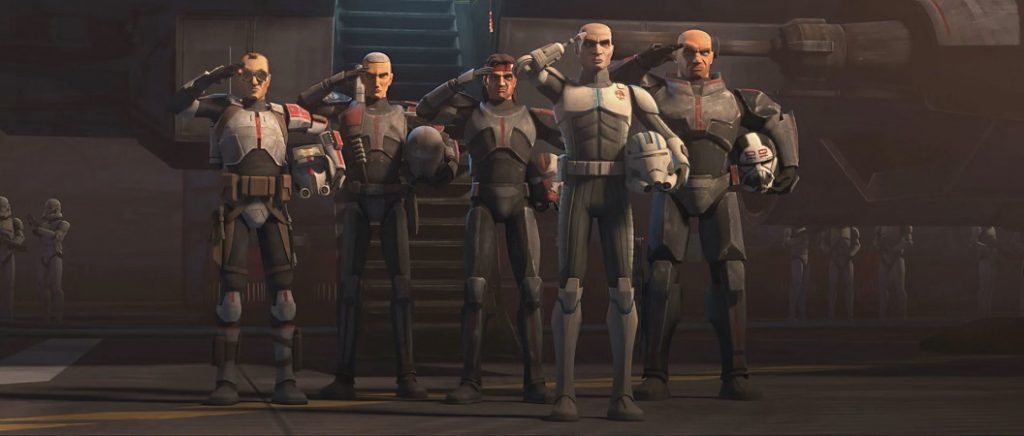 At long last, The Clone Wars is back! After almost six years since the release of the "Lost Missions," the wait for Season 7 is over. On this month's episode of Hyperspace Theories, Tricia Barr and B.J. Priester celebrate the return of Anakin Skywalker, Captain Rex, and other familiar faces – and the arrival of new ones – with our discussion of the four-episode Bad Batch arc, the first storyline in the new Disney+ episodes of The Clone Wars.
We begin by briefly setting the context of the Bad Batch arc in the history of The Clone Wars production process, from its origins in the story conferences led by George Lucas through the post-cancellation years to the current revival. Although Lucas is no longer overseeing the show, his longtime Padawan showrunner, Dave Filoni, always has remained protective of the stories, characters, themes, and ideas that Lucas intended to develop and portray in the untold tales. In part based on what Filoni has learned in leading Star Wars Rebels and contributing to The Mandalorian, these twelve Disney+ episodes of The Clone Wars are more than simply finishing up older material; instead, they have been adjusted and improved not only in animation quality but also in storytelling.
One of our favorite moments in the Bad Batch arc falls into this category: the short conversation between Anakin and Padmé in "A Distant Echo" before Anakin and Rex depart for their rescue mission. That scene did not exist in the original scripts, but Filoni added it because he felt that Padmé deserved a meaningful presence in the series' final 12 episodes. In fact, Filoni personally scripted the scene the night after the 2018 San Diego Comic-Con panel when the new episodes were announced to fans. We discuss why this scene is important and impactful for fans, and how it improves the final episodes of the series. We also praise the scenes with Anakin demolishing the octuptarra droids in "On the Wings of Keeradaks" and his final confrontation with Admiral Trench in "Unfinished Business."
Naturally, though, much of our discussion of the Bad Batch arc involves the clones, especially the four distinct soldiers who make up Clone Force 99. Hunter, Tech, Crosshair, and Wrecker each bring different talents and personalities to the table, and the squad is certainly more than the sum of its parts. We consider the interaction between the Bad Batch and the "regs," like Rex and Cody, as well as the unique circumstances of newly liberated Echo. We also analyze the themes developed in this episode, especially the conflict between nature and technology and the balance between nature and nuture, each of which is a longstanding theme in Star Wars as a whole. Filoni has noted that the Bad Batch arc is the last clone-centric storyline in The Clone Wars, and like the squad it delivers on its mission.
Related Links:
Contact Information: