Star Wars Celebration Chicago 2019: Star Wars Resistance Season Two Sneak Peek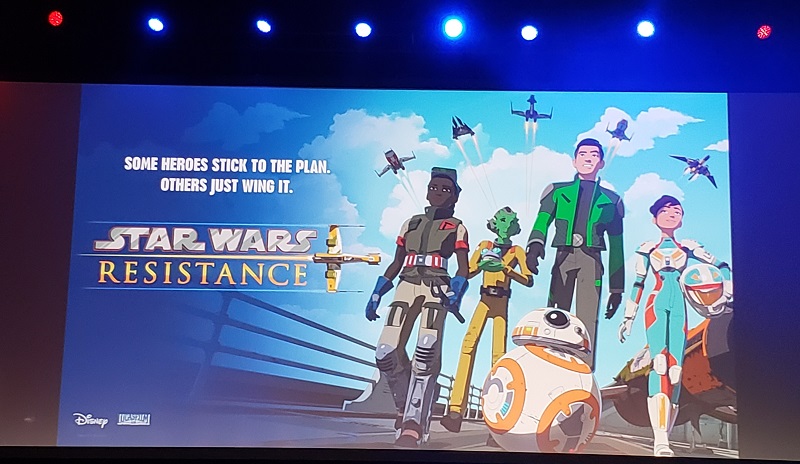 Star Wars Resistance is one of those projects with its entire existence kept under wraps until the appropriate time to reveal it. At Celebration Orlando in 2017, Dave Filoni announced that the fourth season of Star Wars Rebels would be the final one, but kept fans guessing at what might come next from Lucasfilm Animation. Shortly after the Rebels finale aired the following spring, Resistance was unveiled as the next animated series, and premiered in October 2018. On Monday, April 15, in Chicago, fans had their first opportunity to attend a Celebration convention panel for Resistance. The timing was fortuitous, as the full first season had already completed its airing on the Disney Channel. This allowed the panelists to talk freely about the storylines from that season, and readily avoid spoilers from the upcoming episodes in the second season, which launches this fall.
The Resistance team did not hold back for its panel. Participants included supervising director Justin Ridge, executive producer Athena Portillo, and head writer Brandon Auman and cast members Christopher Sean (Kaz Xiono), Suzie McGrath (Tam Ryvora), Scott Lawrence (Jarek Yeager), Myrna Velasco (Torra Doza), Donald Faison (Hype Faison), and Bobby Moynihan (Orka). Moderator David Collins is sound editor for the show at Skywalker Sound, and he led the panelists on a wide-ranging discussion about the creation of the series, the story arcs of the major characters, and the relationship between Resistance and the Sequel Trilogy films.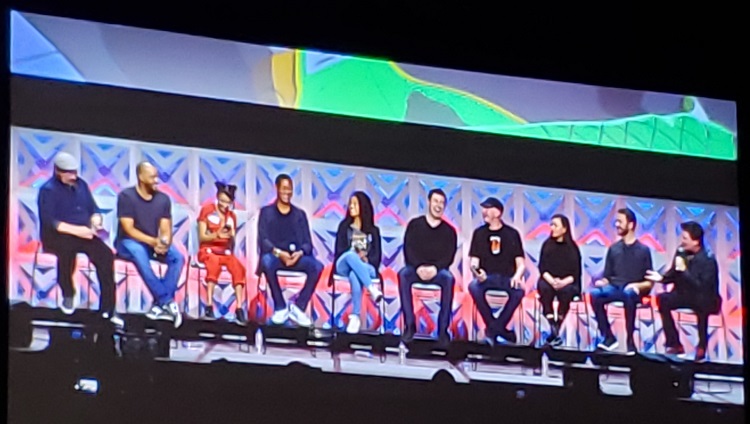 Although all of the participants expressed their love of Star Wars and their fondness for the cast and crew of the series, the infectious joy and exhilaration on display from Faison and Moynihan showed an excitement to be part of Resistance at another level. As lifelong Star Wars fans and career entertainers, they practically shook with uncontained energy at getting to talk about the gift of sharing those two parts of themselves as voice actors on Resistance. At a Celebration convention showcasing fandom at its best, Faison and Moynihan would have fit right in even if they'd had zero panels to appear on.
When the panel discussion concluded, the livestream broadcast ended and the audience at the Galaxy Stage was treated with a screening of the opening episode of Season Two. We'll save a full spoiler review for the fall premiere, but here are a few glimpses. Like The Last Jedi, season two of Resistance picks up immediately after the season one finale. Kaz, Torra, Neeku, and CB-23 have to assist Yeager and Captain Doza in repairing the Colossus and keeping it functional for space travel. Tam has to adjust to her enlistment in the First Order. And, as is always the case for Star Wars, things don't go smoothly for anyone.
Listen to Sandra and Tricia share their reactions to the Resistance panel and second season premiere episodes on this special edition of Fangirls Going Rogue:
Watch the Star Wars Resistance Season Two Sneak Peek Panel here, as part of the Celebration live stream (begins at 2:44:58):
Related Links: