Geek Fashion Picks: Finds and News from April
Welcome back to another month's-worth of geek fashion picks. Below are some of the coolest ways to wear your fandom that arrived in stores and online in April. And be sure to scroll all the way through so you don't miss the latest in geek fashion news and a spotlight on some fashion creations by fans.
The Picks
MARVEL / CAPTAIN MARVEL / AVENGERS: ENDGAME
Originally a Wonder Con exclusive, you can now find the Captain Marvel Exclusive Fashion Tee ($24.99) on Hero Within's website.
For the latest movie release Hero Within has also added Endgame vintage-style t-shirts – sales of which will benefit foster teen preventative programs or assist those at risk for homelessness thanks to a partnership with Framewerk Imaging. Each shirt features a Marvel M with a character symbol inside and retails for $24.99. There are 4 designs right now but Hero Within says more are on the way. My favorite of the first set is the Thor: Avengers Endgame Vintage Tee.
There's a pre-order open for men's and women's versions of the Avengers: Endgame Quantum Hoodie ($64.99 each) at Merchoid. Expected delivery is either mid-May or July 2019 (Their website says both). If a hat is more your style the Avengers Endgame: Advanced Tech Quantum Cap is $33.99.
Merchoid also has a pre-order for a black and gold Avengers: Phase Three Commemorative Limited Edition Hoodie ($58.99).
If you'd prefer a more dramatic black and gold hoodie, check out Shop Disney's Ronin Zip Hoodie for Men ($42.95).
Also at Shop Disney are a few new Captain Marvel jewelry pieces: Captain Marvel Star Wrap Around Ring ($29.95), Captain Marvel Star Crystal Bead Necklace ($39.95), & Captain Marvel Star Shield Earrings ($24.95).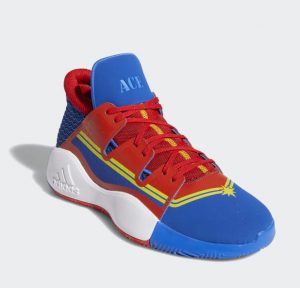 Box Lunch has a neat Endgame painted shirt design for Black Widow and Nebula ($28.90 each).
Mondo has a few new Endgame pins including the Thor Enamel Pin ($10), Rocket Racoon Enamel Pin ($10), and Captain America Enamel Pin ($10).
The Adidas x Marvel Heroes Among Us collection features shoes inspired by Black Panther, Captain America, Captain Marvel, Iron Man, and Nick Fury.
Jordandené has added a Whatever It Takes ($30) t-shirt in a variety of colors to their limited-time Marvel-inspired shirt collection.
STAR WARS
If you missed picking up the Star Wars Celebration Show Exclusive Crimson Dawn Signet Ring ($29.99) (a replica of the one seen in Solo: A Star Wars Story), you can now get it on Toynk's website.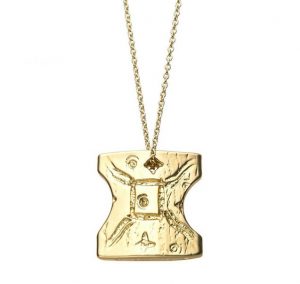 Toynk also has:
– the Star Wars Japor Snippet Necklace ($34.99) a golden version of Padmé's that was also for sale at the show.
– a replica of Rose Tico's Resistance Ring ($70.99) (note: I tried this one on and it's a big ring and that shutter on it operates really nicely)
– replicas of the Tico sisters' Crescent Moon Haysian Smelt Pendant Necklace ($23.99)
– Princess Leia and Rey Beacon Tracker Bolo Bracelet ($26.99)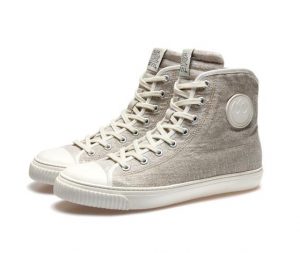 Po-Zu revealed two Star Wars shoe designs at Celebration. There's a low-cut, lace-up BB-8 sneaker in women's sizing* and men's* ($76.19). The other design is a high-top in metallic linen called the Rebel Silver* ($96.85). While the BB-8 design is immediately available while the Revel Silver is a pre-order expected in mid-June. Both designs feature locally-sourced Fair Trade rubber and  Po-Zu's comfy and removable Foot-Mattress™.
(*affiliate links: Use these when you buy to support the monthly fashion roundup at no additional cost to you.) 
Her Universe released their Sisters of the Force collection at the show as well as online. The Episode VIII Rose Tico Jacket ($74.90) (plus sizing ($84.90) looks comfy. It's cool to see a Rebels Sabine Wren Moto Jacket ($89.90) (plus sizing $99.90). And the Rebels Hera Syndulla Sweatshirt ($49.90) from their Our Universe label has a cool design.
Torrid continues to have cool designs. I love the print on the Her Universe Star Wars Galaxy Blue Strappy Sports Bra ($46.90) and Her Universe Star Wars Galaxy Blue Crop Legging ($60.90) as well as the one on the Her Universe Star Wars Galaxy Black Jumpsuit ($74.90).
In adorable news, there's a R2-D2 Hooded Romper Tank for Baby and Toddler by Rags ($46.95) and this Star Wars Field Jacket for Kids ($39.95) that has the Max Rebo Band on the back over at Shop Disney.
DISNEY MOVIES & PARKS
There's a Box Lunch exclusive Our Universe Disney Aladdin Market Kimono ($48.90). Meanwhile Torrid's Aladdin collection is lovely. Highlights include: Her Universe Disney Jasmine Purple Maxi Dress ($88.90), Her Universe Jasmine Peacock Green Dress ($88.90), Her Universe Jafar Fringe Kimono ($58.90), and Her Universe Genie Print Kimono ($58.90). Rounding out this month's Aladdin picks is this golden Aladdin Drawstring Bag ($34.95) found at Shop Disney.
The 30th anniversary of The Little Mermaid took place recently and Shop Disney has these cute items for the younger set: Ariel Sneakers by ROXY Girl ($39.95), The Little Mermaid Striped Pants by ROXY Girl ($45.95), The Little Mermaid Kimono by ROXY Girl ($54.95).
I feel like I'd have to see it in person to make the call as to whether it's for me but it's cool that Shop Disney has an Epcot Dress ($128). Yay for Spaceship Earth.
GAME OF THRONES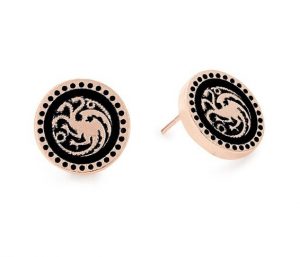 Jewelry brand Alex and Ani have a new Game of Thrones collection.
Check out the: 
Targaryen Post Earrings ($69)
Sansa Stark Charm Bangle ($39) 
Arya Stark Charm Bangle ($39) 
Men's Stark Beaded Bracelet ($59) 
Lion Head Expandable Necklace ($38).
ALIEN
Reebok released a special issue Stomper shoe for the 40th anniversary of Alien ($175).
In Geek Fashion News
Vans is teaming up with Harry Potter for a new shoe collection. No date has been announced but you can sign up on their website for updates.
Both Brie Larson and Scarlett Johansson wore Infinity Gauntlet-inspired jewelry for the Avengers: Endgame premiere. Larson's rings and bracelet were a commission from jeweler Irene Neuwirth.
Bombsheller, a Seattle-based leggings company known for their size inclusivity, is closing down their retail operations as of May 19th. Check out their blog post for more info including their goodbye sale.
Knobel Creations gave a webinar about working with Kombucha for cosplay and as a textile for leather craft projects.
Disney Style has a video up with idea for prom (or other dress-up events) inspired by Disney characters.
Black Milk Clothing has announced another Star Wars collection set to debut May 7th.
Sales of note: Po-Zu is having their mid-season sale which includes several Star Wars designs. Find the women's sizing sale page here*, men's sizing sale page here*, and the kid's sizing sale page here*.
(*affiliate links: Use these when you buy to support the monthly fashion roundup at no additional cost to you.)
Musterbrand is having a sale on several of their Star Wars apparel items including $29.99 swimsuits and $33.33 capes. A few of their Marvel sweaters are on sale too.
Star Wars apparel is included in the list of Star Wars Day deals on the official site.
Fan-Made Fashion
Welcome back to the occasional section where we send out some love to fan-made geek fashion pieces!
This month I'm loving this dress by Jane Burson inspired by Buttercup's riding dress in The Princess Bride.
Heather Smith made a delightful dress inspired by Luke's medal ceremony outfit from Star Wars.
And Hope took inspiration from one of Rey's costumes and made an activewear casual cosplay she calls Tracksuit Rey.
Thanks for reading this month's roundup!
Is there a fandom you'd like me to keep an eye out for fashion for? Let me know in the comments.
Want to say thanks for a helpful find or show your appreciation for all this info? Leave me a tip on Ko-fi.

Looking for more fashion finds? Check out my February and March picks.