Fandom Fashion Finds: The Goods From November
Hello and welcome. The following are my picks for the top geek fashion released into the world in the past month.
Star Wars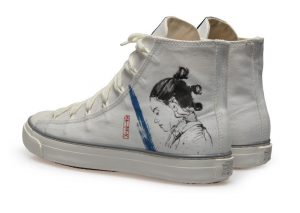 Musterbrand has a new dress inspired by Rose's costume in The Last Jedi ($129.99). It's 100% woven cotton, has a drawstring waist, and even a hood.  
Fans of Rey and Kylo Ren both have a new option in footwear. Po-Zu has opened up pre-orders for the two new high-top designs: Rey II sneaker* & Kylo Ren II Sneaker* (£75.00 each). They not only feature some cool art of the characters, but also incorporate something of a nod to their costumes in the shoes.
(*affiliate links: Use these when you buy to support the monthly fashion roundup at no additional cost to you.)
Of note: The new pre-order shoes aren't included but you can get 40% off all the other Star Wars shoes by Po-Zu* through the end of the month with the code BETHECHANGE.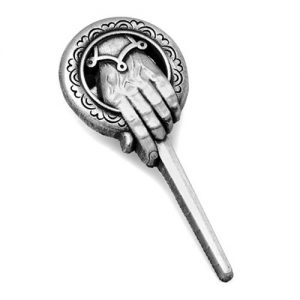 Game Of Thrones
Pre-order Hand of the Queen and Hand of the King lapel pins ($17.99 each).
Hespera has added a bunch of new one-of-a-kind gemfire rings ($175) to their online shop. I reviewed one earlier this year. The ring style has now been worn on Grey's Anatomy and How to Get Away With Murder, and Emerald City, as well as Game of Thrones.
Danielle Nicole has a few Game of Thrones accessories exclusive to Box Lunch: House Targaryen Coin Purse ($18.90), House Lannister Coin Purse ($18.90), Daenerys Targaryen Cardholder ($39.90)
Mickey's 90th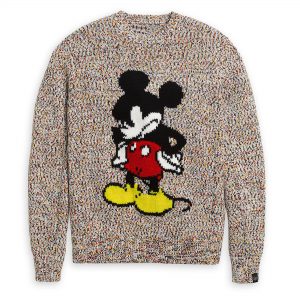 Mickey's 90th birthday (and Minnie's too!) finally arrived this month along with another set of celebratory collabs. rag & bone x Disney Mickey Mouse features some interesting pieces including the Mickey Jean ($295) and the  Rb1 Low Mickey shoes ($295). Both incorporate some red and yellow color blocking although the shoes lean a bit bowling-shoe esque with it.
If your wardrobe is missing an angry Mickey sweater, rag & bone's Mickey Mouse Haldon Sweater for Adults ($394.95) is currently available at Shop Disney. If rag & bone's Mickey shoes were a bit too loud for you, the Mickey Mouse 90th Anniversary Cruz Sneakers by New Balance ($99.95) are an all-black option. Also in Disney's online store is the Mickey Mouse Lace Dress by Sugarbird ($219.95), a bold statement piece.
Among Cakeworthy's winter collection this year is the Mickey Ears Beanie ($24.95) for your cold-weather mouse support.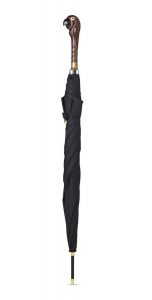 Disney Movies
Bésame will let you wear the same red as Mickey's trousers with Mickey Red Lipstick ($24). They also have their Ink and Paint Lipstick ($24) which looks black but is one of those formulas that works with your lips pH to make a custom berry shade.
There's also the Mermaid Lagoon collection from Bésame ($24 – $281) with compacts and palettes of makeup as well as lipsticks and a fragrance based on the art of the mermaids in Disney's Peter Pan.
Back in September I mentioned Merchoid's Mary Poppins umbrella. There's now one at Shop Disney that's a little more low-key: Mary Poppins Returns Parrot Head Umbrella ($74.95), a limited edition replica of the one from the upcoming film. Also on the Mary Poppins front – this wallet by Danielle Nicole ($42.95) and this Kite Wrap Ring by RockLove ($79.95).
Marvel
Torrid released another Marvel Comics collection. Standouts include: Her Universe Marvel Thor Black Embroidered Moto Jacket ($98.90), Her Universe Marvel Comic Print Sports Bra ($42.90), Captain Marvel Navy Symbol Sweater ($58.90), and Her Universe Marvel Comic Print Swing Dress ($68.90).
And if you need an accessory for all that, check out the Doctor Strange Eye Of Agamotto 3D Collector Pin ($13.99).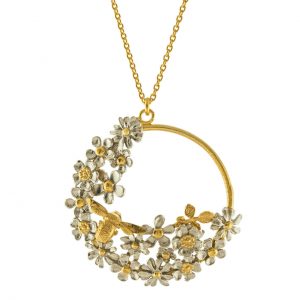 Doctor Who
Last month I shared the earring set the new Doctor wears on the show. This month Yaz (Mandip Gill) wore Alex Monroe's Posy Bee Loop Necklace (£195) during the episode "Demons of the Punjab".
Studio Ghibli
Her Universe is celebrating My Neighbor Totoro's 30th anniversary. The artwork of the 30th Anniversary Bus Stop V-neck T-shirt ($30.90) is sweet.
And you'll find the My Neighbor Totoro Varsity Jacket ($49.90 – $53.90) over at Hot Topic.
Books
Fans of Tamora Pierce books may enjoy Dual Wield Studios' new collection. It's the first licensed collection and it includes shirts, pins, and necklaces ($21-$200).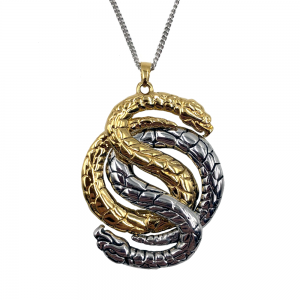 There's only a few more days to get Jordandené's shirt of the month. November's design features a Tolkien inspiration with the phrase "Even darkness must pass." ($25-$30). The shop now carries beanies ($22) too with phrases like "I never freeze" and "Allons-y" in reference to Black Panther and Doctor Who respectively. 
Video Games
There's a cozy-looking Overwatch Mercy Cocoon Boyfriend-Style Cardigan ($58.90) over at Box Lunch.
RockLove also just launched a new necklace with Bungie for Destiny: the Collector's Edition Gambit Necklace ($125). It looks pretty cool.
In Geek Fashion News:
Douriean's Marvel Black Panther Jewelry Collection now on Ebay was featured at Afrotech 2018.
The Colorful Geek shared how they styled their fandom text t-shirts for the recent Geek Girl Con Fashion Show over on Instagram: Jessica Jones, Pawnee Goddesses, The Craft, Luna Lovegood, Lydia Deetz, & the 13th Doctor.
Her Universe has finally added a wishlist feature to their site so you can give some ideas to any gift-givers or just keep the pieces you're saving up for in one place.
Thanks for reading this month's roundup!
Is there a fandom you'd like me to keep an eye out for fashion for? Let me know in the comments.
Want to say thanks for a helpful find?

Looking for more fashion finds? Check out my September and October picks.