Geekerella Review: Cinderella Meets Fandom
I've read a book or two in the past with a geek lead character whose geekiness was so heavily based out of stereotype it was uncomfortable to keep reading. Geekerella by Ashley Poston thankfully has a much more nuanced take on being a geek.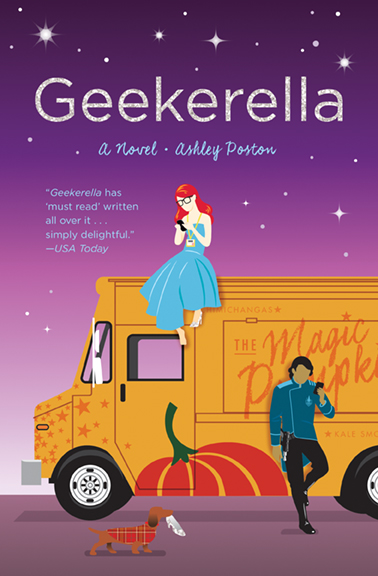 Using a framing story of Cinderella this book flips between the perspectives of its two teen leads. Elle Wittimer is a blogger, food truck employee, and mega fan of a classic sci-fi TV show called Starfield. Darien Freeman is a former avid con-goer, now an actor cast as the male lead in an upcoming reboot film of the same series. When they cross paths they complicate each other's lives and arguably make them better. Poston's writing is unpatronizing to its audience and makes it easy to fly through a read-through.
Before Quirk Books sent this YA novel over, I had thought Cinderella re-tellings were played out. It probably didn't help that I'm generally ambivalent about the tale. But Poston uses it to frame Geekerella in a way that blends a touch so light you can sometimes forget it's there with a clever facilitation of your fairytale knowledge to create drama and tension. The diverse cast of characters appear well thought-out. There's more to them than their cursory appearances – even the stepmother dynamic has a sometimes painfully believable depth to it. Elle's co-worker Sage was a stand-out, revealing more and more aspects to her as the pages go along.
One of my favorite aspects of this story is how it looks at long-held fandom and the upsides and downsides to creating more content for the stories that created it. Starfield may not actually exist but it's a clear stand-in for Star Wars, Star Trek, and other long-running properties. We get to see how stories affect fans beyond watching the media and the critical eye born out of love for them along with the deep-seeded longing for anything new to be made "the right way". The reboot brings in new fans who connect with it and those whose interaction with it leans more towards the superficial. But we also get a look at some of the varying perspectives that can come on the film-making side of the equation – from those who view the property on broader terms or with non-attachment to those who are fans themselves and worried about messing the whole thing up. All in all it's a complex exploration.
The book also touches on the concept of conventions making online communities more tangible. I found myself wanting the story to spend a bit more time with that since it already had its two protagonists in a dual isolation portrayal most of the time. The convention more so serves as a backdrop for some plot points and while the pacing here seems a bit too swift, it still works for the most part. When it came to the romance facet, I wasn't entirely convinced of the staying power of the main couple's relationship by the end but it definitely has a lot more to go off of than the original Cinderella tale did in that aspect.
That may sound like a lot to conquer but Geekerella remains a fun read though it all. It's an engaging story and a great candidate for your summer pool book selection or a weekend curled up on the couch.
Geekerella by Ashley Poston is now out in paperback from Quirk Books.
The publisher provided FANgirl with a copy of the book for review. As usual opinions are my own.