Reviewing Yogavated Voyager Leggings & an Interview with Founder Travis Strote
Sometimes it's a real problem to have fashionable friends. I can't tell you the number things Kay has brought to my attention that I've subsequently purchased and my favorite HerUniverse t-shirt, a Mara Jade shirt, is a gift from Tricia. When you add my yoga friends in, it's double trouble. So it's no surprise when I saw my friend wearing these legging, I had to have them.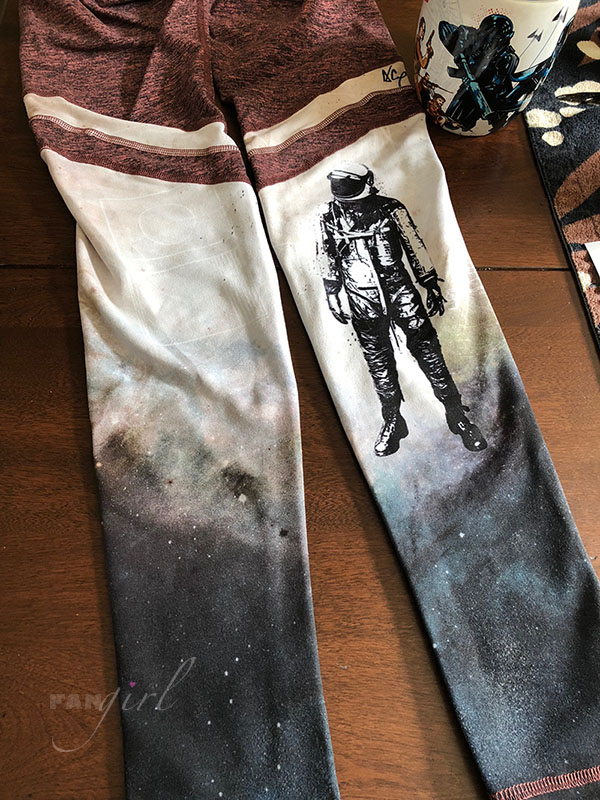 I grew up admiring astronauts, dreaming about Sci-Fi and eventually pursuing my career in medicine and so the image on the leggings spoke to me at a very deep level.
I asked my friend where she got them and she told me they were from a brand called Yogavated. I couldn't find the leggings on the website, so I contacted them.
One thing led to another and I ended up chatting with Travis Strote, the Founder/ Chief Dreamer of Yogavated Athletics. Travis was fun, inspiring and told me the story behind the leggings.
Artist Alex Cherry, a Star Wars and anime fan, whose art is featured on this pair was also commissioned by Elon Musk to recreate Voyager as a twelve foot mural for his SpaceX office.
A Review
Before we get into my interview with Yogavated's founder, let me review the "Voyager Rise" leggings. They're from the Surrealism collection and I've taken them through a slew of activities already– Pilates, gym, running, a six-hour yoga workshop, as well as a movie date– the usual type of activities my favorite leggings have to go through.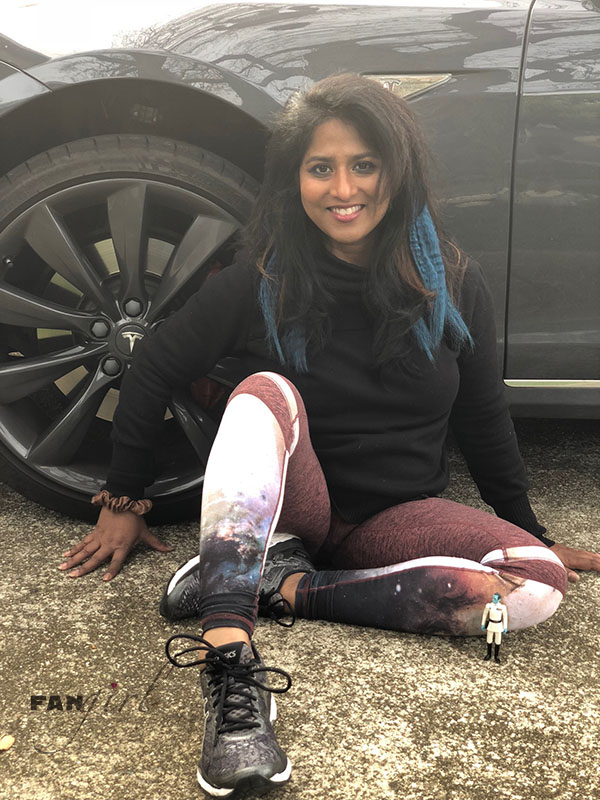 These leggings gorgeously and comfortably handled all the activities without rolling, scrunching or pulling up uncomfortably. The colors and softness held up to washing and drying without pilling or fading. The design was attention-getting, especially at the movie theatre. I don't like feeling any constriction at the waist and often I'll size up to avoid that. With these, I took my normal size of small – between the high waist, the stretch and the support, these stayed really comfortable through all sorts of stretching and slouching. I also like that they are handmade in the US and with a four-thread flatlock stitch.
These leggings rate a solid 10/10.
But that's not the only reason to buy Yogavated leggings. Empowerment of both the wearer and those who produce their apparel is what motivates Yogavated founders Travis Strote and Hayley Byfield (Yogavated's award winning, FIT educated Lead Designer). Wearing the imagery on the leggings is meant to be deeply symbolic and meaningful, like a tattoo. Plus knowing the artists and creators of the leggings are treated equitably, especially in a world where so much fast fashion comes at a high price both in terms of pollution/manufacturing and human suffering gives them even more meaning.
An Interview
Because I loved the Yogavated story so much, I caught up with Travis to share Yogavated's story. We had a lively, uplifting conversation and talked about all sorts of things– Travis was a medical scientist in the Navy, so we talked about medicine, the power of art, the need for risk taking in all creative endeavors, as well as Yogavated's story and long term goals. After all, we're all Voyagers on this amazing trip called Life…
photo: Linda Hansen-Raj

Why do you think Alex Cherry and "Voyager" in particular embody the philosophy of Yogavated?
I love this question! To start… I see Alex Cherry and his painting, "The Voyager" as one in the same. As I mentioned over the phone, Alex took a leap of faith at a young age by making the decision to drop out of school and go the less traditional route of exploring the world as a creative pioneer. Much like a space voyager, Alex chose to embark into a world of uncertainty and unknown.
To us "The Voyager" painting symbolizes a leap of faith. So many of us live out our lives with the story of a "what if" lingering in the back of our creative minds… What if I would have tried to be an actor? What if I would have devoted my life to trying to change the world for the better? We are conditioned from a young age to think that college and a well-paying job are the keys to success, but it is often those that pursue their dream of success that become most successful. "The Voyager" represents that leap of faith Haley and I took 2 years ago to pursue our dream of changing the fashion world to a more inspiring, motivational, and sustainable industry. We left our safety net of normalcy to embark on a mission that many said was impossible.
Many companies nowadays tout sustainability, but you take it one step further with your long terms manufacturing plans. Can you share what that long-term vision is?
It is true, the hottest trend in fashion is sustainability but what we have found is a lot of companies' approach sustainability as a marketing stunt with a very subdermal idea (basically putting a band aid on a much larger issue). We developed our company around one simple concept… how can we make a quality product that helps every single person and environmental aspect directly or indirectly involved with it and to take it a step further, how can we create a ripple effect of our practices to impact the entire world? To do this we dissected every single process of our business to figure out how it can be a win win for all. It started with collecting our scrap fabric… after every time we would cut fabric for our leggings there would be tons of excess, so we began collecting it and using it to make our Conscious Sports Bra and making headbands that, when bought, plant a tree in Madagascar. If you buy a headband on our website for $5, we pay for one tree to be planted in Madagascar's disappearing rainforest. Even after making those products, we still had some scrap left that was too small to make a product, so we began stuffing them into large pillow cases to make dog beds for local dog shelters and even tying strands together to make dog toys. This is an example of what we can do now… within our means. So many people don't pursue an idea because they believe they need so many resources when in fact you can always create something with creativity. To fast forward… our goal from the day we started Yogavated Athletics was to provide people with empowerment. Empowerment is the key to all things success. Empowerment gives you dignity, it gives you confidence, and it gives you self-worth. Empowerment is where we saw we could make lasting change in the fashion world. As we grow, we want to expand our production overseas into the areas that are known for fashion production.
Simultaneously, as we grow and begin to move production overseas we plan to acquire the production company we choose to create our product instead of outsourcing to a company like our competitors. Owning the production company will give us the freedom to control the workplace environment. We will increase wages for our employees thus increasing productivity levels and efficiency (easily done since we are currently manufacturing in the USA and doubling the pay of an overseas employee is still less than half of US labor costs). We will work with medical and dental universities in the US to create a program where their medical and dental students are required to visit the place our manufacturing is located and provide semi-annual medical and dental services to all employees and their families. This may obviously cost us money, but it will benefit both the universities, the students, and our employees in many ways. Ultimately this will create empowerment and self- worth for employees of other manufacturing companies to demand more thus beginning the ripple effect. We know that this process of empowerment matched with creating conscious consumers will create a shift in first world consumption and third world manufacturing in the fashion industry…and who knows maybe more!
What can we look forward to from Yogavated in the future?
As we expand we vow to stay true to our core values. Yogavated will always create quality limited edition yoga pants and we will always create with sustainable fashion as a priority. As we grow, I hope to see our efforts in making change become more mainstream and a natural way of thinking. We will be expanding into products that are beyond athletic apparel and carrying our save concepts into daily and streetwear markets. We will continue to explore new ways of collaborating and benefiting others. Even within this year, we plan on tying certain art pieces to charities that they represent to further our reach of sustainable fashion and widening our grass roots approach to community first. Ultimately, our goal is to grow big enough to create huge positive change and every step we do for as long as we exist is based around that concept.